Found March 15, 2012 on NorthWest Sports Beat:
Just Lose It This limerick brought to you by Saturday's Hockey Night in Canada matchup between the Columbus Blue Jackets and Vancouver Canucks on St. Patrick's Day.
The disparity is vast with the Jackets and Nucks, Be it a story of sticks, or helmets, or pucks, The playoffs are near, the Canucks all but clinched, For the Canucks, Rick Nash would have been a good pinch, Alas right now, our team really sucks.
If only I could type in an Irish accent as well as I can do one. That being said, I've been told my Irish sounds more like East Indian so maybe that's a good thing. Anyways, Saturday's tilt, and it really is a tilt, would probably help the Canucks more if they lost. Schneiderman Says, "You Shall Not Pass." Now stop, hammer time. This isn't your classic "tilt." (See what I did there?) Tilt often denotes a game where both teams are fairly equal and up for throwin' it down. However, this is a tilt because if you have the Canucks at one end of a line and that end is really high up, you then must put the BJ's at the other end, really low. That's an awful lot of tiltness folks. So what I was saying is it'd be better for the Canucks if they lost. Blasphemy you say, but allow me to explain. Rock Bottom No I do not mean Dwayne Johnson's finishing move. The Canucks have been mired in this slump for what seems like months but hold up, it's really only been 8 games in 18 days that started with an OT Loss in Dallas at the end of that long road trip. The Canucks would be better off losing Saturday because there would be nowhere to go but up. Columbus is and probably will be for a while to come, the last place team in the entire NHL. They aren't even close to 2nd last. Should the Canucks lose, it would truly be rock bottom. Should they win, well that would give them a whole other feeling which brings me to my next point. Confidence Normally confidence is a good thing. In fact, confidence is usually something I would call sexy. However, should the Canucks win against Columbus Saturday, they'd be given an unnecessary and unrealistic confidence that they are back on track. Sorry, but a victory against the turd of the NHL does not make you back on track, even if you win 10-1. I'm not saying these guys are stupid but they seem awfully delusional to me. All this talk about not caring because they just can't wait for the playoffs is making me sick. So does this mean the fans shouldn't care about the players or winning? It's all just talk until they prove it starting April 11th. These guys obviously don't get it and maybe a loss against Columbus, which would trigger a million more presses of the panic button and calls for the heads of several people, would knock some sense into those craniums of theirs. Cory Schneider A lot of the talk recently has been about why Cory Schneider isn't starting more. What's funnier; Raymond with the Twins at Thursday Practice or this article's title?" Frankly, he's not the Canucks damn starting goaltender. Like it or not, come Game 1, Round 1, the starter will be Roberto Luongo. Barring injury, it will be the same man should the Canucks be fortunate enough to play a Game 1/Round 2, a Game 1/Round 3 and praise the hockey lords, a Game 1/Round 4. Lu hasn't been the only one to blame for this downfall, but he has been rather Octoberish. Despite that, he needs to find his own way out of that. Saturday's game against Columbus is a perfect game for Schneider to start because the game doesn't really matter. Should the Canucks try, and fail to win or half try and fail to win, that's good. Cory Schneider is on his way out anyways folks. He can't prove himself any more than he already has and one loss because the team is playing like crap won't hurt his value on the open market. BEST BET TO WIN: Vancouver
Obviously, the best bet to win is still Vancouver even though I am saying it'd be better to lose. If you actually predict Vancouver will lose, well let's just say you have balls. I will and won't be surprised when they lose though. I also won't be surprised when Canucks Nation self-destructs if they lose. This fanbase is on the brink of popping its last vein; the unfaithful portion of said fanbase anyways. To those people, I remind you that #YouMightBeABandwagoner.
Puck Drop is at 7PM on CBC's Hockey Night in Canada and TEAM1040 Radio CLICK HERE TO CHECK OUT THE VANCOUVER CANUCKS CLUBHOUSE TODAY ON NWSB! © Vancan19 for North West Sports Beat, 2012. | Permalink | No comment | Follow NWSB on Twitter or join US on Facebook for real-time updates OR... | Share This on Twitter | Share NWSportsBeat.com on Facebook Post tags: BJ's, Blue Jackets Preview, Blue Jackets vs. Canucks, Blue Jackets vs. Canucks Gameday, Blue Jackets vs. Canucks Preview, Canucks Blog, Canucks Clubhouse, Canucks Matchups, Canucks Preview, Canucks vs. Blue Jackets, Columbus, Columbus Blue Jackets vs. Vancouver Canucks, Columbus vs. Vancouver, Cory Schneider, Game 71, Jackets, NHL, nucks, Ohio, Roberto Luongo, Rogers Arena, vancouver, Vancouver Canucks
Original Story:
http://www.nwsportsbeat.com/canucks/c...
THE BACKYARD
BEST OF MAXIM
RELATED ARTICLES
I love him…I can't stand him The Canucks approach the end of their sixth season under Head Coach Alain Vigneault, marking the fifth year the team will graduate to the post-season during his time as Vancouver's bench boss. Over this span players and fans have come to learn the intricacies of AV, embracing a calm but confident coach who understands how to get the most out of...
This week….oh I probably shouldn't get started But here goes. Being stuck in second gear - Ugly, ugly hockey these past two weeks. Several tragic losses to inferior teams, and only barely scraping out a win against the feel-good Jets. It's not all the Canucks who are playing badly, just Roberto Luongo, Daniel Sedin, Henrik Sedin, Kevin Bieksa, Mason Raymond and Alex Burrows...
from Ben Kuzma of the Vancouver Province, The coach said it and the general manager confirmed it. In their minds, there's no doubt that Roberto Luongo is the starting goaltender. The only problem with the proclamation is when doubt starts to cloud the picture as the playoffs approach. In a solid season where the Vancouver Canucks stopper had just three regulation losses in January...
Canucks look to snap funk…again It is pretty hard to be a Canucks fan these days and it is hard to predict outcomes of games that they should be winning but just aren't. Vancouver will try to avoid a three game losing streak on Saturday night when they host the worst team in the NHL – the Columbus Blue Jackets. Columbus Blue Jackets (22-41-7) at Vancouver Canucks (42-20-8...
Is This Game… the Breakout Game? Josh is out sick today. Taking over his preview for tonight. March Madness has hit Vancouver but we're not talking about basketball. Instead, the Canucks rough patches that have persisted throughout 2012 have put the city on high alert. They aren't dominating opponents anymore, they're losing on Hockey Night in Canada, and most troubling...
Unless you were off hiding under a rock yesterday you've probably heard about Alain Vigneault's most recent line juggling, resulting in winger Mason Raymond landing alongside the Sedin twins. The switch is meant to motivate the slumping Sedins, giving notice to the rest of the lineup that the team's play of late has been unacceptable. What do you think of AV's newest...
from Ed Willes of the Vancouver Province, When the game started, they made more noise than the Canucks' faithful — and this did not escape the notice of at least one of the Canucks' players. "I love the Jets and their fan-base," Kevin Bieksa said before last night's meeting with the Phoenix Coyotes. "To see them come in here and out-cheer our fans is great from their...
VANCOUVER, British Columbia (AP) -- Antoine Vermette had a goal and added two assists as the Phoenix Coyotes held on for a 5-4 victory over the Vancouver Canucks on Wednesday night. The Coyotes won for the second time in eight games (2-4-2) after overcoming an early 2-0 deficit against a rejuvenated Canucks squad that featured several different forward and defense combinations....
The Vancouver Canucks may be inching closer to clinching their fourth straight Northwest Division title, but they're enduring their worst stretch of the season. Hosting the NHL-worst Columbus Blue Jackets, who haven't beaten them in regulation in more than two years, could help the Canucks start to turn things around. They look to avoid their first three-game losing streak...
NHL News

Delivered to your inbox

You'll also receive Yardbarker's daily Top 10, featuring the best sports stories from around the web. Customize your newsletter to get articles on your favorite sports and teams. And the best part? It's free!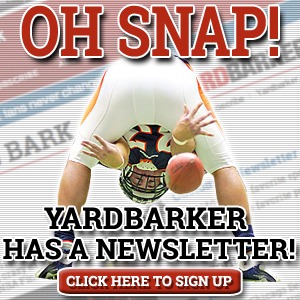 Latest Rumors
Best of Yardbarker

Today's Best Stuff

For Bloggers

Join the Yardbarker Network for more promotion, traffic, and money.

Company Info

Help

What is Yardbarker?

Yardbarker is the largest network of sports blogs and pro athlete blogs on the web. This site is the hub of the Yardbarker Network, where our editors and algorithms curate the best sports content from our network and beyond.