Found April 23, 2013 on Puck Huffers:
Three games before the madness.  Just three.  Buffalo is in town for the next-to-last home game of the season.  And Buffalo sucks this season.  Ryan Miller's tears have taken up residence in the local Greyhound station.  And we have Gene back, and Letang back, and Fleury back.  ROOT, we expect a babby photo.  Bobby is looking particularly earnest between the benches: My oh my.[[MORE]] MOST IMPROPERLY ERECT SWAGGEROut of the gate, Gene almost buries one on Miller.  He is ******* starving for points, hitting Nisky with some kind of ridiculous pass for a one timer.  Steiggy goes so far as to describe Malkin as "frisky."  Scandalous.  Jochen probably does not want Gene to get too frisky w/ him. Honestly a game like this, to us, could be a perfect trap for the Penguins.  Who were also frankly embarrassed by Buffalo last time they met.  But this is a different night.  Did we mention BeauBeau is back too?  Our California lover has returned.  And TK Pony Go is scratched.Malkin has a God Mode shift.  Unfortunately Ryan Miller appears to be awake.  We'll have to get through Silver if it kills us. PRETTIEST THING WE DISCOVERED WHILE WAITING FOR SOMETHING TO HAPPEN IN THIS GAME Nisky accepting his Good Guy Award like he would a second-choice but very cute prom date.  We all know that Mattie should win the Hart of Hearts. IMAGINE THAT!blah blah blah Thomas Vanek scored.  All alone in the slot.  REALLY.  No one even thought about Thomas Vane.  No one even knew Thomas Vanek had ever been born apparently.  This is looking fun isn't it? THE RYAN MILLER MEMORIAL OF TEARS AND SNOT LTDNext rush Ryan Miller also forgot that he had ever been born.  Even that he had appendages and human form.  Totally didn't even try on what looked like an easy glove save for RyRy from Chris Kunitz who has 22 ******* goals.Maybe we can give Ryan some conciliatory picnic tickets.  They're going fast ladies and gents.  Get your PH picnic tickets while they last. aaaand we're tied.The rest of the period is uninteresting.  Promise. LONELIEST STORMCLOUDwhere the **** is Brooks Orpikwe barely have time to think about it because we are apparently being dazzled by Malkin and also Dustin Jeffrey who looks like some kind of Selke winner.  Speaking of, why didn't Jordan Staal ever win the Selke?  He may never have the chance again. Buffalo thought they scored but they didn't.  Calling some kind of interference on Vanek, who has knitted too many woolen **** cozies today.  Legit call.  If Letang is hurt on the next sequence though it is tantamount to attack on a unicorn sanctuary. Better end this award before the stormcloud gains friends and followers.BEST DAD EVERMAF stood up to make a breakaway save on Vanek.  Nope.  MAF is going to win some kind of award for being the most amazing father in human history.  We can tell. Then Letang went to the locker room after getting hit high.  Luckily he returns during the TV timeout otherwise we would have been picketing the streets.  It's okay though.  The unicorn blood is safe.  Lord Voldemort will not rise again.Breaking news: Douglas Murray's head is still large.  A baby of his would be hard to birth. DO THE SABRES HAVE A PLAYER NAMED BREW-WHEEVIL OR SOMETHINGWe can't understand a word Steiggy is saying.  The Pens almost score 5000 times.  There still isn't much happening that we can even talk about but we did do some serious research while this was all going on: oh okay that really clears things up for us.  Here is a selection from Chad Ruhwedel's Twitter which we would like to submit as an exhibit to the Hockey Hall of Fame as an exhibit of the quintessential hockey player Tweet.  They like to mention each other and use hashtags made of food.  That's really the peak of the experience.  We're happy that Chad is from California, though.  Very happy about it. Great dinner with @arnbarn90. Great guy #chickenparm #not — Chad Ruhwedel (@cdiesel3) April 17, 2013 That's just poety, Chad.  Really eloquent. BEST CALIFORNIANBennett drew some kind of penalty and then Ott started shouting and was kicked out for 10 minutes.  We can only assume that he was Very Offended by what happened on a Very Personal level. The rest of the period is dot dot dot. PERIOD WITH THE MOST QUESTIONSwe have no idea what is going to happen.  Pens don't seem to have quality shots on goal to rub together despite how well they seem to be passing and getting in the slot etc.  The Sabres are just over the season and want to go to a farm sanctuary. They score, though, apparently.~WELP~ Shortly thereafter the news drops on Twitter that Orpik will not return.  Could be not a big deal.  Better safe than sorry.  Ennis has a massive giveaway to Malkin and it looks like he's off to the races in one of those beautiful moments--but it was not meant to be. Mark Eaton even tried to have some kind of Crosbyesque shift down low.  That's what this game is about apparently.  We have no idea what is going to happen.  The Sabres threw the puck out of the rink with their bare hands because that is how bad they are, that's a penalty. anyway, Iggy came here for a reason.  He's gonna one time a game-tying power play goal:We don't have any pics of the goal yet and it's late so here is Gene looking like a baby giraffe who just fell down: which I mean answers our main question.2-2 MOST DICKS IN YOUR MOUTHOtt thinks he scored.  We'll see about that, says the crossbar.Yep: Steve Ott.  It's always Steve Ott.Toronto comes on our faces.  It's a goal.  Why did you do it Devorski. Pens have some Serious Business shifts to try to tie it up, but it wasn't meant to be.  Vanek knits some special baubles onto his **** cozy and sheathes it in velvet for the empty netter. 4-2 welp the Sabres are the only team that can beat the Pens apparently. INDIVIDUAL AWARDS MOST LIKELY TO BE JORDAN STAAL IN A SKINSUIT OR PERHAPS INHABITED BY HIS SPIRIT BECAUSE ~DAMN SON~ THAT TWO WAY GAME WAS PRODIGIOUS DJ.  remember when he used to wear 42?  those were the days. ALTERNATIVE THREE STARS1. Ktang, five shots, 28 minutes.  hard to argue. 2. Evgeni - for some reason he won a lot of faceoffs.  Good for him. 3. Mark Eaton.  Deliver us from evil amen. two more go pens
Original Story:
http://www.puckhuffers.com/2013-artic...
THE BACKYARD
BEST OF MAXIM
RELATED ARTICLES
With Ryan Miller expected to start tonight and Enroth on Friday, this could very well be #30's final start for the Sabres. Many expect him to go elsewhere over the summer, making for an already interesting offseason. Whether you think Miller is a good goalie, a great goalie or an elite goalie, he deserves better. I'd like to see him succeed and win a Cup, but it doesn...
Welcome to the Hotstove! As always, I'm your host, Travis Yost. Although they're not headed to the post-season, the Buffalo Sabres are becoming an interesting watch. The club made a few firesale deals at the trade deadline, shipping off veterans Robyn Regehr, Jason Pominville, and Jordan Leopold. The idea is that the club is beginning to shift into a rebuilding phase, one...
With his great friend, Blake Wheeler in the box, Thomas Vanek scored his ninth PPG (third most in the NHL) of the season. The goal is a milestone for Vanek as its his 248th career goal. he now has sole possession of 6th place in Sabres franchise history, passing former captain Mile Foligno. Vanek now trails former D great Mike Ramsey by only four goals for fourth place all time in...
Ryan Miller led his Sabres onto the ice for warm-ups. He'll be your starter tonight versus Marc Andre Fleury. This is Miller's fist start since he was yanked after he gave up four goals to the Montreal Canadiens on Friday night. I fully expect Miller to have himself a great game tonight, just like he played two weeks ago when the Sabres spanked the Pens inside their...
Mikhail Grigorenko acquitted himself well in his first NHL game in his second stint with the Sabres. Playing with Hecht and Stafford, Grigo skated 15:18 TOI (15 shifts). His ice time was the second highest of the season. He skated a season high 17:10 TOI on January 27 in Washington. Grigo won 9 of 15 draws (60%). At one point in the game, he was 5-0 on draws. He was active and responsible...
Once again the Buffalo Sabres faced the hottest team in the league on the road, and once again they emerged with a win. The effort was certainly better for the Pittsburgh Penguins who lost on April 2nd to the Sabres, snapping a 15 game winning streak, but Buffalo grinded out a win despite already being eliminated from playoff contention.Ryan Miller stopped 40 of 42 shots, earning...
Congrats to the Sabres and their fans.  Here is a sick shot by Iginla: In somewhat not good news Brooks Orpik left the game with a lower body injury and did not return. Steve Ott scored the GWG for Sabres if you wanted to know for whatever reason.
Can Jack Edwards please call this game? Steve Ott and Matt Cooke on the ice at the same time. Edwards would be so confused seeing two versions of Sirhan Sirhan on the ice. It would terrify him. I'd say that it would cause him to lose his mind if that was something that hadn't already…
A win for the Buffalo Sabres tonight clinched the 11 spot in the eastern conference. Fortunately for the Pittsburgh Penguins, only eight teams make the playoffs from each conference. If you were to make a short list of the teams that have given the Pens problems this season, the Sabres might be at the top…
NHL News

Delivered to your inbox

You'll also receive Yardbarker's daily Top 10, featuring the best sports stories from around the web. Customize your newsletter to get articles on your favorite sports and teams. And the best part? It's free!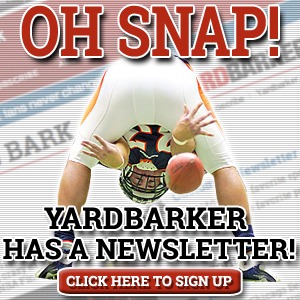 Latest Rumors
The Backyard

Today's Best Stuff

For Bloggers

Join the Yardbarker Network for more promotion, traffic, and money.

Company Info

Help

What is Yardbarker?

Yardbarker is the largest network of sports blogs and pro athlete blogs on the web. This site is the hub of the Yardbarker Network, where our editors and algorithms curate the best sports content from our network and beyond.