Found December 22, 2011 on The Rangers Tribune:
Just when you thought nothing could possibly top last week's premier episode of HBO's 24/7: Road to the NHL Winter Classic series, episode 2 stole the spotlight by a mile. Really, that was an extraordinary 60 minutes of television - maybe the best I've ever seen. 
In episode two we get to see a lot more of the off-ice stuff, which is really what 24/7 is geared to present to its viewers. The show began with Henrik Lundqvist (and his Maserati) heading over to a studio to rock out with tennis star John McEnroe, as they were preparing for a performance they will put on together for a charity even in February. Now, watching this, I think everyone had the same thought: "Is there anything Henrik Lundqvist doesn't do?"
We are then taken to the apartment of Dan Girardi, where we met his 18-month-old son, Landon. Aside from the kid being a stud and wearing faded designer jeans under the age of two, he also had a wicked wrist shot and one-timer. I suggested on Twitter that Landon may have even looked sharper with a stick in his hand than Brandon Dubinsky does right now. I wasn't kidding, either. 
The next time we saw the Rangers was in the locker room a day before their game in St. Louis, where head coach John Tortorella was going over film with his players. I thought this was up there with the best moments of episode 2, because we really got a glimpse as to how Tortorella has complete control of his players and how they respect and listen to his every word. He was candid, honest - just was advertised. 
I found it interesting that he turned to Michael Del Zotto and told him that he was the club's best defensemen in their prior game, and also turned to captain Ryan Callahan to decide what time the team would leave the arena. Tortorella has a history of relying heavily on his captains, and we saw it there with Cally. Those two have tremendous respect for each other. 
Several minutes later, Tortorella was not so easy-going when we were brought into the locker room after the team had gone down, 2-0, in the first period against St. Louis. That's when we saw our first Torts explosion, which included the following:
"I asked you to [expletive] defend. I've seen you [expletive] defend before! And you're gonna do it here. If that's how we're gonna battle, we're not going to have a chance TO WIN! Jesus Christ, how much time do we have to talk about it? If that's all the juice we have, as far as competing against that team, WE WILL GET KILLED TONIGHT. And we have two periods here. So I've asked you all to buy into how we have to play. If that's it, we're [expletive] done. PACK IT UP! And I know that this [expletive] team isn't that way. I'VE SEEN YA!

"We've got 40 [expletive] minutes to go. Take each shift at a time and chip away. They're not that good in their end zone. And we know our club. That's the biggest [expletive] positive of our team is how hard we play. So [expletive] screw it on right here. Screw it on and let's be ready to go each shift at a time. Stiffen up here! And if you're not going to be stiff you're not going to play!"
That's some heavy stuff, but I love it. 
But then HBO did an amazing job of portraying Tortorella's soft side with the following segment, which has already been posted to YouTube:
I was completely speechless after watching that. I held back the tears, but it was tough. Words just don't do a story like that justice. Incredible. 
The last we see of the Rangers is the team on a high note, following their 0.1 second win over the Phoenix Coyotes, in which we are finally shown the passing of the Broadway Hat (from Gaborik to Richards). Good stuff. 
All in all, another compelling episode, with coach Tortorella stealing the show this time around. Can't wait for part three. 
Original Story:
http://www.rangerstribune.com/the-ran...
THE BACKYARD
BEST OF MAXIM
RELATED ARTICLES
… I was very happy to read this!  Henrik continues to be a total a class act. We should be very proud that he represents our New York Rangers. 
Last week after episode one, I wrote that I wanted to see more of Lundqvist, Girardi, Staal, Sather, and of course Torts in episode two. Fortunately, most of my wish was granted. As promised, here is episode two. Enjoy!   (Spoiler Alert) People's irrational hate for John Tortorella has finally started to die down. Obviously the Rangers performance is driving this, but I would...
The Rangers got rivalry week started off right with a 4-1 defeat of the New Jersey Devils tonight at the Prudential Center. This wasn't a perfect effort for the Rangers by any means, but an explosive third period, which saw the team score three unanswered goals, carried them to victory in the first meeting with their cross-river rivals this season.  Mike Rupp and Cam Janssen...
Short and sweet. Same lineup tonight. Jeff Woywitka re-injured his foot this morning and won't play. Not sure if it's now worse or if he'll be out longer. He talked about Martin Biron very briefly, and about  Mike Rupp. Wouldn't answer questions on "24/7"  John Tortorella:
Henrik Lundqvist made 28 saves in his second win over powerful Philadelphia this season, and rookie defenseman Stu Bickel had two more assists for the New York Rangers, who beat the Flyers 4-2 and moved into first place in the Atlantic Division on Friday night.
Episode 1 lived up to the hype. It featured a whole lot of swearing (as usual), John Tortorella ripping into Marian Gaborik and Ilya Bryzgalov telling us about the universe. Episode 2 also promises to be good (I won't spoil anything for you). Enjoy!   Part 1: Part 2: Part 3: Part 4:
Henrik Lundqvist stopped 28 of 30 shots he faced, and the Rangers scored twice in the second period by deflecting long shots by defenseman Stu Bickel.
Henrik Lundqvist made 28 saves in his second win over powerful Philadelphia this season, and rookie defenseman Stu Bickel had two more assists for the New York Rangers, who beat the Flyers 4-2 and moved into first place in the Atlantic Division on Friday.
The New York Rangers will continue on with rivalry week this evening when they host the New York Islanders at Madison Square Garden for the first time this season. The previous two matches between these teams, which were played in October and November, both took place at Nassau Coliseum. So far the series is split, with the Islanders taking the first match-up and Brad Richards'...
The New York Rangers are in agreement that being in first place at the two-day Christmas break doesn't guarantee anything come April. But after three wins in four nights against Atlantic Division foes, the Broadway Blueshirts are more than happy to be on top of the pack. Henrik Lundqvist made 28 saves in his second win over powerful Philadelphia this season, and rookie defenseman...
<span style="font-family: "Times New Roman","serif";">With the results of the first two meetings between the New York Rangers and Philadelphia Flyers the Rangers will be looking for more of the same in the 2012 Bridgestone NHL Winter Classic Jan 2.  The Rangers took down the Flyers 4-2 Friday night for their fourth straight win and gained...
from Scott Burnside of ESPN, Lots of interesting names to kick around when it comes to handicapping the Vezina Trophy race as we hit the end of the calendar year—some familiar some not. Here's a look at our top five plus some honorable mentions. 5. Marc-Andre Fleury, Pittsburgh Penguins In much the same way that Lundqvist has risen to the occasion for the Rangers, Fleury has...
NHL News

Delivered to your inbox

You'll also receive Yardbarker's daily Top 10, featuring the best sports stories from around the web. Customize your newsletter to get articles on your favorite sports and teams. And the best part? It's free!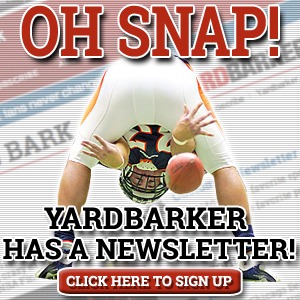 Latest Rumors
Best of Yardbarker

Today's Best Stuff

For Bloggers

Join the Yardbarker Network for more promotion, traffic, and money.

Company Info

Help

What is Yardbarker?

Yardbarker is the largest network of sports blogs and pro athlete blogs on the web. This site is the hub of the Yardbarker Network, where our editors and algorithms curate the best sports content from our network and beyond.