Found March 02, 2013 on Shutdown Line:
PLAYERS:
Jose Theodore
,
Scott Clemmensen
,
Riley Nash
,
Eric Staal
,
Jiri Tlusty
,
Jussi Jokinen
,
Joni Pitkanen
,
Stephen Weiss
,
Justin Faulk
,
Tomas Kopecky
,
Joe Corvo
,
Tim Gleason
,
Shawn Matthias
TEAMS:
Florida Panthers
,
Carolina Hurricanes
With all do respect to the Florida Panthers, tonight was a game that the Hurricanes should have won. They came into tonight's game still winless in Southeast division play and were taking on a Florida team that currently sits last in the Eastern Conference and has been playing some bad hockey for most of the year. Adding to that, Florida also lost their starting goalie, Jose Theodore, less than four minutes into the game forcing a cold Scott Clemmensen into action. If there was a better time for Carolina to get a win in the Southeast, tonight was a perfect opportunity. They are a better team than Florida and all the Hurricanes needed to do was play to the best of their ability and they did just that and it resulted in them winning in a blowout.  Carolina got things started early with a three quick goals in the first period and just continued to pour it on after that. Usually, you would see teams sit back a little after they establish an early lead and while the Canes did that at times, they didn't let Florida get many great opportunities. They allowed only three scoring chances to the Panthers in the second period and were able to take advantage of some miscues by their defense to add on two more goals, one of which coming from Riley Nash who played the best game of his young career tonight. Eric Staal would add on another in the third period to add salt to the wound and wrap up a 6-2 win for Carolina.  This was the type of complete team effort that fans have been waiting all season for as every line was contributing for the Hurricanes tonight. The first liners contributed to three goals, the third line had their best offensive performance of the year while the rest of the roster did their part to control play. It was a good way for the Canes to get their first divisional win of the season and get some revenge for being embarrassed by this Florida team on opening night. Now they just need to bring the same level intensity tomorrow in the second game of this back-to-back. If they play like they did tonight, then there shouldn't be much of a problem. Corey's Ten Thoughts - The Hurricanes definitely put together one of their strongest efforts of the season, but I don't think it's possible to play as poorly as Florida did for the first two periods. Granted, things were pretty tough for them since they had to force a cold goalie into action but most of the goals Clemmensen allowed weren't on him. Florida's defense committed numerous bad turnovers in their own zone and kept allowing the Hurricanes forwards to get into prime scoring areas, leaving no chance for Clemmensen on most of them. The only soft one on his part was Eric Staal's second goal which trickled in off his pads. The Panthers allowed Carolina to do almost anything they wanted in the neutral and offensive zones tonight and all the Canes had to do was solve the goaltender, which they did. - If you've read the work I've done on zone exits, you'll know that I'm not a huge fan of dump-and-chase hockey because it usually doesn't lead to much offense. However, four of Carolina's five goals tonight came off uncontrolled zone entries and turnovers by Florida's defense. Carolina did an excellent job on the forecheck tonight by forcing Florida's defense to turn the puck over and manufacturing them into shots and scoring chances. It's true that dump-and-chase play usually doesn't result in much offense but a different standard applies when the opposing defense is completely careless in their own zone like Florida was tonight. - Alex Semin may have only four goals on the season, one of which being an empty-netter, but he had three primary assists tonight to give him 15 on the season. The best part? All of them were beauties and the result of hard work on the part of Sasha. Take Jiri Tlusty's goal for example. Tlusty doesn't even get an opportunity to score there if Semin doesn't hunt down a loose puck and deliver a perfect back-hand pass to him. I don't know how Semin was able to find Tlusty open in the slot despite looking in the opposite direction but that's just one example of how good of a play-maker he is. That was also displayed on Eric Staal's first goal of the night where Semin kept in a clearing attempt and found Eric wide open in front of the net to score his 11th of the season. Semin was brought in to be a goal-scorer but his play-making skills have been way more of a help to the Hurricanes.  - We finally saw some results from the Hurricanes third line tonight as they produced three goals and rookie Riley Nash played a key role in all of them. He recorded the primary assist on both of Jussi Jokinen's goals and scored his first NHL goal in the second period to complete a three point night. Most will notice how he finished off a play with Patrick Dwyer for the goal, but Nash also made a great play in his own zone before that. Jokinen made a poor clearing attempt that could have easily ended poorly for Carolina, but Nash quickly broke it up and went the other way and it resulted in an odd-man rush. I thought Nash's defensive game would make him a dark horse for the third line center spot and the job might be his for awhile now that we're starting to see some results coupled with good play. - I can't think of a player on the Hurricanes who has had worse luck this season than Jussi Jokinen, which is why it was great to see him finally get a couple goals tonight. Jokinen started the season poorly but he has been playing better ever since moving over to the wing but he just wasn't burying his chances. That changed tonight with Nash setting him up for his third and fourth goals of the season. They were put on a silver platter for him thanks to Florida turning the puck over, leaving him wide open but those are chances Jokinen needs to finish to stay in the top-nine. - After getting pummeled by Washington on Tuesday night, Carolina has won the battle at even strength in their last two games. They dominated Florida for the first two periods tonight and ended up Corsing them 50-44 at even strength while outchancing them 24-14 overall. Florida has been a bad team at even strength this season while Carolina has been winning their battles there for most of the season, so it was great to see them play up to their ability tonight. The only time Flordia was creating consistent chances was when they were down by three or more goals while the Canes were playing more conservative.  - The one negative thing about Carolina's performance was their powerplay, which went 0 for 4 on the night. They did some good things on their first opportunity but it all quickly dissipated after that. Most of it was due to them playing with a big lead but losing Joni Pitkanen in the first period also hurt their powerplay a lot. He is the team's best puck-moving defensemen by a mile and not having him hurts how they enter the zone and set up plays with the man advantage. When the shining moment of a powerplay is a good back-check to deny a short-handed chance then you know there is an issue. - Stephen Weiss is normally a player I respect but I don't know what he was trying to accomplish by taking cheap shots and late hits at Justin Faulk. Carolina's young defenseman delivered a good, clean hit to Weiss in the second period, which was met with some retaliation from Tomas Kopecky but Weiss decided to take matters into his own hands and go after Faulk for the rest of the game. It resulted in them fighting in the third period after Weiss hit Faulk high with an elbow. Faulk handled himself well in the fight, nailing him with a good right hand to end the bout, but it was odd to see Weiss resort ot cheap shots like he did tonight. It'll be interesting to see how this boils over tomorrow. - When Joe Corvo is on the ice, the Hurricanes had 21 shot attempts to only 8 of Florida's. When he doesn't get on the scoresheet, a good game from Corvo is one where you don't notice him much and this was definitely a solid outing for him and Tim Gleason tonight. These two were matched up against Weiss, Fleischmann and Kopecky for most of the game and that trio ended up recording zero shots on goal at even strength. A sign that the defense did their job. - The only line that was able to create a lot of shots through for Florida was their fourth line and Shawn Matthias did most of the work with six shots on goal, all of them were scoring chances. Florida had 14 total scoring chances on the night, so that says a lot about how well Matthias played, taking advantage of whenever Carolina's fourth line was on the ice. It also speaks to how great the Canes top players performed since no one else on the Panthers were able to do much offensively. Florida is going to be an angry team tomorrow, so I would expect a scrappy game when these two teams meet then. Carolina has a chance to get a real lead in the divisional race by getting all four points from the Panthers on the weekend and if they play like they did tonight, it shouldn't be much of an issue. Whether or not it happens is another story but if anything the Canes confidence has to be a lot higher after putting up six goals tonight.
Original Story:
http://www.shutdownline.com/hurricane...
THE BACKYARD
BEST OF MAXIM
RELATED ARTICLES
SUNRISE, Fla. The heart of the Florida Panthers has been playing with a heavy one. Stephen Weiss, the longest tenured Panther, returned to the team Thursday after attending his grandmother's funeral in Toronto. This season has been a rough one for Weiss, both on and off the ice, and Sunday may have been its lowest point. After failing to click on the top line with Jonathan...
The Florida Panthers' dreadful goaltending situation just got worse. Renaud Lavoie of RDS reports that Jose Theodore has been diagnosed with a torn groin, likely putting him out of commission for the rest of the season. Theodore needed to be helped off the ice just two minutes into Florida's 6-2 loss to Carolina on Saturday. Statistically, the Panthers' play in net has been...
The Alex Kovalev comeback tour might be over. According to a report on TSN.ca, the Florida Panthers are preparing to make an announcement about Kovalev's future with the team. The veteran has been a healthy scratch for Florida six times this season and he wasn't with the team as they traveled to take on the Carolina Hurricanes. All signs are pointing to Florida ending...
Game time: 6 p.m. TV: FOX Sports Florida With their first divisional victory of the season, the Carolina Hurricanes claimed sole possession of the Southeast Division lead for the first time. Now the Hurricanes have an opportunity to extend their lead with another division win on Sunday when they visit the injury-plagued Florida Panthers in the back end of a home-and-home series...
Game time: 7 p.m. TV: FOX Sports Florida Although they're tied for first place, the Carolina Hurricanes have yet to earn a point against any of the other four teams in the Southeast Division. Now a little healthier, the Hurricanes have two chances to end that drought this weekend with a home-and-home series against the Florida Panthers starting Saturday night in Raleigh. While...
The first part of the video you see Jack Skille of the Panters sliding into Ward, who was slow to get up.  When play started again, Ward stretched a bit to make a save and then went down on his own. Injury appears to be either his back or leg but you can see he was uncomfortable coming off the ice. Dan Ellis who replaced Ward was scheduled to start the game but was ill, so Ward...
The Carolina Hurricanes finally found their way to the top of the Southeast Division, and they did it with their first win of the season against a divisional opponent. Jussi Jokinen scored twice and added an assist, and Riley Nash netted his first goal as part of a three-point night in the Hurricanes' 6-2 victory over the Florida Panthers on Saturday night. The long-awaited...
RALEIGH, N.C. (AP) -- Jussi Jokinen scored twice and added an assist, and Riley Nash netted his first goal as part of a three-point night in the Carolina Hurricanes' 6-2 win over the Florida Panthers on Saturday. Eric Staal also had two goals for the Hurricanes, Jiri Tlutsy scored his 10th in 11 games, and Alexander Semin had three assists. Carolina moved into sole possession...
SUNRISE, Fla. (AP) -- Jordan Staal, Alexander Semin, and Justin Faulk scored in Carolina's 3-2 win over Florida on Sunday night, giving the Hurricanes their second victory over the Panthers in as many nights. Dan Ellis made 19 saves for Carolina after replacing Cam Ward with 11:04 left in the second. Ward stopped all 15 shots he faced before leaving the game with what appeared...
After Carolina put on a show against Florida at home on Saturday night, fans were treated to a slightly less-thrilling affair the following night in the rematch between the two teams. The pattern of the game was a bit similar with the Canes getting a 3-0 lead and the Panthers playing catchup for the rest of the game, but this was was much less eventful and Carolina didn't even...
With their first divisional victory of the season, the Carolina Hurricanes claimed sole possession of the Southeast Division lead for the first time. Now the Hurricanes have an opportunity to extend their lead with another division win on Sunday when they visit the injury-plagued Florida Panthers in the back end of a home-and-home series. Despite having a 10-3-1 record against...
The Hurricanes did themselves a huge favor this weekend by picking up two wins against the Florida Panthers because it now gives them a bit of a cushion on their lead in the Southeast Division. Things are still pretty tight, though as the Winnipeg Jets trail them by only four points and Canes have recently come out of a stretch where they lost three divisional games. Carolina'...
NHL News

Delivered to your inbox

You'll also receive Yardbarker's daily Top 10, featuring the best sports stories from around the web. Customize your newsletter to get articles on your favorite sports and teams. And the best part? It's free!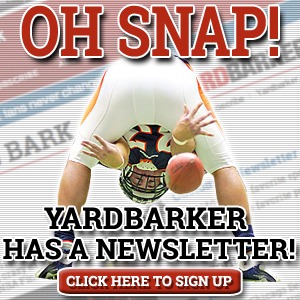 Latest Rumors
Best of Yardbarker

Today's Best Stuff

For Bloggers

Join the Yardbarker Network for more promotion, traffic, and money.

Company Info

Help

What is Yardbarker?

Yardbarker is the largest network of sports blogs and pro athlete blogs on the web. This site is the hub of the Yardbarker Network, where our editors and algorithms curate the best sports content from our network and beyond.