Found March 07, 2013 on Fox Sports Carolinas:
RALEIGH, NC -- The second period of the Carolina Hurricanes' 4-2 home loss to the Montreal Canadiens on Thursday night may have been the team's best of the season. Unfortunately, it wasn't enough to propel Carolina to a victory. But, it was evidence of this team's potential explosiveness, and if it can figure out a way to play with more consistency, the Hurricanes' ceiling is pretty high. The Canes, who will remain in first place in the Southeast Division even with this defeat, entered having won four consecutive games, including a 6-2 victory over Florida last Saturday that saw them score three times in the opening period. They did that on 13 shots on goal, though. Against the stingy Canadiens, who came into the affair first in the Northeast Division at 15-5-4 and with 34 points, Carolina's second period resulted in goals by Jordan Staal and Drayson Bowman but on 21 shots on goal. For the period, the Canes outshot the Habs 21-5 and went into the second intermission tied at 2-2. It was total domination. "That was a tough first period for us, but our guys responded," Hurricanes coach Kirk Muller said. "I thought that was probably our best period of the year in the second. We did everything we possibly could." The 21 shots on goal in the period tied a season-high, equaling a second-period mark against Buffalo on January 24. The period also included a penalty shot by Eric Staal, the team's first of the season. And really, a dynamic period should come as no surprise to Canes fans. Carolina entered Thursday's game third in the NHL in shots on goal with 32.4 per game and put up 44 against Montreal goaltender Carey Price, who netted 42 saves. In addition, the Hurricanes had outscored their opponents 17-8 in the four-game winning streak coming in and were fifth in the NHL with 4.25 goals per contest. But they can be better. Newness and injuries have been somewhat of an issue, keeping the Canes from the cohesiveness we might soon see. The team is just one game shy of the mid-point of this abbreviated 48-game season, so there's plenty of time for the offensive to get even stronger. And if that second period against such a dynamic team such as the Canadiens is any indication, Hurricanes fans can expect even more fireworks moving forward, and that's a good thing given the team's goalie situation. Regular starter Cam Ward is out for 6-8 weeks with a knee injury leaving Dan Ellis and Justin Peters to mind the net. Peters was in goal for the second consecutive game Thursday after being called up from Charlotte on Monday. He notched a victory over Buffalo on Tuesday night, but allowed four goals on 28 Montreal shots on this night. The Hurricanes can't expect Ellis and Peters to perform as Ward would have, so the offense needs to amp it up even more. Improving the power play, which has fallen to 28th in the NHL at 13.6 percent, will certainly help. But the reality is this group has enough to make up for poor numbers when holding personnel advantages. That means no more slow starts like what put them in a hole against the Habs. "We obviously had a flat start in the first," forward Jordan Staal said. "All of us weren't happy with the way we came out, we really wanted a good second. Everyone in the room got going and we were playing well." Carolina hosts New Jersey on Saturday before key back-to-back games at home and away with division rival Washington next Tuesday and Thursday. There's nothing wrong with winning high-scoring games as long as you win. And that may be how the Hurricanes have to take care of business for a while.
Original Story:
http://www.foxsportscarolinas.com/nhl...
THE BACKYARD
BEST OF MAXIM
RELATED ARTICLES
Just as the Carolina Hurricanes were finally getting healthy, goaltender Cam Ward went down with a knee injury. Ward, who helped lead the franchise to the Stanley Cup in 2006, suffered a third-degree MCL tear over the weekend and will miss 6-8 weeks. His backup, Dan Ellis, was scratched from Tuesdays home victory over Buffalo because of a flu-like symptoms. Welcome back, Justin...
Most of the Hurricanes injured players have returned but one player who has been on the shelf longer than intended is center Tim Brent. He was part of the notorious first-wave of injuries that occurred a few weeks ago, as he has been struggling with a nagging groin problem for quite awhile now. He is set to make his return to the lineup tonight and Brent might give the Hurricanes...
Well-traveled goaltender Dan Ellis will carry a big workload for the Carolina Hurricanes while starter Cam Ward recovers from his serious knee injury. That opportunity will last from six to eight weeks.But first things first: Ellis (3-2-0, 2.56 goals-against average, .923 save percentage) must recover from a nasty bout with the flu before he plays again. In the meantime, Justin Peters...
The Hurricanes have gone through a lot of lineup changes this season but I don't think any position has been more of a revolving door as the right wing spot on the second line. With Tuomo Ruutu out until at least mid-April, Kirk Muller has tried out just about every weapon in his arsenal to find a suitable linemate for Jordan Staal and Jeff Skinner. The second line has had it...
The Carolina Hurricanes take the ice tonight against Montreal and look to run their winning streak to 5 games and maintain their grip on the Southeast Division. This is game 2 against Montreal. The Canes have lost some games this season where they just didn't play well or do much at all right. The 3-0 loss to Montreal a few weeks back though was one of only a few games where...
The Carolina Hurricanes came into Thursday's game look to extend their winning streak to 5 games. And they played a game that had a couple options to get a 5-4 win if you make a couple adjustments. The burst in the 2nd period might be enough to eek out a win against 1 of the 2 previous opponents, but against a better Canadiens team you need a more complete game to win. Canes...
The injury bug is back, so the "Net Effect" takes a look at some goalie situations worth monitoring. Carolina Hurricanes- Cam Ward will be out for up to two months with an MCL sprain. Bad news for the Hurricanes, as he has been one of the better goalies over the last five seasons. Dan Ellis will get the bulk of starts, and is probably owned in your league, but take a look...
While the Carolina Hurricanes and Montreal Canadiens finished at the bottom of their respective divisions last season, both find themselves in first with the midway point approaching. The Southeast-leading Hurricanes look to win five straight for the first time in three years Thursday night as they host the Canadiens, who try to bounce back from their first regulation loss in almost...
Montreal Canadiens at Carolina Hurricanes 7 p.m., PNC Arena TV: Sports South, TSN-Habs Carolina will be coming into tonight's game against the Canadiens in a similar situation to the last time they took on Montreal. If you don't remember (it's probably better if you don't anyway), the Canes were riding a three-game win streak head into that game but suffered...
On the stat sheet, last night's 4-2 loss to the Montreal Canadiens looks like a game that the Hurricanes could/should have won but ended up losing thanks to running into a hot goaltender. They put up 43 shots against Carey Price but came away with only two goals while Montreal had only 28 shots and were outchanced 21-15. It's true that the Hurricanes had a huge advantage...
Sometimes the most frustrating losses are the ones when the team plays a solid game but ends up with nothing to show for it because of a few bone-handed mistakes. This was the case for the Hurricanes in their 4-2 loss to the Canadiens tonight. They outshot Montreal 43-28 and played arguably their best 20 minutes of the season in the second period but ended up taking the loss due...
NHL News

Delivered to your inbox

You'll also receive Yardbarker's daily Top 10, featuring the best sports stories from around the web. Customize your newsletter to get articles on your favorite sports and teams. And the best part? It's free!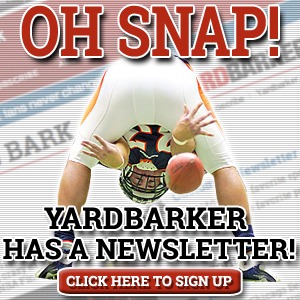 Latest Rumors
The Backyard

Today's Best Stuff

For Bloggers

Join the Yardbarker Network for more promotion, traffic, and money.

Company Info

Help

What is Yardbarker?

Yardbarker is the largest network of sports blogs and pro athlete blogs on the web. This site is the hub of the Yardbarker Network, where our editors and algorithms curate the best sports content from our network and beyond.