Found February 18, 2013 on Shutdown Line:
PLAYERS:
Ryan Murphy
,
Brock McGinn
,
Victor Rask
,
Trevor Carrick
,
Keegan Lowe
,
Tyler Stahl
,
Austin Levi
,
Matt Mahalak
,
Daniel Altshuller
,
Danny Biega
,
Brendan Woods
,
Collin Olson
TEAMS:
Carolina Hurricanes
,
Minnesota Golden Gophers
,
Michigan Wolverines
,
Ohio State Buckeyes
Big offensive performances are somewhat common in junior hockey and you'll often see more than a few players record at least a point in every game they played in a given week. We've seen this a few times with the Hurricanes CHL prospects this year as both Ryan Murphy and Brock McGinn have put together some impressive offensive weeks over their career but none of their recent outputs tops the weekend Victor Rask just had. The Canes 2011 second round pick exploded for the Calgary Hitmen this past week with four goals and eight points in only four games, recording a hat trick in one of them. This pushes him to above a point-per-game pace on the season with 29 in 26 games in the top-10 on the team in scoring despite not playing for half of the season. It's pretty easy to see why the Charlotte Checkers wanted to keep Rask on the team to start the year when you look at how well he is playing with the Hitmen. His play-making skills and willingness to go to the dirty areas to score can be such a big help to the Hurricanes when he gets older. He'll probably be with one of the big clubs to stay next season and while he probably won't be posting numbers like this, Rask has the tools to contribute at higher levels. It will be exciting to see how the rest of the year pans out for him as the Hitmen continue their push for the playoffs. More on Rask and the other prospects is coming after the jump. CHL Skaters Prospect Team GP G A Pts PIM GF GA PPGF PPGA Ryan Murphy Kitchener 2 0 2 2 0 2 3 1 0 Brock McGinn Guelph 3 1 1 2 0 0 3 2 0 Trevor Carrick Mississauga 2 0 0 0 2 0 0 0 1 Keegan Lowe Edmonton 1 0 0 0 5 2 1 0 0 Tyler Stahl Victoria 4 0 0 0 4 2 4 0 0 Austin Levi Plymouth 3 0 1 0 6 6 0 0 2 Victor Rask Calgary 4 4 4 8 2 6 1 0 0 Rask is the clear standout as he just blew everyone else away this week. He started things off by recorded a hat trick in a win over Tri City and then followed it with a third-period goal in a 4-3 loss to Spokane. He would then come up big again two games later with a three-assist performance against Regina to cap off a 5-2 win. Calgary is currently in a pretty tight race for the top spot in their division with the Edmonton Oil Kings and they could make things tight if Rask continues to play like this. Keegan Lowe and the Oil Kings are going to have plenty to say about that, though even if they didn't do much this week. The Oil Kings had only one game but they made it count by picking up a 5-2 win over Tyler Stahl's Victoria Royals. Lowe didn't get on the scoresheet but he had a great fight with Taylor Crunk of the Royals. Edmonton has four games this upcoming week, so we'll hopefully see more from him then. As for Stahl, he didn't get on the scoresheet in any of Victoria's game this weekend and was on-ice for four goals against. Adding some salt to the wound, Victoria also went 0-3-0-1 on the week.  Not many of Carolina's OHL prospects made much nosie this week but they didn't play in many games either. Ryan Murphy added yet another pair of assist to his totals to give him 37 points in 44 points on the season while Brock McGinn scored his 20th goal of the year in Guelph's 4-2 loss to Owen Sound last week. Both of these players had rough weeks on the defensive side of the spectrum, though as both were on-ice for three even strength goals against. One player who did perform well defensively was Austin Levi of the Plymouth Whalers. He didn't make much noise on the scoresheet but he wasn't on-ice for any even strength goal against while being on-ice for six of the Whalers 5v5 tallies. Levi's performance is hard to judge without video since defensive defensemen are hard to gauge by traditional stats but the fact that Levi hasn't been on-ice for many goals against is a good thing. Plymouth also won all three of their games this past week and currently sit at the top of the West Division of the OHL.  CHL Goaltenders Goalie Team Sv% SV SA GA Matt Mahalak Plymouth 0.879 29 33 4 Daniel Altshuller Oshawa 0.843 43 51 8 While it was a good week for the Whalers, their goaltender has seen better. Mahalak's week started off fine with a 21-save performance over Saginaw but he was chased after allowing three goals on seven shots against Guelph on Saturday. Have to think that the leash for him is getting shorter after Plymouth's #2 goalie Alex Nedeljkovic stopped 52 of 54 shots in their 3-2 win over Kitchener the previous day. Altshuller also got roughed up in both of Oshawa's games this past week, allowing 4 goals in both games with one of them coming on only 19 shots faced in a 4-2 loss to Sarnia. NCAA Skaters Prospect Team GP G A Pts SOG PIM Phil Di Giuseppe Michigan 0 0 0 0 0 0 Danny Biega Harvard 3 1 1 2 5 2 Brendan Woods Wisconsin 2 0 2 2 3 0 It's a little too late for Harvard to turn their season around but they managed to salvage a good weekend with wins over Boston and Colgate. They also added a tie with Cornell for good measure. Biega had a very good performance against BU in the Beanpot's consolation round with a goal and an assist. That was only his second goal of the season and he's on-track to have a disappointing season after being so good in his junior year, but hopefully that doesn't affect him much when he gets ready to go to camp with the Hurricanes next season. I still really like his game and believe that he has a future in the league. Meanwhile, Brendan Woods had himself a night at the Hockey City Classic where Wisconsin recorded an upset over the #2 ranked Minnesota Golden Gophers. Woods recorded two assists that game including a primary helper on the Badgers opening tally. He started out this game as the fourth line center so hopefully this performance is enough to keep him in the lineup. Wisconsin dropped their home meeting with the Gophers the previous night but I'm sure they are fine with beating them on the big stage and earning their 10th conference win. Carolina's other two NCAA prospects did not play this week as Phil Di Giuseppe's Michigan Wolverines did not have a game and Collin Olson did not play in any of Ohio State's games.
Original Story:
http://www.shutdownline.com/hurricane...
THE BACKYARD
BEST OF MAXIM
RELATED ARTICLES
Some unfortunate news came earlier today when the Hurricanes announced that Jeff Skinner wasn't feeling well at practice today and would not be traveling with the team to Montreal for tomorrow's game. This will leave three key players out of the lineup with Tim Gleason and Joni Pitkanen also injured but that's hopefully only a short-term concern. More people are worried...
Cam Ward didn't have much fun in Montreal on Monday night. Not only did Ward and the Carolina Hurricanes leave with a loss to the Canadiens, Ward suffered a pretty embarrassing moment in the process. With the Habs already leading 2-0 late in the third, Ward gave up arguably the worst goal of the season. Montreal forward Max Pacioretty carried the puck into the neutral zone and...
Over the last few months, I've discussed the importance of neutral zone play and tracking zone entries and today, we are finally going to take a look at how the Hurricanes are performing in that regard. Anybody who reads this blog already knows that I am a big follower of the statistical side of hockey and I've been tracking scoring chances for the Hurricanes (among other...
LONG DISTANCE
Montreal Canadiens forward Max Pacioretty has had a rough start to the season.  He had to have an emergency appendectomy, was allegedly bitten by Mikhail Grabovsky and then endured a laceration to his ribs from a skate.  Pacrioretty had been unable to find the back of the net this year until fate gave him a lucky bounce. Late in the 3rd period he dumped a puck in from just behind...
As they say in baseball, a bleeder through the infield will show up as a line drive in the scorebook.  This goal by Canadiens forward Max Pacioretty will show up as a wicked wrist in the book…at least that's how Hurricanes goalie Cam Ward will want it to appear. Pacioretty will embellish the story and tell his grandkids that he scored from inside his team's blue line.  Except...
Thanks to a plethora of injuries, the Hurricanes went into last night's game short on talent and forward depth and came away with their worst offensive performance of the season. Carolina's injury depleted lineup created only nine even strength scoring chances, four of which coming in the final two minutes of the second period, and eleven overall. Both are season lows for...
Carolina Hurricanes at Montreal Canadiens 7:30 p.m, Bell Centre TV: FS-Carolinas, NHL Network, TSN-Habs, RDS The Hurricanes and Canadiens might be based in different countries but they have more similarities than you think They both are coming into this game on three-game win streaks and currently have similar record with the Canadiens being only one win better than the Hurricanes...
There weren't a lot of Hurricanes fans who were expecting the team to win tonight given the roster they were dressing. It's hard to expect much when your team is missing three top players along with one of their key special teams contributors. When said players are being replaced with guys from the AHL (one of which was jetted to the game on the same day), it was very important...
Hurricanes News

Delivered to your inbox

You'll also receive Yardbarker's daily Top 10, featuring the best sports stories from around the web. Customize your newsletter to get articles on your favorite sports and teams. And the best part? It's free!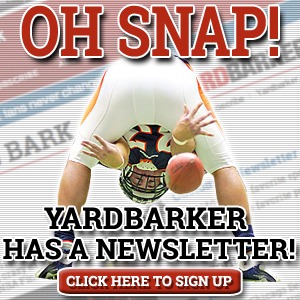 Latest Rumors
The Backyard

Today's Best Stuff

For Bloggers

Join the Yardbarker Network for more promotion, traffic, and money.

Company Info

Help

What is Yardbarker?

Yardbarker is the largest network of sports blogs and pro athlete blogs on the web. This site is the hub of the Yardbarker Network, where our editors and algorithms curate the best sports content from our network and beyond.