Found August 09, 2012 on Shutdown Line:
Zach Boychuk is one of the Hurricanes most talented forward prospects and has more potential than almost everyone else on this list. He is also one of the organization's most frustrating players because he has still yet to do much of anything in the NHL despite being given multiple chances. He has played 78 games over four seasons (technically three if you want to nitpick) and has amassed only seven goals and 18 points, which is very weak for someone with as much offensive upside as Boychuk. He has spent the majority of his pro career bouncing back and forth between the AHL and NHL while not making much of a splash in the latter. There are a lot of good things to speak of when it comes to Boychuk's AHL production, though.
In 2010-11, Boychuk was a point-per-game player with the Charlotte Checkers and led the team in points. He continued to impress at the AHL level last season by leading the Checkers in goals with 21 and having 44 points in 64 games. So what is keeping Boychuk from having success in the NHL? The door was certainly open for him to make an impact this season with the Hurricanes being desperate for goal-scoring talent. He started the year in Charlotte but he was eventually called up in November and was given another chance in February to make somewhat of a lasting impression. The result? Zero goals and two points in 16 games.
Many have closed the book on Boychuk right now and have labeled him as a bust, but let's remember that he is only 22 years old. Boychuk may not be the player fans hoped he would be, but no one's career is over at 22. Also, when you look at the kind of minutes Boychuk was playing last season, it's hard to say that he was given much of a "chance."
Boychuk played significant minutes in maybe six total games last season and played outside the fourth line in only five of them. Playing him on the fourth line does next to nothing for his development and he honestly would have been better off in Charlotte where he would receive top-six minutes. Boychuk doesn't necessarily "need" top-six minutes to succeed at the NHL level, but using him as a fourth line plug really doesn't do anything at all since his best assets are his play-making skills. The most frustrating thing with Boychuk was that play was going north when he was on the ice and he was making of his minutes whenever he was used outside of the fourth line, but he would always end up back in Charlotte or the fourth line no matter what. 
The coaching staff seemed to keep him on a pretty short leash because Paul Maurice played him in the top-six for three total games before sending him back to his normal role. Nevermind the fact that he was creating chances and driving the play forward in those minutes. Many thought that this would change when Kirk Muller took over but that wasn't the case. Boychuk played two games under Muller, was benched in the second period of the third game and quickly recalled. Three games is a very small sample size but Muller clearly saw something in Boychuk and whatever it was, he didn't like it.
Boychuk's stock is much lower than it was a couple years ago but there is still plenty of hope left for him. Again, he is only 22 and will probably get his chance somewhere down the line. The one major red flag on him is his size since he is only 5"10' and gets knocked off the puck fairly easily but he still has a decent future in the league as a winger. He is a good enough skater and has improved his game in a lot of areas, his puck-possession skills being the main thing he improved this season, so I think he is far from finished and we could see him in the NHL relatively soon. The Hurricanes clearly see some value in him since they re-signed him for another year, although this could be his final chance with the organization.
However, one thing that is going to stand in Boychuk's way is that his skill-set fits best in the top-six and the Hurricanes have no openings there as of right now. He may be in the running for a third line spot but with players like Drayson Bowman fitting a checking role more, he could be lower in the pecking order than he was last season. Boychuk is going to have to make a very lasting impression during training camp to have a chance to make the roster because there are only so many spots right available now and a lot of players to compete with. Boychuk's time with the Hurricanes might be running out but his window of opportunity to make the NHL is still open. My guess is that he will see a call-up sometime this season if an injury to a top-six player occurs and he will get his chance then. What kind of minutes he receives during that call-up is another issue.
Original Story:
http://www.shutdownline.com/hurricane...
THE BACKYARD
BEST OF MAXIM
RELATED ARTICLES
The Carolina Hurricanes have signed forward Jeff Skinner to a six-year contract extension that will keep him with the team through 2018-19. The team announced the deal Wednesday. Skinner - who won the Calder Trophy in 2011 as the NHL's rookie of the year - will make $4.35 million in 2013-14 and $6 million each of the five seasons after that. His entry contract that pays him...
The Carolina Hurricanes have signed forward Jeff Skinner to a six-year contract extension that will keep him with the team through 2018-19. The team announced the deal Wednesday. Skinner - who won the Calder Trophy in 2011 as the NHL's rookie of the year - will make $4.35 million in 2013-14 and $6 million each of the five seasons after that. His entry contract that pays him...
The Carolina Hurricanes know what it feels like to win a Stanley Cup championship. Evidently, they miss that feeling and continue to do everything possible to get back to the promised land. This offseason is clear evidence of that fact. Carolina won the Cup in 2006, but have not been back since. In fact, they have only qualified for the playoffs once since winning it...
The Carolina Hurricanes signed 20-year-old center Jeff Skinner to a six-year contract extension with the club, NHL.com reported Wednesday. Skinner, who has one year left on his entry-level deal, is locked up through the 2018-19 season. The new deal is for $34.35 million with a salary-cap hit of $5.725 million. Skinner will make $4.35 million during the 2013-14 season and $6 million...
The Carolina Hurricanes have had the most productive offseason in the team's history this summer. Not only did the Carolina Hurricanes resign important offensive and defensive players from this past season, like Jay Harrison, Jamie McBain and most recently Jeff Skinner, but they also bolstered their offense by trading for star center Jordan Staal and [...] [[ This is a content...
In what was an incredible coincidence yesterday, I was in the process of writing an article about wanting to extend Jeff Skinner's contract as soon as possible and predicting what kind of money he would get in the deal. When I was half-way done with the article, I noticed a tweet from Hurricanes GM Jim Rutherford saying that they were close to announcing that they had signed...
RALEIGH, NC – Jim Rutherford, President and General Manager of the National Hockey League's Carolina Hurricanes, today announced that the team has signed forward Jeff Skinner to a six-year contract extension. The deal will pay Skinner $4,350,000 in 2013-14 and $6 million per season from the 2014-15 season through the 2018-19 season. "Jeff is a cornerstone player for our team...
Via Sportsnet's Chris Nichols and others on Twitter and Facebook, Carolina Hurricanes GM Jim Rutherford posted the following on Twitter a few minutes ago: It looks like we are going to be able to get Jeff Skinner tied up for a number of years. Exciting news for our franchise.— Jim Rutherford (@HurricanesGM) August 7, 2012
 The Carolina Hurricanes continued to make this one of the most successful off-seasons in the team's history by resigning star center Jeff Skinner to a six-year $34.35 million contract extension through the 2018-2019 NHL season. The deal is going to pay Skinner $4,325,000 in the upcoming 2012-2013 season and $6,000,000 per season every season following until the 2018-2019 season...
Hurricanes News

Delivered to your inbox

You'll also receive Yardbarker's daily Top 10, featuring the best sports stories from around the web. Customize your newsletter to get articles on your favorite sports and teams. And the best part? It's free!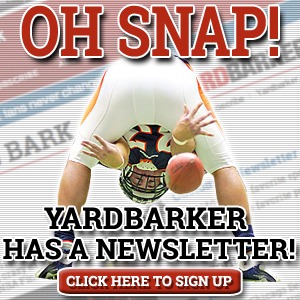 Latest Rumors
Best of Yardbarker

Today's Best Stuff

For Bloggers

Join the Yardbarker Network for more promotion, traffic, and money.

Company Info

Help

What is Yardbarker?

Yardbarker is the largest network of sports blogs and pro athlete blogs on the web. This site is the hub of the Yardbarker Network, where our editors and algorithms curate the best sports content from our network and beyond.