Found March 06, 2012 on NorthWest Sports Beat:
It ain't me, it ain't me, I ain't no senator's son, son With apologies to Northwest Sports Beat colleague Riley Trottier, I'm going to rant. Cody Hodgson wanted out of Vancouver, on this there can be no debate. You can argue over the logic of the decision but the continued non-answers from Hodgson prior to the Sabres vs. Canucks game Saturday night is evidence enough that he doesn't want to go on the record as denying a trade request.
His agent meanwhile took to Twitter to confirm that meetings had taken place regarding Hodgson's ice time as recently as three days before the trade.
Don't look for those tweets because they, along with month's of Rich Winters' tweets, mysteriously disappeared a couple of days ago. Especially considering the long rumoured rifts between Hodgson and the organization during his injury troubles, to believe that Mike Gillis up and traded Hodgson last Monday entirely on his own impetus is absolutely naive and absurd. Cody Hodgson asked for a trade You can claim that Rich Winters may have been the more interested party in a trade with camp Cody, and certainly his family seems to have been pushing for this as well, but at the end of the day Cody Hodgson's career is Cody Hodgson's. Cody Hodgson wanted out of Vancouver Considering he and his family have burned through three agents in four years, Hodgson does not defer responsibility in career decisions. The argument over whether Cody Hodgson is a better player than Zack Kassian is completely irrelevant. It seems pretty simple that the player who wants to be on your team will always perform better than the one who doesn't. Hodgson's situation, while not ideal for personal gain, had to be quite enviable for a young prospect. Hodgson had a chance to chase a cup while learning behind two of the best centres in the game. As Kelly Hrudey pointed on on Hockey Night in Canada, Pat LaFontaine's career didn't suffer playing behind Bryan Trottier and Brent Sutter. Somehow though Cody Hodgson's ego told him that he should be getting top billing midway through his rookie season instead of paying his dues and growing organically as a player like say Ryan Kesler did. Hodgson looked at the Edmonton Oilers and decided he preferred that situation over the one in Vancouver. He saw Michael Grabner's career path and got jealous. Cody Hodgson chose himself over the team He chose personal glory over his best and perhaps only chance to win the Cup in his career. Is that the type of player you want on the Canucks? I understand that it hurts to see Hodgson leave, especially as the fallout settles and the truth is slowly being peeled back and revealed about his true intentions. Ultimately though Hodgson was only in the system for a couple of years, and most of you reading this have been Canuck fans for life, fans of a team Hodgson decided he wanted to move on from. It stings, but there will be other Hodgsons. There's no need to stand outside of his window with a boombox (or an oversized iPad playing his Boston slapshot winner). There's other fish in the sea, there's even one right now on the team called Zack Kassian who fills the team's needs a lot more than Hodgson did and all he's talked about is being excited to leave Buffalo and having a chance to win. Doesn't that sound like a preferable attitude? It's amazing as well to see Mike Gillis thrown out with the bathwater despite his impeccable track record. What more does Gillis have to do to be entrusted to make the right hockey moves? To be fair though, these are probably the same people who believed Gillis should have committed $40 million to Christian Ehrhoff. Gillis is smarter than you and me, it's just true. Trust him, he hasn't turned evil (yet). Kassian who fills the team's needs a lot more than Hodgson did... The #cryingforcody last week and the outcry for Gillis' head was funnier than the last five years of Saturday Night Live combined. It was the epitome of #firstplaceproblems. Imagine being a Leafs fan right now. Hell, imagine being a Canucks fan in the first 30 years of their existence, which admittedly most of the out-criers were probably too young to experience. To flip the script of Dan Savage's PSA campaign, it can get worse. It can get so much worse. Respect your Edlers on this. A common theme in the responses of various Vancouver Canucks regarding Hodgson last weekend was various forms of jokes about Hodgson having a big head. I believe we call this kidding on the square. If you're capable of reading between the lines, they're as revealing as comments about Christian Ehrhoff and Raffi Torres have been this year. This is a very, very close-knit locker room The individual is not bigger than the team with the Vancouver Canucks. This is all essentially confirmed by Eric Francis in a couple paragraphs here where he describes Hodgson as a high-maintenance individual on a team filled with players who have sacrificed ice time and left money on the table to win a Stanley Cup.
Even Rich Winters has admitted Hodgson and the Canucks had different goals, and we know the Canucks goal.
The past few years have seen a bounty of individual awards for the Vancouver Canucks but have not featured the ultimate team award just yet. I would personally trade the Art Rosses, Selke, and Hart in a h(e)artbeat for the Stanley Cup. It's not about the name on the back of the jersey, it's about the crest on the front. If you still believe trading Cody Hodgson was a bad move, it seems that you've forgotten that quite like Hodgson himself did. CLICK HERE CHECK OUT THE VANCOUVER CANUCKS CLUBHOUSE TODAY ON NWSB! © Richard Hodges for North West Sports Beat, 2012. | Permalink | No comment | Follow NWSB on Twitter or join US on Facebook for real-time updates OR... | Share This on Twitter | Share NWSportsBeat.com on Facebook Post tags: #cryingforcody, #firstplaceproblems, Brent Sutter, Bryan Trottier, Buffalo Sabres, Christian Ehrhoff, Cody Hodgson, Edmonton Oilers, Eric Francis, Hockey Night in Canada, Kelly Hrudey, Michael Grabner, Mike Gillis, Pat LaFontaine, Raffi Torres, Rich Winters, Ryan Kesler, twitteroversy, Vancouver Canucks, Zack Kassian
Original Story:
http://www.nwsportsbeat.com/canucks/v...
THE BACKYARD
BEST OF MAXIM
RELATED ARTICLES
Happy Birthday To You… This is a new feature on NWSB and its purpose is to let you know, if you are the girlfriend of the player or just a stalker, what you can get him for his birthday. He's hard-core that Marc-Andre! (Photo - The Canadian Press) We'll have a column up for a specific player the week of his birthday because we all know leaving birthday presents until...
Thomas Drance of Canucks Army posted an interesting tidbit the other day regarding the Sloan Sports Conference over the weekend where Brian Burke was quoted for some classic controversial lines. After dismissing the value of advanced stats, Burke went on to explain the evaluation process in Vancouver before the team drafter Ryan Kesler under Burke's control. Burke told the conferences...
In case you haven't noticed, Max Lapierre is having one heck of a season. Lapierre, who was picked up a year ago at the trade deadline, has brought an element needed to the Canucks. Early on this season, Lapierre filled-in nicely centering the third line while Ryan Kesler was injured and Manny Malhotra was struggling to get his game back. After Kesler got back, Hodgson established...
Wolfgang Amadeus Gragnani Quick what happened last Monday? I can't actually hear you but I'm assuming you said the Canucks traded Cody Hodgson for Zack Kassian, though you should never assume because it makes an ass out of you, especially when you got the trade wrong. Alex Sulzer, who you forgot existed until 3:30 pm Monday, was also shipped out in the deal for Marc-Andre Gragnani...
Stars vs Canucks Game Recap Did you miss the Dallas Stars vs. Vancouver Canucks Tuesday night on Sportsnet Pacific? Boxscore | My Post Game Recap We've got the highlights for you. Stars vs. Canucks highlights courtesy NHL.com. CLICK HERE CHECK OUT THE CANUCKS CLUBHOUSE TODAY AT NWSB! © NWSports "Q" for North West Sports Beat, 2012. | Permalink | No comment |...
Puck drop was 7:05, NOT 7:10! The Buffalo Sabres broke out to an early lead on Saturday, taking advantage of a pair of point shots to allow Ville Leino to snap home his fifth and sixth of the season only minutes into the hockey game. The Vancouver Canucks couldn't keep the puck out of their own end in the first five minutes on Saturday, resulting in long night on the bench for...
Canucks host the playoff hopeful Stars The Vancouver Canucks were overdue for a dud performance and that is just what happened in their 5-3 loss on Saturday night to the Buffalo Sabres. Now the Canucks will try to get back in the win column against another desperate team fighting for a playoff position – the Dallas Stars on Tuesday night. CLICK HERE CHECK OUT THE CANUCKS BLOG...
VANCOUVER, British Columbia (AP) -- Mike Ribeiro scored twice and the surging Dallas Stars took the Pacific Division lead by beating the Vancouver Canucks 5-2 on Tuesday. Ribeiro's 16th goal of the season midway through the third period provided insurance when he tipped a Michael Ryder pass behind goalie Roberto Luongo. In the second period, he gave the Stars a 2-1 lead 2 minutes...
Yaaaawn… Good morning! I'll keep this short and simple. I've compiled a list of all the best…and arguably worst Canucks articles from across the internet. You must read them all or you shall self-destruct. Looking for a recap of that letdown effort versus the Stars last night? Boxscore | Recap Read on. What are the bombastic NWSB staff saying? Well why don't you find...
It's not shocking that the Vancouver Canucks have a commanding lead atop the Northwest Division, but the fact that the Dallas Stars are contending for the Pacific Division title probably is a surprise. These teams meet three times within the next four weeks, starting with Tuesday night's matchup in Vancouver. The defending Western Conference champion Canucks (41-17-8) have...
Quote: It's not shocking that the Vancouver Canucks have a commanding lead atop the Northwest Division, but the fact that the Dallas Stars are contending for the Pacific Division title probably is a surprise. These teams meet three times within the next four weeks, starting with Tuesday night's matchup in Vancouver. The defending Western Conference champion...
What is up all you sexy Canucks fans? Are you over my COHO article yet? May I be freed from purgatory? Okay, okay, I get it. You just want a huge buttload of Canucks blog posts from across the interwebz. Done like dinner folks. Did you miss the Buffalo Sabres vs. Vancouver Canucks Saturday night on Hockey Night In Canada? Boxscore | Our Managing Editor "Q"'s  Post Game Recap...
NHL News

Delivered to your inbox

You'll also receive Yardbarker's daily Top 10, featuring the best sports stories from around the web. Customize your newsletter to get articles on your favorite sports and teams. And the best part? It's free!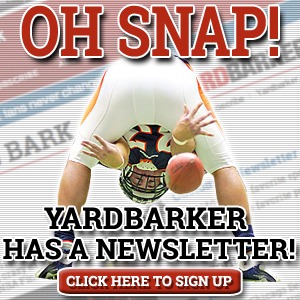 Latest Rumors
Best of Yardbarker

Today's Best Stuff

For Bloggers

Join the Yardbarker Network for more promotion, traffic, and money.

Company Info

Help

What is Yardbarker?

Yardbarker is the largest network of sports blogs and pro athlete blogs on the web. This site is the hub of the Yardbarker Network, where our editors and algorithms curate the best sports content from our network and beyond.