Found January 31, 2013 on Days of Y'Orr:
Jesus Christ these tweets are ******* amazing. I'd really enjoy watching Sheriff John Scott lay out Lucic tonight #NHL #payback — Bilbo Teabaggins (@Cucumber_Kid_71) January 31, 2013   I hope John Scott plays tonight, so I can see him beat the **** out of Lucic. — Nathan Schultz (@Shouts23) January 31, 2013   John Scott should run Tukka. #Sabres — Josiah LeRoy (@JosiahDLeRoy) January 31, 2013   If John Scott doesn't dummy at least Tukka Rask tonight I'm going to be disappointed #TheTree #********* #VilleLeinoForPresident — William(@willmangione) January 31, 2013   It's Tuukka and the only running over Scott knows how to do is drunk and in an SUV.   I wonder if Milan Lucic woke up with John Scott on his mind this morning? #bruins #sabres #NHL — Bilbo Teabaggins (@Cucumber_Kid_71) January 31, 2013   Big game tonight for the Sabes.Excited to see what John Scott does against t...
Original Story:
http://www.daysofyorr.com/2013-articl...
THE BACKYARD
BEST OF MAXIM
RELATED ARTICLES
LEGACY OF BRUTALITY
John Scott of the Buffalo Sabres laid an absolute beat-down on the Bruins Shawn Thornton in last nights game. Scott and Thornton, both known enforcers, didn't wait long to drop the gloves for this one and got down to business moments after the face off. The fight was over in less than :10 seconds but the damage was done. Scott landed 7-9 pretty solid blows while Thornton couldn't...
The Sabres John Scott is 6'8" and 270 and plays about 3:30 minutes a hockey game and has no other value other than he's a goon, some might refer to him as an insurance policy. On the other hand, Boston Bruins forward Shawn Thornton is a role player that sticks up for his teammates and is also known to chip in goals. Thornton definitely took one for the team here....
BOSTON — The anticipation and the build-up leading into Thursday night's Bruins-Sabres game was undeniable. Much of that surrounded the possibility of some hand-to-hand combat between two increasingly bitter rivals. However, not much came of that, aside from one quick first-period scrap that might leave the Bruins without one of their toughest players moving forward. Shawn Thornton...
Let's be honest here. The 6-foot-8 John Scott absolutely pummeled 6-foot-2 Shawn Thornton during the Sabres' win over the Bruins on Thursday. As a consequence, Thornton suffered a concussion and will miss at least the next seven to 10 days. So, the Bruins will have to march on without one of their key physical presences, but the players like Gregory Campbell and Zdeno Chara,...
Awful. Just awful. We didn't expect the Bruins to go undefeated obviously but damn that was awful. If the Maple Leafs scouts only saw that game, not even they would trade for any of the Bruins defense. That game was the worst thing I've watched since Pearl Harbor. By comparison, Pearl Harbor is one of the greatest films of our time. I am too mad at the Bruins defense to even...
Milan Lucic and Chris Bourque are two Bruins players who both came into the season with question marks surrounding them. Lucic was ridiculed by critics, including me, as being fat and out of shape. I personally said he was caught in between being a scorer and a tough physical forward. But in the first six games Lucic has two goals and two assists equaling up to four points in six...
It seems as if each time the Boston Bruins face the Buffalo Sabres the rivalry between the two teams intensifies. In case you've forgotten what brought the rivalry to a boil back in 2011, here's a video reminder of the Milan Lucic hit on Ryan Miller. The two clubs still have plenty of anger brewing in 2013. When they squared off on the final day of January, the Sabres...
Andy Brickley does indeed enjoy triangles. During a first-period power play, the Bruins showed just how well they can set up in the offensive zone. The team used a triangle formation to Buffalo goalie Ryan Miller's right, and Rich Peverley aggressively put a long-range shot on net which set up a second opportunity. For that chance, Peverly served as a decoy, allowing Milan Lucic...
NHL News

Delivered to your inbox

You'll also receive Yardbarker's daily Top 10, featuring the best sports stories from around the web. Customize your newsletter to get articles on your favorite sports and teams. And the best part? It's free!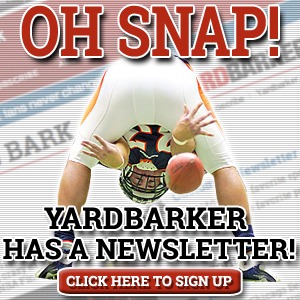 Latest Rumors
Best of Yardbarker

Today's Best Stuff

For Bloggers

Join the Yardbarker Network for more promotion, traffic, and money.

Company Info

Help

What is Yardbarker?

Yardbarker is the largest network of sports blogs and pro athlete blogs on the web. This site is the hub of the Yardbarker Network, where our editors and algorithms curate the best sports content from our network and beyond.