Found August 04, 2012 on The Rangers Tribune:
So as you've all seen, we've went through a bit of a recruitment process here on The Rangers Tribune to bulk up the staff for the 2012-13 season. That process is finally complete as I've went through all of the applications and made final decisions on which writers would be most beneficial to the direction I am looking to take this blog for the future, and trust me, I picked some pretty talented individuals. 
I'd first like to say thank you to everyone who showed interest and complimented the blog; it was heart-warming to see how many of you actually wanted to be a part of the blog in a larger capacity and I appreciate the time and effort put into all of the applications that were submitted. 
But I limited myself to only selecting three from the hefty bunch, and I wanted to briefly introduce them all to you since their work will be appearing on the site as soon as late August. First, let me say that each writer has a different style of conveying their thoughts and opinions, and each writer holds a unique talent in that way. I am a big believer that diversity makes for the most complete and well-rounded team, and that's what I've put together for The Rangers Tribune. 
Anyway, below you'll find each writer's name, a little background information, a description of their writing style as well as what they will look to add to RT. 
(All listed information was submitted by the writer themselves.)
Marc Weissman: I have been a Ranger fan for 42 years. I vividly recall as a mere 4 year old reading Ranger yearbooks in my older brother's bedroom. He was a HUGE NYR fan, played street hockey goalie incessantly, and had Eddie Giacomin posters strewn about his bedroom walls. His obsession was quite infectious, to say the least. Since I didn't quite understand the game itself at that point, he and I would sit around and joke about players names on the NYR All-Time Roster like Kannegeiser or Aitkenhead. But, of course, eventually that evolved into actually watching Rangers hockey on Ch. 9 in NY (away games) and listening to Marv Albert and Sal "Red Light" Messina on the radio for games played at MSG...even while I took a shower. And ever since my uncle took me to my 1st game at MSG against the KC Scouts in '75, I've never looked back...
My goal is to make people smile while they read, either by focusing on the positive amidst what may be dire circumstances, or by inserting puns and/or hopefully clever plays on words that make you say "Hmmm" even while a negative or harsh criticism is being leveled. I think that softens the blow and gives it a more well-thought-out feel like you said, vs. someone blindly going off on an emotionally-charged, irrational tirade. You might also have noticed - even in this very paragraph - how I love to be VERY descriptive.
As for what I can bring to the blog beyond a unique writing style, I would say that it will be an unbridled passion for our Blueshirts mixed in with straight-forward objectivity. 
Follow Marc on Twitter - @mgweissman
Alex Klein: I am a Junior from the University of Pennsylvania studying Real Estate policy/finance. I was born into a hockey family, who also had a obsession with the Blueshirts. I laced up skates on my uncle's pond for the first time at 2, and never looked back. My second birthday gift was a mini hockey net, stick, and ball which I did not put down for years.  I went on to play hockey at the highest youth level, playing for the national championships at the age of 14, winning 3 state championships, 1 regional, and being selected to the national all-star team during the "hockey night in Boston showcase" at 16.
At the ripe age of 2, I "watched" the Rangers win a Stanley Cup, and have not missed a beat since. My whole family knows the team in an out, but from the perspective of actual hockey players, not just fans. I treat this team like a 5th class at college, knowing their players, pipeline, salary cap, and styles of play beyond the realm of what would be deemed normal. The team has just become a religion in my house.
My style of writing will be direct, and to the point, but highly controversial.  I like to talk about topics that I know will stir conversation. But whatever position I take, I always back up what I am saying. I also like to use stats in Ranger conversation. I cannot wait to finally share my ideas with the Blueshirt faithful on the most viewed Ranger blog on record. I hope to bring controversial side to the team, because that what fans love to read about. I also hope to bring my different perspectives to the team whether that be from a previous players view, fan view, or management view. 
Follow Alex on Twitter - @kleinale1992
John Schlichting: I am an avid fan and former season ticket holder (sec. 335 baby!). Life, or I should say kids, took over and I gave them up when it became impossible to go to games on a regular basis (not to mention the cost - all this before it was okay to sell your tickets online, not that there was much of an online back then). Been a fan since I can remember to be honest. Games were always on in my house, earliest recollection is listening to the radio with my brothers to the '75 playoff loss to the frickin' Islanders. I grew up on the Island surrounded by Islander fans, played street hockey every day after school. The '79 playoff upset of the Islanders was amazing. ahh...JD's knee...smh. Now I live in NJ and surrounded by Devils' fans (moved the day after game 7 vs. Devils in 94)...well its pretty mixed to be honest.
My attention to detail(s) will show. I am by nature an info junkie/news hound. I always need to be plugged in to as many sources as possible and will always strive to have my facts straight. I will certainly emphasize the kids/prospects on the team. I think this is one of the best times to be a Ranger fan because of the transformation over the last 5 or so years to an organization that actually develops its talent. "WE DON'T TRADE KIDS!" - best thing I've heard from Slats since he got here. I look forward to sharing the excitement I get from learning about players in our system and what they may bring to the big club as we continue to build what should be a perennial power in the NHL. I have a poster of Gordie Clarke on my basement wall in fact (kidding, I'm not that bad). Seriously though, we got some great kids in the pipeline and I look forward to sharing their progress as the season moves along. 
Follow John on Twitter - @NYR1579
And, of course, you all remember Michael Spinner, who joined The Rangers Tribune as a writer last season to cover various NHL-related topics. He'll be contributing in different ways this coming season as well. You can follow Mike on Twitter at @MichalSpinner. 
All of this information will be available on the blog in a designated location once "Rangers Tribune 2013" has launched - a project that I will be revealing in the coming week that I promise is very exciting. Don't think I'm sitting around doing nothing this summer, because there's A LOT of behind-the-scenes work going on right now that will make Rangers Tribune untouchable, starting with the very writers you read about above.
Trust me.
Original Story:
http://www.rangerstribune.com/the-ran...
THE BACKYARD
BEST OF MAXIM
RELATED ARTICLES
Recent reports from radio color commentator Dave Maloney and from Jess Rubenstein at The Prospect Park that Michael Sauer has made "tremendous progress" have added to what has been a spectacular late-July for the New York Rangers. Though Tim Erixon was a necessary piece to acquire Rick Nash, trading him left the Blueshirts woefully thin on the blueline.  The top-four of Ryan...
Most Rangers fans were relatively unconcerned when the team parted with its 2013 first-round pick to help acquire Rick Nash.  They recognized that the pick was likely to fall late in the 20s, giving it less value, and that New York's farm system is already stocked with top tier prospects, making the pick less important to the club than it might have been a couple years ago. The...
June and early July are the most exciting times of the summer for hockey fans. The Stanley Cup is awarded, the awards are handed out, the draft happens and then free agency is upon us. Ranger fans got their excitement when Rick Nash was traded to New York late in July. But August? It's the [...]
As the season (hopefully) draws nearer, there are a lot of excited Ranger fans, and for good reason. Following the Rick Nash trade, the Rangers finally have scoring depth to match their bottom-six depth. If Mike Sauer can find a way to get healthy for the start of the season –having made tremendous progress– then the Rangers defense could be one of the best in the league. Throw...
During the 2004-2005 lockout, NHL players had to figure out a plan B in order to earn a paycheck and stay in game shape. Many players opted to play in Europe for the season, and it was during this period that Henrik Lundqvist of Frölunda would make a name for himself, winning Sweden's equivalent of the Vezina AND Hart trophies. It appears that, should a lockout occur, Lundqvist...
Chris Peters over at The United States of Hockey breaks down the 17 American defensemen that will be looking to make the cut during the U.S. National Junior Evaluation Camp which kicks off in Lake Placid, N.Y. on Saturday, including Rangers 2012 first round pick Brady Skjei..."There's not a better skater among the defensemen in camp and that's going to be a key tool...
It was unlikely that the Bruins were ever going to land Rick Nash, but there were undoubtedly still some B's fans hoping that general manager Peter Chiarelli would swing a trade for the talented forward. The Rangers eventually swooped in and nabbed the five-time All-Star, though, forcing Boston to find other ways to improve its offense. The Bruins don't need to improve drastically...
Larry Brooks at the New York Post reports that it has become more likely that Shane Doan could be wearing a Blueshirt..."Doan, who understandably wants this to be the last move he makes, is believed to have narrowed his sights on Manhattan, Pittsburgh and Vancouver. It's unclear if Rangers general manager Glen Sather is willing to go four years, but if he does, Doan is more...
Did you think the summer would be drama free after Rick Nash was finally traded? Wrong you were. Shane Doan continues to deliberate over his future, contemplating finishing his career out with Phoenix or taking on a new venture with a new club. Numerous teams have been linked to Doan including the Vancouver Canucks, Pittsburgh Penguins and the New York Rangers (Source). Would...
Rangers News

Delivered to your inbox

You'll also receive Yardbarker's daily Top 10, featuring the best sports stories from around the web. Customize your newsletter to get articles on your favorite sports and teams. And the best part? It's free!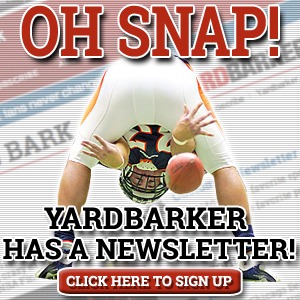 Latest Rumors
The Backyard

Today's Best Stuff

For Bloggers

Join the Yardbarker Network for more promotion, traffic, and money.

Company Info

Help

What is Yardbarker?

Yardbarker is the largest network of sports blogs and pro athlete blogs on the web. This site is the hub of the Yardbarker Network, where our editors and algorithms curate the best sports content from our network and beyond.