Found April 18, 2012 on Blue Seat Blogs:
If you hang out around hockey rinks long enough you always encounter guys who played at a pretty high level, but could never make that jump to the pros either due to some unfortunate injury or because they were told they didn't have the size. Although NHL forwards are getting smaller, the fact of the matter is there are thousands of players who have to walk away from their pro hockey aspirations every year because they "just weren't big enough." Then you have a guy like Brian Boyle, who in skates is a towering 6'7. The narrative for the 27 year old has always been the opposite. Yea he's big, but what else can he contribute? Well ladies and gents, we are starting to see what exactly Brian can do when he uses his colossal size to his advantage. In the past 12 games Brian Boyle has scored 8 goals. That is a pace this man has not seen before, even looking back at last year when he potted 21 goals. Boyle is getting it done simply because he is using his size and strength to out-match his defenders. He may not be the greatest skater or have the smoothest hands, but when he has the puck and he's driving towards the net, few defenders can force him off the puck and out of the danger zone. Brian is also providing more than just goals. He has been the most consistent forward throughout the playoffs (and the preceding push) at all areas of the ice. He is getting to loose pucks, he's blocking shots, he's making plays, and most importantly he has been physically engaged. This exactly what you need from your bottom six forwards in the playoffs. Now I know some of his critics won't be able to look past his subpar regular season numbers. However, when you take his stats and give them a little context, you realize maybe he wasn't so average after all. Boyle won about 52% of his faceoffs (up from 48% last season). He was second among all Rangers forwards with 83 blocked shots. He was second on the team with 236 hits. And he had just a -4 corsi (a puck possession metric based on shot attempts for and against) despite only starting 28% of his shifts in the offensive zone. To put this corsi number in perspective, Boyle was in the bottom five players in the league in offensive zone starts. Those other four players had corsi numbers between -11 and -21, so his -4 is actually a good number when you consider the benchmark. Of course the concern has been about his offense. Yet, if you look at the bottom 20 players in the league in offensive zone starts, only Paul Gaustad had a better offensive output than Boyle. In other words, his production actually exceeded that of his role and usage. Look, Boyle may never touch 20 goals in a season again, but maybe that is not what we need from him. Maybe his importance to this team is a bit more than any of us gave him credit for. All I know is I am happy we have him on our side and I would love to see what the Stanley Cup looks like suspended 6 feet and 7 inches above Garden ice.
Original Story:
http://www.blueseatblogs.com/2012/04/...
THE BACKYARD
BEST OF MAXIM
RELATED ARTICLES
… did Brian Boyle deserve the Broadway Hat? Yes, but I still believe Henrik Lundqvist deserved it more.  Boyle's goal helped the Rangers win, but Lundqvist's play in net stole the show and Game Three. Wish they could share it some how!  Boyle has been HUGE for the Rangers over the last few weeks in [...]
The Connecticut Whale keep adding on the prospects. Yesterday it was J.T. Miller, now it's Sam Noreau. The Rangers 5th round draft pick last year will be joining the Whale for the playoff push. In 58 games with Baie-Comeau Drakkar of the QMJHL, Noreau put up a line of 5-12-17 with 92 PIMs. In eight playoff games, Noreau did not record a point, but had 18 PIMs. Noreau is a big kid...
So the Rangers lost another heartbreaker last night in overtime. It's their second loss to the Senators in the series, both coming in overtime. The fan base is on edge, and for good reason. The Senators are a good team, and a team that the Rangers do not match up well against. It's going to be a stressful series, that's for sure. But enough of that, let's get to the...
Per Larry Brooks, Rangers 2011 first round pick J.T. Miller will join the Connecticut Whale for their playoff push this week. Miller joins fellow CHL prospects Shane McColgan, Christian Thomas, Andrew Yogan, and Peter Ceresnak on the Whale, all with ATO's. Of the group, only Ceresnak does not have a professional contract with the Rangers organization. In 62 games with the Plymouth...
Brian Boyle scored for the sixth time in seven contests to snap a scoreless tie 7:35 into the third period and Henrik Lundqvist turned aside 39 shots for his fourth career postseason shutout as visiting New York edged Ottawa 1-0 on Monday to claim a 2-1 edge in its Eastern Conference quarterfinal series.After the teams traded fruitless chances, the top-seeded Rangers finally...
If the 2011-12 Stanley Cup Playoffs have proved anything, it's that seeding has zero meaning, aside from home ice advantage, once the puck is dropped to begin the postseason. We've seen it in four out of the eight playoff series so far, and one of them happens to be the 1 versus 8 Eastern Conference Quarterfinal match-up between the New York Rangers and Ottawa Senators.  The...
Series: Rangers lead 2-1. NYR Regular Season Leading Scorer: Marian Gaborik (41-35-76) OTT Regular Season Leading Scorer: Jason Spezza (34-50-84) NYR Goaltender: Henrik Lundqvist (62 GS, 1.97 GAA, .931 SV%) OTT Goaltender: Craig Anderson (60 GS, 2.83 GAA, .910 SV%) Rangers Lines (looks like these are the official lines to start the game): Chris Kreider-Brad Richards-Marian Gaborik...
… John Tortorella doesn't get enough credit for turning the Rangers into a hard-working, shot blocking, never give up type of team. And in game three, the Rangers showed why this is Torts team.  Kudos to Coach Torts! 
TONIGHT'S GAME: The Rangers will face-off against the Ottawa Senators tonight at Scotiabank Place (7:30 p.m.; TV: MSG Plus; Radio: Bloomberg Radio), in Game 4 of their Eastern Conference Quarterfinal matchup. The Blueshirts lead the series, 2-1, following a 1-0 win in Game 3 on Monday at Scotiabank Place. The win was New York's 200th [...]
Through the first three games of the Rangers/Senators series, Ottawa's top scorers Jason Spezza and Milan Michalek have combined for just two assists. The reason? Dan Girardi and Ryan McDonagh.Here's Girardi and McDonagh's teammates on their importance to the team's success (via NHL.com)...Brad Richards..."Everybody's had a shot playing against them at different...
During the second period last night, Marc Staal nailed Jason Spezza with an unpenalized high hit that forced the Senators center to leave the game for a short while... To watch on YouTube, click here.Here's Staal on the hit (via ESPN NY)..."My read was that he had the puck pulled to the outside. I kind of bit on it and he pulls right back into me and his head...
Considering he is a consensus first round pick, no one really seems to agree on where Luke Kuechly will go in the first round. This guy doesn't think Luke should go Top 15.The Orlando Sentinel is starting a series on coaches on the hot seat. Guess who they feature first?Former Eagle Brian Boyle is having a great playoff run.Chris Kreider debuted with the Rangers and made a good...
NHL News

Delivered to your inbox

You'll also receive Yardbarker's daily Top 10, featuring the best sports stories from around the web. Customize your newsletter to get articles on your favorite sports and teams. And the best part? It's free!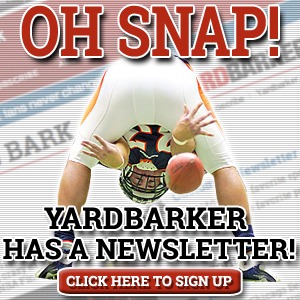 Latest Rumors
Best of Yardbarker

Today's Best Stuff

For Bloggers

Join the Yardbarker Network for more promotion, traffic, and money.

Company Info

Help

What is Yardbarker?

Yardbarker is the largest network of sports blogs and pro athlete blogs on the web. This site is the hub of the Yardbarker Network, where our editors and algorithms curate the best sports content from our network and beyond.