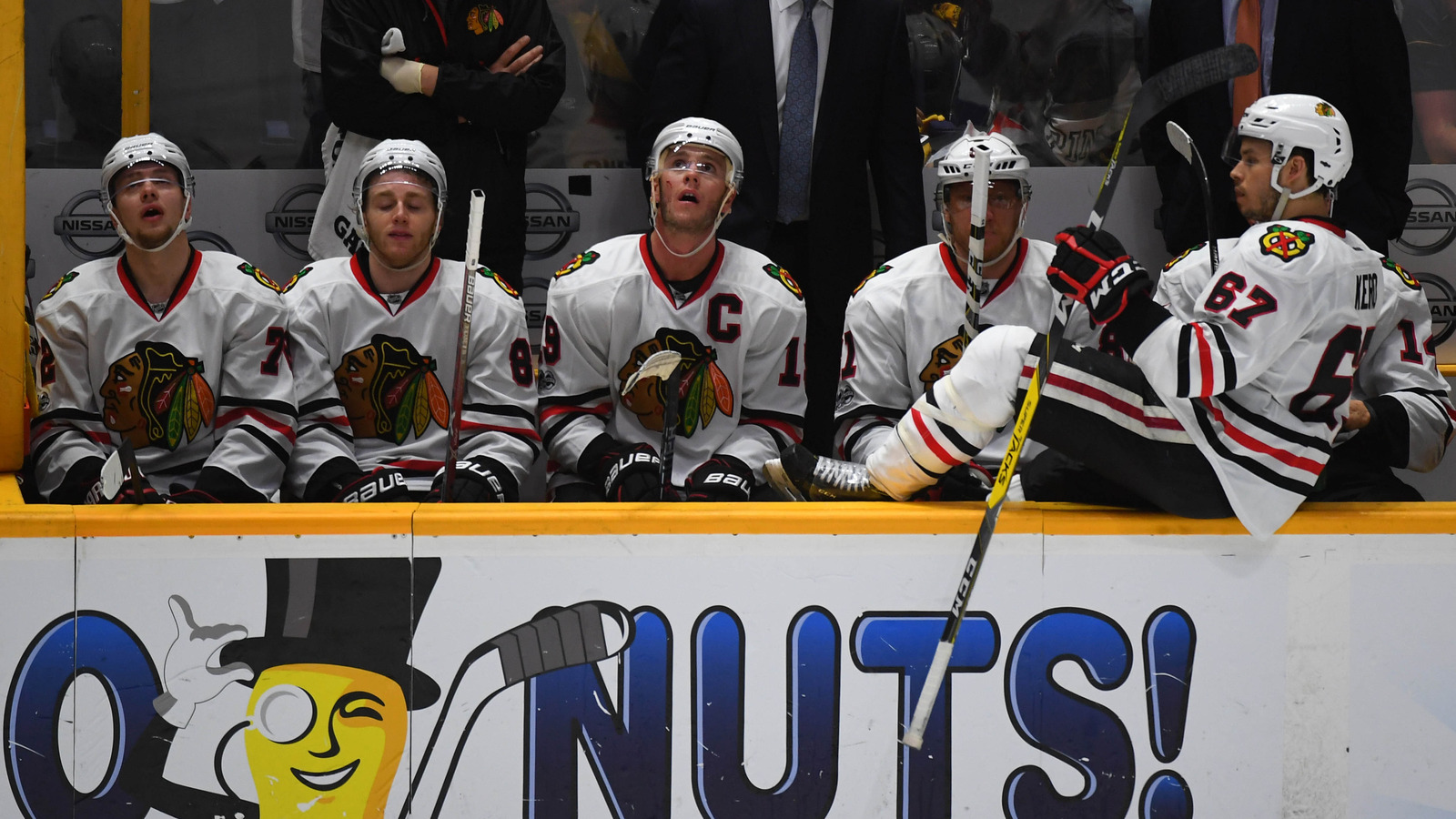 Toews knows that the Predators weren't some pushovers. In fact, the Blackhawks may have been.
Christopher Hanewinckel-USA TODAY Sports
The Chicago Blackhawks entered the postseason as the No. 1 seed in the Western Conference, and they have been eliminated after just four games. The Nashville Predators completed a sweep of Chicago with a convincing 4-1 win on Thursday night.
Following a series that was never really close after a 5-0 blowout in Game 2, Blackhawks captain Jonathan Toews said it is "insulting" to the Predators to say Chicago choked.
"I think it's insulting to not give that team credit for how well they played and how well they played us specifically," Toews said, via Tracey Myers of CSNChicago.com. "I think they were relentless. Anytime we seem to start to get things going they found ways to stymie our momentum or our offense."
The Blackhawks finished with their second-highest point total in franchise history this season with 109 points in a 50-23-9 campaign, yet they were bounced in the first round of the postseason for a second straight year.
Toews tried to sum up the level of disappointment.
"It's tough enough to lose a series and fall short. It's a whole different story to lose four straight and get swept like we did," he said. "I think we've got guys in this room that have experienced the highs of going all the way. I think aside from what it would feel like to miss the playoffs, especially with the potential in this room, this has to be the next worst feeling for sure. So … yeah, again, not much to say right now."
Chicago scored just three goals in the series. It was the first time since 1993 that they have been swept in a playoff series, and the first time since 1994 that any No. 1 seed suffered the same fate. The 2012 Los Angeles Kings were the last No. 8 seed to knock off a No. 1 seed, and they went on to win the Stanley Cup.
Overall, you couldn't have asked for a worse ending to a great season in Chicago. Having said that, Toews is right — the Predators deserve credit for turning the best team in the West into a doormat.
MORE FROM YARDBARKER:
QUIZ: Name the NHL franchises that have never won the Stanley Cup
As of the 2015-16 season, 12 NHL franchises have never hoisted Lord Stanley's Cup, though two teams have a chance of ending their respective droughts after the conclusion of this year's playoffs. Can you name them all?
Note: Team names are acceptable (no need to write out entire names), as well as abbreviated nicknames (e.g., 'Bucs'). One franchise is listed here as an answer that won multiple Stanley Cup Finals in its original run, but none in its current inception, so we're counting it.
MORE FROM YARDBARKER
NHL News

Delivered to your inbox

You'll also receive Yardbarker's daily Top 10, featuring the best sports stories from around the web. Customize your newsletter to get articles on your favorite sports and teams. And the best part? It's free!