Found March 26, 2013 on Shutdown Line:
With the Hurricanes currently in a tough losing streak, most people figured that there were going to be some changes to the roster very soon and we saw one of those moves today with Jussi Jokinen being placed on waivers. To most people, this move came as a surprise because Jokinen is known to most people as a "top-six player," a good face-off guy and a solid play-maker. However, most Hurricanes fans are less surprised because he is currently having the worst season of his career. Jokinen has only 4 goals and 10 points in 30 games and has been drifting back-and-forth between the second and third lines for most of the year. The emergence of Riley Nash as the team's third line center has forced him out of that role and the return of Tuomo Ruutu might have pushed him out of one of the winger spots in the top-six, leaving it hard to find a place for him in the lineup. The Hurricanes have also been pushing the 23-man limit on their roster with the recent call-up of John Muse and Chad LaRose returning from injury, so someone was going to be out regardless and one of those players ended up being Jokinen. One would think that Jokinen has some trade value, but it appears that isn't the case since any team can get Jokinen for free if they desire. The only risk that comes with it is that they will have to take on him $3 mil. salary & cap hit next season, which is a lot for someone with his numbers but not a crippling cost. No one is going to deny that Jokinen is having a bad season, but is giving him up for no cost a smart move? Even with Nash playing well and Ruutu's return, I find it hard to believe that there is no place for him in the lineup. A look at Jokinen's underlying numbers show that he has actually been pretty good at driving the play forward this season but can not catch a break at all. The Hurricanes are outshooting their opponents by 8 during 5v5 play whenever he is on the ice and that's with him playing some tough minutes on Jordan Staal's line for a good part of the year. Is it Jokinen's fault that the team is shooting at less than 6 percent with him on the ice? I know he takes a lot of flack for missing open shots, but this issue seems to be team-wide lately. In a shortened season, bad bounces can usually make or break you and Jokinen has definitely been on the wrong end of that for most of this year. Still, after reviewing his numbers, I find it kind of hard to believe that he deserves a spot on this team less than Drayson Bowman & Chad LaRose, who have been performing much worse in smaller roles. If the idea behind this was to send a message, then an easier move would have been to scratch Jokinen for a game or two and look for potential suitors. There aren't going to be many of those now that they can get him for free and a cap floor team such as Phoenix will have no problem taking on his salary. The Hurricanes were obviously in a bind with the roster limit, but I don't think giving up players for free is the smartest idea when your entire organization has been riddled with injuries all season long. There is also the possibility that this was done to make room for some other players, since the Hurricanes are at the 50-man-roster limit and there have been a lot of rumors swirling about Rutherford wanting to trade for a veteran defenseman. Removing Jokinen's salary and cap hit next season allows them a little more flexibility to do that since they can go after more than just a rental now. There has to be more to this move than just wanting to get rid of a player that's having a bad season, so we will just have to wait and see what else Rutherford has up his sleeves.
Original Story:
http://www.shutdownline.com/hurricane...
THE BACKYARD
BEST OF MAXIM
RELATED ARTICLES
During the team's sixth-straight loss courtesy of dropping Tuesday night's tilt against the Winnipeg Jets by a score of 4-1, Carolina Hurricanes defenseman Jamie McBain suffered an epic whiff for the ages. When trying to clear the puck out of the defensive zone, McBain whiffed horribly, missing the puck. As his stick returned to to the ice, he inadvertently propelled the puck...
Jussi Jokinen could have been a good addition to the Caps, but they passed.
WRONG WAY
Carolina Hurricanes defenseman Jame McBain had some very bad luck against the Winnipeg Jets on Tuesday night.  He went to clear the puck after Joni Pitkanen broke up Jets' forward Evander Kane's passing attempt.  McBain fanned on the first clearing attempt and then when he brought his stick back for a second attempt he fired it right past his own goalie.  The goal ended up...
The Charlotte Checkers announced today the team has signed goaltender Mike Murphy to a professional tryout contract. Murphy was selected by the Carolina Hurricanes in the sixth round of the 2008 NHL Entry Draft with the 165th overall pick. On March 18, 2009, he signed a three-year, entry-level contract with the Hurricanes.In 2007-08, Murphy led the Belleville Bulls to the finals [...]
Prior to the 2013 season, hockey fans wondered which team would take a chance on free agent Alexander Semin. Coming off seven seasons with the Washington Capitals, Semin landed in Carolina with a one-year deal worth $7 million.  How has the Semin experiment worked for the Hurricanes? Pretty well, actually. Through 30 games, Semin has eight goals and 22 assists for a total of...
Yesterday marked the Hurricanes sixth loss in a row and the third time they lost by a score of 4-1 during this stretch. No matter how many times we hear from the coaches or the players that the "playoffs" are right now, fans keep getting treated to the same performances night in and night out. Last night's performance against Winnipeg was very disheartening because...
This time a backhand from the low slot by Jamie McBain of the Carolina Hurricanes.  
Before taking the ice, Carolina Hurricanes defenseman Jamie McBain probably should have taken the day off since he ended up making a pretty memorable NHL blooper. The Hurricanes took on the Winnipeg Jets on Tuesday night and as McBain was trying to clear the puck to other side of the ice, he swung at the puck and missed. That miss caused Jamie's backswing to send the the...
Hurricanes News

Delivered to your inbox

You'll also receive Yardbarker's daily Top 10, featuring the best sports stories from around the web. Customize your newsletter to get articles on your favorite sports and teams. And the best part? It's free!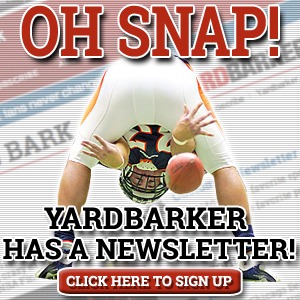 Latest Rumors
Best of Yardbarker

Today's Best Stuff

For Bloggers

Join the Yardbarker Network for more promotion, traffic, and money.

Company Info

Help

What is Yardbarker?

Yardbarker is the largest network of sports blogs and pro athlete blogs on the web. This site is the hub of the Yardbarker Network, where our editors and algorithms curate the best sports content from our network and beyond.