Found March 28, 2013 on The Royal Half:
FIRST... read our GAMEDAY PREVIEW for tonight's game in St. Louis where we look back at the best moments from the Los Angeles Kings visit to the White House. Exclusively on LAKings.com. This is the most ridiculous thing ever. THEN... it's back! The Royal Half Playoff Tracker has returned and this season it's been rebranded as The Royal Half LA Kings Playoff War Room. So if you've always wished for an easy way to know whether or not the LA Kings are in the playoffs... then all you need to do is click here. We are at level: WEBSTER AND FINALLY.... Brigitte from One Girl, One Puck takes an in-depth look at the Los Angeles Kings opponent for tonight's game... in something we like to call "Know Your Opponent." Tonight is an extra special game for Brigitte as she really hates the St. Louis Blues. Like really,really hates the Blues. Click Here to Read the Know Your Opponent for for the Kings vs St. Louis Blues on March 28th, 2013!!! Have you ever watched a team just get completely dominated by another team? It's kind of depressing actually. Just one team beating the **** out of the other repeatedly, it's sad honestly. You keep watching because it's like a train wreck, you just can't look away.     You would think eventually the other team would just give up right? I mean I probably would. Getting the life sucked out of you every game would just be exhausting.     But no...sadly the Blues continue to torture themselves game in and game out. Why do you even try Blues?     Look I know you guys have pride and ****, but just let it go. It's not going to happen Blues, stop trying to make it happen.      I know some of you think I'm exaggerating about the Kings dominance over the Blues. I'm really not I promise. Even the NHL Network commercials for the game talk about it. In fact, even the Blues announcers know about it. I was watching the Blues post game show after their hilarious loss to the Oilers on Tuesday. Like a totally normal person who has a life, I decided to scout out our opponent for tonight. Well when the question came up about what team the Blues wouldn't want to face in the playoffs, guess what team was named! The Blackhawks? Nope. Those regressing Ducks? LOL NOPE! The Kings were the team Darren Pang was most afraid of. Yep, the Kings even have Panger shaking in his boots. Honestly, why not?      The Kings have been straight murdering these ******* for a while.    Kyle Clifford took out ROMAN ******* POLAK!  I mean come on people, it doesn't get much better than that! TJ Oshie's face really says it all.   LOL oh wait it does get better! Let's watch that again from a different angle.    Sweet hockey boner.  I wonder if Blues fans get an anti-boner when they see this.  No idea what an anti-boner is, but I'm sure they do.    Should we feel bad for Blues fans? I mean they've struggled and lived through just as much pain as we have. They're also riding that whole 1967 curse hard right now. I mean not too long ago this was us. Well I bet they're a humble bunch, and I'm sure they deserve some sympathy right?    The Dustin Brown School of Skating is an excellent academy. LOL YOU WISH! Jeff Carter wouldn't even go there...sorry. WAHHHHHHH Takes one to know one I guess. Honestly, who hasn't this year? Hey at least one guy knows what's up. Yea **** those guys, here's some more dominance!    YESSSSSS MUZZIN IN YO MOUTH KOPITAR OWNS YOU FOOLS LOL NOPE SORRY BLUE HAIRED LADY EAT **** BLUES!!!!!  
Original Story:
http://www.theroyalhalf.com/2013-arti...
THE BACKYARD
BEST OF MAXIM
RELATED ARTICLES
Courtesy: St. Louis Blues ST. LOUIS St. Louis Blues Executive Vice President and General Manager Doug Armstrong announced today the club has assigned goaltender Brian Elliott to their American Hockey League (AHL) affiliate, Peoria Rivermen for conditioning. Elliott will start for the Rivermen on Friday against Oklahoma City and Saturday against Lake Erie before returning to the...
The St. Louis Blues fell 4-2 to the Los Angeles Kings on Thursday night. It was the team's third consecutive loss and the once high-flying Blues now find themselves in eighth place in the Western Conference standings.  Head coach Ken Hitchcock has been telling reporters that his team has not "bought-in" to the system at this point, which is a big concern considering...
In the St. Louis Blues' 4-2 loss to the Los Angeles Kings on Thursday night, head coach Ken Hitchcock made an interesting lineup move after the second period. Hitchcock moved second line center Patrik Berglund down to the fourth line to play left wing. It was a move that should remain permanent until Berglund's play picks up and his activity drastically improves. Berglund...
from Jeremy Rutherford of the St. Louis Post-Dispatch, Blues coach Ken Hitchcock had plenty to say about that bad break at the end — Richards' goal that came after teammate Jeff Carter popped up the back of the net with a hefty shove from behind. That jarred the positioning of Blues goalie Jaroslav Halak, who stopped 37 of the Kings' 40 shots Thursday. "Carter pushed...
After Tuesday's tough loss at home on Tuesday night, the St. Louis Blues were looking to get back on track on Thursday night against the very difficult-to-handle Los Angeles Kings. The Blues had a closed-door meeting after Tuesday's loss and were looking for a better effort on Thursday. Unfortunately, they didn't get it, falling to the Kings 4-2 on Thursday night. The...
NHL News

Delivered to your inbox

You'll also receive Yardbarker's daily Top 10, featuring the best sports stories from around the web. Customize your newsletter to get articles on your favorite sports and teams. And the best part? It's free!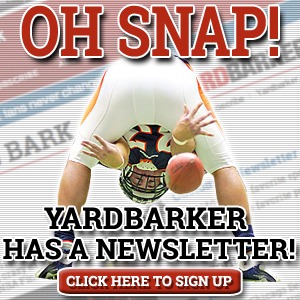 Latest Rumors
Best of Yardbarker

Today's Best Stuff

For Bloggers

Join the Yardbarker Network for more promotion, traffic, and money.

Company Info

Help

What is Yardbarker?

Yardbarker is the largest network of sports blogs and pro athlete blogs on the web. This site is the hub of the Yardbarker Network, where our editors and algorithms curate the best sports content from our network and beyond.