Found August 27, 2012 on The Rangers Tribune:
Vezina Trophy winner Henrik Lundqvist (that sounds so damn cool) has had quite the summer, from the Awards to welcoming his first child to the world, fashion shows, GQ gatherings and sporting events among many other occasions on his agenda - all of which I am knowledged of because of his continuous tweets about all of them. Don't take this wrong like I am some sort of stalker or something; he has plenty of those already.  But Page Six of the NY Post finally caught up with the Rangers' goalie this past weekend at a U.S. Open Tennis event - pause - he does have a kid, now, right? I'm not of the age to be a father yet, so I haven't lived through the process, but I have a pretty good idea as to what it incorporates. That said, how does he find time to tour the world and attend these events while also fathering a newborn? That fashion show and GQ gathering I mentioned before? Those were in Italy according to the magazine. Either he has a nanny or a very lenient wife.  I'm really not making a good case for that non-stalker look right now, am I? Anyway, back to hockey. The Post asked Henrik about the current CBA talks between the League and NHLPA, and the possible likely lockout that is coming as a result.  "I think the biggest issues right now are revenue sharing," Lundqvist said. "Teams are signing players to huge contracts, and at the same time they say teams are struggling and it's just hard to put those numbers together." Lundqvist actually makes a great point here, and it's also something I acknowledged in Sunday's piece. The same people pushing for contract limitations on players and revenue sharing reformat are also going out and signing their own assets to mega-deals (that's you Ed Snider) simultaneously, contradicting their own theologies. Commissioner Gary Bettman can say all he wants in attempt to make the NHLPA look like the bad guys, but his own people are making he and his side of things look downright scandalous right now.  Still, this hasn't kept Henrik from remaining optimistic about the season's scheduled start. "I'm approaching it that it's going to be good to go when it's time to go," Henrik said. "I'm practicing the same way and, mentally, I'm preparing for a normal season." Which I assume is the approach most of the NHL's players are taking at the moment. For them, there's not much else they can do while the new CBA is resolved.  Bettman, Fehr and company are all scheduled to meet here in New York City on Tuesday. It's expected that the NHL will be making another proposal in response to the NHLPA's former counterproposal. If that is the case, Tuesday will be absolutely vital to the last hopes that something gets done before September 15 - the deadline set by owners before a lockout is instilled.  Fingers crossed, y'all.
Original Story:
http://www.rangerstribune.com/the-ran...
THE BACKYARD
BEST OF MAXIM
RELATED ARTICLES
One of the keys to remaining an elite franchise in the NHL – or any sports league for that matter – is the ability to continually evolve, integrate players, coaches and systems and build a solid foundation on which a club grows. In the NHL, the best example in recent times has been the Detroit Red Wings. Despite never enjoying the benefit of lottery draft picks, the Wings found...
When the Rangers acquired Rick Nash last month, they did so knowing they were solidifying their primary offensive line, and compensating for the Marian Gaborik injury. However, many have been setting the bar for Nash very high, to the point where fans may be setting themselves up for disappointment. First things first, let's get Nash's career averages out of the way. Sticking...
Listen, I love the canine species just as much as the next guy, but the Rangers constant, over the top promotion of John Tortorella's dog walking charity event is a little out of control. And now comes the latest marketing attempt for the event (via Deadspin), this very odd pic of Henrik Lundqvist and his Doberman, Nova......i guess some people will find this pic cute, but I...
Since NHL '13 might be the closest we get to NHL hockey for a few months, it seems appropriate that we post the NHL '13 ratings for the Rangers roster. Kevin touched on this in Thursday's musings, but there are a few complaints regarding these rankings. While many are focusing on Chris Kreider's 68 rating, I'm actually more focused on the 73 rating shared by Anton Stralman...
In an interview with Page Six at the New York Post, Henrik Lundqvist discusses his preparation for the upcoming season despite the impending lockout..."I'm approaching it that it's going to be good to go when it's time to go. I'm practicing the same way and, mentally, I'm preparing for a normal season."...got to assume this is the mindset of most NHL...
In his second installment, Stan Fischler of MSG.com talks to New York Rangers head coach John Tortorella about the upcoming season, young players contributing, Rick Nash and a host of other topics.Torts on what players Carl like Hagelin and Chris Kreider give the team and how New York replaced the toughness lost with Brandon Dubinsky and Brandon Prust..."The additions of Carl...
In an interview with The Hockey News' Ryan Kennedy, Dan Girardi discussed his summer workout with Darryl Belfry of Pro Playmakers Hockey..."I work a lot on shooting skills from the point, using different edges. His teachings are different from a lot of other guys. He really goes in depth with your edgework, your leg bend, all the stuff you don't really think about when...
NHL.com reports that Chris Kreider is attending the National Hockey League Players' Association Rookie Showcase this week in Toronto.Photos of the participating players will be used for trading cards, video games and other memorabilia.@thenyrangers @chriskreider showing off his rookie card his FIRST trading card at the @nhlpa #RookieShowcase twitter.com/PaniniAmerica/…— Panini...
John Buccigross at ESPN, revisits the Marian Gaborik for Dan Boyle trade rumor he started last month in his recent Mother of All Mailbags column..."Trading Gaborik for Boyle would deepen the Rangers' defense and give them a top-six forward group of Brad Richards, Nash, Ryan Callahan, Derek Stepan, Carl Hagelin and Kreider, which is pretty strong if Kreider develops into...
Rangers News

Delivered to your inbox

You'll also receive Yardbarker's daily Top 10, featuring the best sports stories from around the web. Customize your newsletter to get articles on your favorite sports and teams. And the best part? It's free!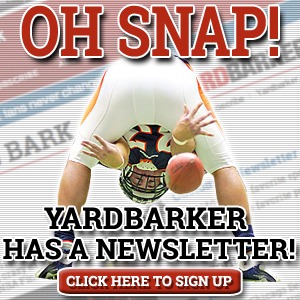 Latest Rumors
Best of Yardbarker

Today's Best Stuff

For Bloggers

Join the Yardbarker Network for more promotion, traffic, and money.

Company Info

Help

What is Yardbarker?

Yardbarker is the largest network of sports blogs and pro athlete blogs on the web. This site is the hub of the Yardbarker Network, where our editors and algorithms curate the best sports content from our network and beyond.