Posted January 11, 2013 on AP on Fox
Roberto Luongo is still open to a trade no matter how long it takes the Vancouver Canucks to deal him. The star goalie returned to the ice for an informal workout with his Canucks teammates on Friday while facing an uncertain future. Luongo was displaced as Vancouver's No. 1 netminder by Cory Schneider in last year's playoffs. After the season, Luongo said he would waive his no-trade clause if asked, but general manager Mike Gillis couldn't swing a deal before the 113-day NHL lockout began in September. ''I told (Gillis) I was ready to go as long as it took,'' Luongo said. ''Whether it's a couple days, next week, two weeks, at the end of the season, it's totally fine with me.'' Luongo has long been rumored to be headed to the Toronto Maple Leafs. Trades are prohibited until players have ratified the proposed new collective bargaining agreement, which is expected to happen on Saturday. Training camps would then likely open on Sunday. Luongo will be there for camp, although he expected to be gone from Vancouver by now. ''If you asked in May last year, I would have said no,'' he said. As the lockout dragged on, Luongo thought there was a chance he would return to the team. He said in September at a Canucks charity golf tournament he would be at camp, if necessary. The 33-year-old Luongo, acquired from the Florida Panthers after the previous lockout forced the cancellation of the entire 2004-05 season, isn't worried about his future. He admitted that his current plight would have stressed him out if he was still in his 20s. ''I've matured in the sense where I can handle adversity (better) than I did back then,'' Luongo said. ''That's why I've been really calm about the whole situation. I've been able to enjoy it, even though it's not an easy situation. The fact that I'm so comfortable here will make it much easier.'' His pending departure is also much different than the unexpected trade from the Panthers. ''The whole thing was a different circumstance,'' Luongo said. ''I was just shocked by the whole thing.'' But despite being prepared for a trade out of Vancouver, it will still be difficult to leave the Canucks. Many of his teammates were with the team when he arrived, and he has forged close friendships. Luongo's teammates were happy to be back on the ice with him. They said the trade speculation surrounding him won't be a distraction. Luongo ($5.3 million) and Schneider ($4 million) count for a total of $9.3 million on Vancouver's salary cap. With the cap slated to be reduced to $64.3 million next season from a pro-rated $70.2 million this season, there is more urgency to trade Luongo for financial reasons. But coach Alain Vigneault refused to say who will be the starting goalie when the season opens. ''(Luongo's) one of my two goaltenders,'' Vigneault said. ''We've always made the decisions in the best interest of the team. We've got two great goaltenders, two great people that are great teammates, and both want to play.'' Vigneault also isn't concerned that Luongo's unsettled position will affect the rest of the team. ''You have seen him throughout the last couple of months,'' he said. ''He's a class individual. He's a smart and bright young man. ''He always puts the team ahead of himself, and he's a Vancouver Canuck player, and I'm not going to speculate on what's going on outside of that. Right now he's one of my two goaltenders, and I'm very fortunate to have him.''
Original Story:
http://msn.foxsports.com/nhl/story/Lu...
THE BACKYARD
BEST OF MAXIM
RELATED ARTICLES
Anyone? Bueller? While we're still 10 days away from the start of the 2013 NHL season (and you know, the ratification of the new CBA by both the NHL and the NHLPA) but that hasn't stopped some trade speculation from filling the airwaves and social media. Hell, your Grandmother probably knows. The day started out with the same rumors that have been kicking around since the 2011...
The Roberto Luongo trade rumours are in full force. Previously I've looked at the possibility of Luongo heading to Toronto, Edmonton, Florida and Chicago. Until today, I have not thought about the possibility of Luongo in the orange and black of the Philadelphia Flyers. The Luongo to Philadelphia rumour heated up today after TSN's James Duthie mentioned Philly's interest on...
It's been a slow past few months here at RobTheHockeyGuy, but we are BACK! Though the season isn't scheduled to start until January 19th, we have actual hockey news to talk about! And none more interesting than the news out of Toronto today: Brian Burke has been fired by the Toronto Maple Leafs. This is a Canucks blog, so I won't spend too much time analyzing Burke's failure...
Roberto Luongo is still open to a trade no matter how long it takes the Vancouver Canucks to deal him. The star goalie returned to the ice for an informal workout with his Canucks teammates on Friday while facing an uncertain future. Luongo was displaced as Vancouver's No. 1 netminder by Cory Schneider in last year's playoffs. After the season, Luongo said he would waive...
Maligned Vancouver Canucks goaltender Roberto Luongo said Saturday he's ready to go if general manager Mike Gillis still wants to part with the 33-year-old. As training camp opened Sunday, Gillis said the team isn't rushing into trade discussions but has fielded multiple offers. As of Sunday, Gillis said Luongo would be part of the Canucks unless trade offers improve. ...
Vancouver Canucks goalie Roberto Luongo figures to be on the move at some point, and the Toronto Maple Leafs could still be in play. Luongo has been the subject of trade rumors for some time now, with Cory Schneider taking over as the Canucks' No. 1 goaltender. The latest team to be linked to the three-time All-Star is the Leafs, who happened to fire general manager Brian Burke...
Categories: BREAKING NEWS Flyers News NHLTags: Enrico CicconeIlya BryzgalovJames DuthieRoberto LuongoVancouver CanucksEarlier this morning, former NHL player and TV analyst Enrico Ciccone reported via twitter that the Philadelphia Flyers were interested in Vancouver Canucks goaltender (until next week) Roberto Luongo. Casual fans and Philadelphia media alike scoffed at the notion...
Rumors are swirling tonight that the Philadelphia Flyers are workig om a trade for Roberto Luongo. I am told that as on 10pm et they are not at all in on Luongo..This from a terrific source who would absolutely know if they were or weren't. When I asked if I could safely kill this rumor the source told me, "yup."
If Roberto Luongo ends up with the Toronto Maple Leafs -- a scenario that became more likely when Dave Nonis was named the Leafs' new GM -- the Vancouver Canucks will probably want more than just center Tyler Bozak in return.The Vancouver Sun's Elliott Pap, for one, expects any deal for Luongo will involve multiple players, and suggests the Canucks could ask for Leafs youngster...
Reports are swirling that the Flyers may be kicking the tires on embattled Vancouver Canucks goaltender Roberto Luongo. Adrian Dater of the Denver Post reported via Twitter that the Flyers are players for Luongo tweeting "Paul Holmgren going in on […]
A Winter Without Hockey Is Far Too Cold Canucks fans and fans of the NHL have suffered through their second lockout in a decade but have successfully held on through thick and thin for a shortened 2012/13 season. The tribulations of the latest labour dispute produced wonderful cultural explosions among hockey fans like #AssMode, @NHLPodium, and #DregerFace, but after a bitter winter...
from Cam Cole of the Vancouver Sun, As Vigneault responded to the various challenges his team will face out of the gate, it was, frankly, harder than it ought to have been to envision this Canucks team as a Stanley Cup contender. Apart from the 100 per cent in-conference schedule, which is going to make travel exponentially harder on the western teams - "Cry us...
NHL News

Delivered to your inbox

You'll also receive Yardbarker's daily Top 10, featuring the best sports stories from around the web. Customize your newsletter to get articles on your favorite sports and teams. And the best part? It's free!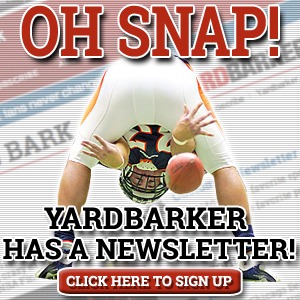 Latest Rumors
The Backyard

Today's Best Stuff

For Bloggers

Join the Yardbarker Network for more promotion, traffic, and money.

Company Info

Help

What is Yardbarker?

Yardbarker is the largest network of sports blogs and pro athlete blogs on the web. This site is the hub of the Yardbarker Network, where our editors and algorithms curate the best sports content from our network and beyond.