Found November 13, 2011 on The Rangers Tribune:
A report out of the New York Post this past week stated that defenseman Marc Staal, despite optimistic feeling from the Rangers, was placed on a one-month shutdown by his doctor in early October. Staal was told not to engage in any physical activity within that time period and to simply rest in his New York  apartment, meaning no time spent at the practice rink. Obviously this was news GM Glen Sather was not pleased to hear, but it was the best approach to take for the sake of Marc's health.  As we've seen with many of the concussed players around the league (yes, that's you Sidney Crosby), at some point a player's health becomes more valuable than their roster spot. In Staal's case, each time he went to take his summer workouts up a notch, the post-concussion headaches would return and he would be back at square one just like that. Therefore, the doctor's logic here is straightforward. A time period of rest, without any setbacks due to physical strain, may result in a significant and speedy recovery, as opposed to forcing the issue by continuously trying to work out.  Of course, we won't know if that was the actual outcome until Marc re-visits his doctor in the next week, but it's a good bet he has made some progress sine being shutdown last month.  And as a side note, the shutdown is the reason why we haven't received any news or updates on Staal's status over the past few weeks. John Tortorella was not hiding anything when he repeatedly stated he had nothing to offer in regard to Staal's health. The Rangers could've easily announced that he was shutdown for a month, but they did not and I cannot blame them for that. If that news would've came out when it originally was decided upon, the fan base would've went into a craze and assumed his career was over. The Rangers saved themselves of that chaos by keeping mum.  Anyway, there's always a chance Staal could receive good news from his doctor this week that will hopefully set some sort of timetable for his return. Realize, though, that once Marc is again cleared to play, he is not going to jump right into game action. Missing a month's worth of workouts has certainly set him back and it will take much time in the gym and in the practice rink in order for Marc to get back into game-shape. But even that, at this point, would give some encouragement.  The Rangers will then have to monitor how Staal reacts to workouts and skating, and from there it's all about contact. Staal is a very physical player, as we know, and as a defenseman he gets knocked around quite a bit. Marc, and the team, must be completely sure that he can fully withstand any and all physical contact without any relapse before he can return to the lineup. That's all physical contact not to the head, though, because if he gets hit in the dome, he's going to be in trouble.  So I don't mean to get ahead of myself here, but I think the chances that Marc receives some sort of encouraging news this week are high. He's rested, just as he was told, for an entire month, and it would be hard for me to believe that being dormant for that amount of time hasn't benefited his health in one way or another. And, on the bright side of things, the defense has started to play pretty damn well in his absence, led by Dan Girardi and Ryan McDonagh.
Original Story:
http://www.rangerstribune.com/the-ran...
THE BACKYARD
BEST OF MAXIM
RELATED ARTICLES
Head coach John Tortorella let it all come out after Friday's 5-1 win over the Hurricanes when he was asked about defenseman Dan Girardi being left off the All-Star ballot and not being recognized as a top player in the National Hockey League. Below are his comments on the matter courtesy of Andrew Gross at Ranger Rants... "Oh, this league," said Tortorella, waving...
… way to funny. That poor kid was probably so nervous. The look on Marian Gaborik's face at the end is totally priceless. 
Pat Leonard at the Daily News reports that Michael Del Zotto returned to practice this morning after sitting out on Saturday to rest his sore hip.Katie Strang of ESPN NY tweets these lines from practice this morning...Anisimov-Stepan-GaborikDubinsky-Boyle-CallahanAvery-Richards-FedotenkoDeveaux-Christensen-Prust...while I love to see Avery with Richards, I'm not a big fan of...
… the Rangers are now on a 6 game win streak, you HAVE to praise the coaching as well.  They started out on a HUGE road trip in Europe only to come back home and play Western Canada. The coaching kept the Rangers players in the game and told them to stick to it and [...]
Chris Trotman/Getty Images It took a lot longer than anyone expected, but New York Rangers forward Brandon Dubinsky has finally tallied his first goal of the season.  The level of relief on the face of Dubinsky immediately following the puck hitting the back of the net showed just how much the drought was weighing on the 25-year-old forward.  As he said postgame...
The Dan Girardi write-in campaign has officially begun and will run until January 4th.So get your you know what over to NHL.com and start voting for Girardi.You can vote for Girardi 30 times a day through the online ballot, texting Girardi to the shortcode 81812 (Message and data rates may apply) or through the mobile ballot available on iPhone, Android and other mobile devices...
Andrew Gross at Rangers Rants has this quote from John Tortorella after Sean Avery's break out performance last night..."Sean played better," Tortorella said. "You could see right away his legs were going. He was pressuring the puck."...he played better?!?!?!? The guy had a sick goal, was a +2 and drew two penalties. I'm pretty sure that's a lot more...
NEW YORK - Dan Girardi and Brandon Dubinsky scored 9 seconds apart midway through the third period and the New...
Wayne Gretzky is considering a return to the ice - well, for the Winter Classic Alumni Game. After initially dismissing the notion and citing family commitments, the Hall of Famer seems to be softening from his stance that "no one wants to watch a 50-year-old on skates." "(New York Rangers general manager Glen Sather) called and we talked for 45 minutes," Gretzky...
Even looking at tape, John Tortorella can find something new that impresses him about Dan Girardi. On Saturday after practice in Greenburgh, it wasn't the defenseman's game-winning goal in Friday night's win that had caught Tortorella's eye.
There is no out-clause in Mats Zuccarello's contract that would require the Rangers to allow the 24-year-old winger to leave for Europe if he is still a member of the AHL Whale by a certain date, the Norwegian's representatives and general manager Glen Sather told The Post late...
When the All Star ballots for this year were released, there were four Rangers on the ballot: Henrik Lundqvist, Marian Gaborik, Brad Richards, and Marc Staal. Lundqvist, Richards, and Gaborik were expected to be on the ballot, but Staal hasn't played a single game this year. It is just another flaw in the All Star balloting, as the Rangers best defenseman thus far, Dan Girardi...
NHL News

Delivered to your inbox

You'll also receive Yardbarker's daily Top 10, featuring the best sports stories from around the web. Customize your newsletter to get articles on your favorite sports and teams. And the best part? It's free!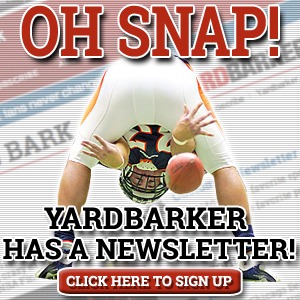 Latest Rumors
Best of Yardbarker

Today's Best Stuff

For Bloggers

Join the Yardbarker Network for more promotion, traffic, and money.

Company Info

Help

What is Yardbarker?

Yardbarker is the largest network of sports blogs and pro athlete blogs on the web. This site is the hub of the Yardbarker Network, where our editors and algorithms curate the best sports content from our network and beyond.