Found March 13, 2013 on Fox Sports North:
ST. PAUL, Minn. Minnesota Wild coach Mike Yeo had just finished watching his team lose a disappointing 2-1 game to the second-place Anaheim Ducks in which Minnesota lost rookie forward Jason Zucker to an upper-body injury and couldn't offer an update on his young scorer. Yeo said he hadn't watched the play, in which Anaheim forward Corey Perry hit an unsuspecting Zucker late and connected with an elbow to Zucker's head, enough to give his perspective of the hit that drew a game misconduct for Perry and could have the league reviewing the play for further sanctions. "You can slow these things down," Yeo said. "I'm emotional right now. We just lost a tough game and we lost a player in that game. I have to watch it a couple more times, but you never like seeing one of your players get hit like that." Yeo said he didn't have an update on Zucker's health, saying he'd have more information later. But Yeo was reeling from the loss in which Minnesota, which had won four straight games and taken points in six straight to take the Northwest Division lead, had a goal disallowed by a review and a power-play that couldn't take advantage of a 5-on-3 or the 5-minute major for the Perry hit, on top of losing Zucker, who's scored four goals in 11 games this season. After the power-play misfired on the 5-minute man-advantage after Perry's hit 4:21 into the second period, Yeo felt his team's momentum sagged. "Certainly after that point, I'd say it's fair to say we were a different team," Yeo said after the power play. "We kind of looked like a team that went for going for the throat to all of a sudden, a little bit maybe weary of what we were losing. We have to be able to respond better than that. And responding is what we're going to have to do." Minnesota finished 0 of 9 on the power play, but the concern after the game also went to Zucker. The speedy rookie had passed the puck and didn't see Perry closing in on his left side. Perry clipped Zucker by the side. "I was committed to the hit," Perry said. "It's one of those things. I didn't change my path of direction. I was committed. I tried to let up. It's hard. It happens so fast. It's unfortunate." Perry received five minutes for interference and a game misconduct. Perry said he tried to communicate with a member of the Wild staff to say he was sorry to Zucker. Perry said he had watched the video of the play a few times and said he didn't intentionally target Zucker's head. "No, I don't go out there looking to hurt guys," Perry said. "That's not the way I am. It's not me as a person. It is what it is." Anaheim coach Bruce Boudreau said he was told by the game officials the game misconduct ruling was due to Zucker leaving the game. "The referee said he hit him a little late," Boudreau said. "So when he hits him a little late and a guy's injured, it's a game misconduct, I guess, by rule." Minnesota couldn't recover after the hit and the failed power-play. "Anytime you see a guy go down, obviously it's never something you want to see," forward Devin Setoguchi said. "We got to score on that. We've got to put a lot of pressure on ourselves to score and take advantage of five minutes, and another two after that. Power play has to get better, that's the story of the game." Yeo was focused on regrouping from an emotional loss and preparing to face the Colorado Avalanche at home on Thursday. "It's missed opportunities and I think it's just extremely important for us to regroup from this," Yeo said. "You have to regroup and come back to the rink with the right mindset after big wins and emotional wins, and you have to do the same thing after an emotional loss. Certainly this one stings right now. I know no one is going to feel sorry for us." Follow Brian Hall on Twitter.
Original Story:
http://www.foxsportsnorth.com/03/13/1...
THE BACKYARD
BEST OF MAXIM
RELATED ARTICLES
THURSDAY'S STORY LINE: Jason Zucker, who took a nasty hit from Ducks forward Corey Perry on Tuesday, will be out of the lineup Thursday against the Colorado Avalanche. The league suspended Perry four games for the hit. Zucker skated on his own Thursday morning, and Wild coach Mike Yeo said he anticipates his young forward will travel with the team on its upcoming road trip to...
ST. PAUL, Minn. A day after taking a scary hit from Anaheim Ducks forward Corey Perry, Minnesota Wild rookie forward Jason Zucker returned to the ice and said he feels "all right." Zucker, 21, skated on his own shortly after Minnesota's optional practice Wednesday, an indication the speedy forward has likely avoided a concussion. During the second period of Tuesday...
Corey Perry is known as one of the league's best playmakers, but the Ducks forward also knows his way around the penalty box. On Tuesday night in Minnesota, he found himself in the bin after blindsiding the Wild's Jason Zucker with a disturbing hit to the head. Perry was given a 5-minute major for interference and a game misconduct for the incident, which can be seen in the...
Minnesota Wild forward Jason Zucker was helped off the ice after he was elbowed in the head by Anaheim's Corey Perry in the second period of the Ducks' 2-1 victory on Tuesday night. Perry dipped his shoulder and threw an elbow at Zucker's head, sending him crashing into the corner boards. Zucker stayed down on the ice for about five minutes as he was helped by trainers...
Let's go ahead and start this out by saying Anaheim Ducks forward Corey Perry is almost certainly going to get suspended for the hit in the video above. During Tuesday night's contest, Minnesota Wild forward Jason Zucker was chasing the puck into his own zone and moved to pass the puck to a teammate. As he moved to gather the puck, Perry flew into Zucker and hit him hard in the...
Corey Perry's blindsided hit to Jason Zucker cost him a game misconduct and five-minute major for interference Tuesday night. The late hit to Zucker's head knocked the 21-year-old Minnesota Wild forward's head into the boards and out of the game. Afterwards, Perry showed some remorse for the vicious hit. "I was committed to the hit. … I tried to let up...
Corey Perry doesn't exactly have the best reputation for a goal scorer. So far this year he has nine goals and 15 assists, and he'll probably have a nice hefty suspension to go along with it after this hit in Tuesday night's game between the Anaheim Ducks and Minnesota Wild: It's obviously a late hit, as proven by the interference call that was the initial...
from Eric Stephens of Ducks Blog, Corey Perry figured that he would receive some form of discipline from the NHL for his hit on Minnesota's Jason Zucker and the possibility of him being out of the Ducks' lineup was realistic. But a four-game suspension? That one didn't enter the winger's mind. "I think it's caught a lot of people off guard,&quot...
Anaheim Ducks forward Corey Perry is facing a disciplinary hearing after a blatant head shot Tuesday night on the Minnesota Wild's Jason Zucker. The Ducks won the game 2-1 for their fifth win in a row but will undoubtedly lose Perry to a suspension. Perry caught a helpless caught the face of an unsuspecting Zucker with his elbow, snapping the his head back and leaving him...
From Jim Matheson of the Edmonton Journal, Here are the top 20 unrestricted free agents who could move on April 3, mostly as rentals: 1. Corey Perry (Anaheim Ducks). Perry falls under the Marian Hossa, Ilya Kovalchuk umbrella, only Anaheim is a much better club than Atlanta ever was when they traded their studs in their prime at the deadline.... 2. Jarome Iginla (Calgary). Iginla...
Darren Dreger of TSN was on the NHL Network today and for the first 1:45, talked realignment.  Then trade talk was brought up, with the names Ryan Miller, Chris Stewart, Jay Bouwmeester (pay attention Detroit fans), Mikka Kiprusoff and Corey Perry discussed.  
NHL News

Delivered to your inbox

You'll also receive Yardbarker's daily Top 10, featuring the best sports stories from around the web. Customize your newsletter to get articles on your favorite sports and teams. And the best part? It's free!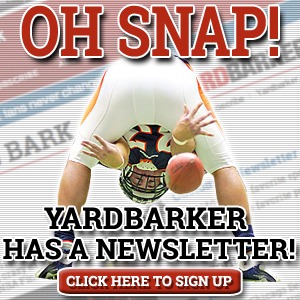 Latest Rumors
The Backyard

Today's Best Stuff

For Bloggers

Join the Yardbarker Network for more promotion, traffic, and money.

Company Info

Help

What is Yardbarker?

Yardbarker is the largest network of sports blogs and pro athlete blogs on the web. This site is the hub of the Yardbarker Network, where our editors and algorithms curate the best sports content from our network and beyond.