Found November 26, 2012 on Kukla's Korner:
"If I was a company being courted by the NHL today, or if I was advising a company being courted, I would be concerned." The current commissioner [Gary Bettman, commissioner since 1993] has three work stoppages under his belt." -Michael Neuman, managing partner for Scout Sports and Entertainment.  More from Terry Lefton and Christopher Botta of SportsBusiness Journal.
Original Story:
http://kuklaskorner.com/hockey/commen...
THE BACKYARD
BEST OF MAXIM
RELATED ARTICLES
from Jack Todd at the Montreal Gazette, Let's face the truth, folks: Gary Bettman has become hockey's worst enemy. Bettman is now the author of three lockouts and the disastrous expansion into the Sun Belt, egomaniac, a man who would rather destroy the National Hockey League than form a workable partnership with the players. Under his watch, the NHL has already lost...
As Glendale, Arizona City Council convenes to vote on a restructured lease agreement between potential buyer Greg Jamison and the municipality, the future of the Coyotes in the Copper State is very much up in the air and it's about time that Gary Bettman admits that hockey in Phoenix just won't work out.  But why won't Bettman let [...]
Chicago forward Dave Bolland. Photo Credit: Wikipedia Commons Dave Bolland, a forward for the Chicago Blackhawks, appears to be the latest professional athlete to make a questionable decision on Twitter. What did he do? Well, he apparently retweeted a tweet from a fan who was calling for the death of NHL commissioner Gary Bettman, who has long been the target of fans' ire, especially...
From: Paul Schneider     An average hockey fan Evanston, IL.     To: Gary Bettman, Commissioner, NHL 1185 Avenue of the Americas New York, NY 10036     Dear Mr. Bettman,   I started writing this letter about a year ago to complement you on your stellar record as the league's first commissioner. During your administration, [...]
Dear NHL fans, in order to give you less to be thankful for, Gary Bettman has axed more of your favorites.  Games are now cancelled through December 14 and the annual All Star Game that was to be held in Columbus was kiboshed as well.It is getting a little tiresome at this point. Bobby Ryan, who swore he was not going to take someone else's job overseas, realized the lockout...
The reason there's no agreement yet is that Gary Bettman has made promises he can't keep. And if he doesn't keep them and loses half an NHL season — or more — in the process, he will be out of a job that pays him $8 million a year. That's why there's been little negotiation from the NHL. That's why there's no hockey. And that's why there won't be hockey...
from Steve Simmons of the Toronto Sun, Brian Burke has made some recent appearances alongside Gary Bettman and Bill Daly on the NHL side of the labour negotiations, which raises some fascinating questions. Is Burke representing himself, his personal views, or the views of the ownership of the Toronto Maple Leafs? Burke is a known hardliner on the NHL's side, a hawk on...
TORONTO -- NHL players are a step closer to dissolving their union. NHL Players' Association members voted this week to give the union's executive board the power to file a "disclaimer of interest" until Jan. 2, The Canadian Press said Friday. The news agency, citing an unidentified source, said the vote drew more than the two-thirds of the required support. The...
Seth Everett of Fox Sports and Spreecast is hosting at NHL Lockout Therapy Session at 10 PM to talk all things NHL and I, and possibly Kevin and Adam, will be on with him. Make sure you join the conversation, submit questions and get all your angst towards Gary Bettman off your chest. Follow me on Twitter @TheWrage. E-mail me with any questions or comments at Jwrabel9@hotmail.com. 
Actions often speak louder than words. As the NHL and the players are stuck in a PR battle, it's easy for each side to spin things however they want them to appear. Actions, though, speak for themselves. Some players made the best of the situation and helped to organize a charity game in Atlantic City, a trip that was not so convenient for many of the attendees (Henrik Lundqvist...
Chicago Blackhawks center Dave Bolland admitted that he used bad judgment when he retweeted a post Friday from a fan who called for commissioner Gary Bettman's death. The retweet was later deleted. It read: "can I get a RT for wanting Bettman dead?" "It was a mistake, I never meant to retweet that out," Bolland told ESPN.com Saturday. "I like to retweet...
NHL News

Delivered to your inbox

You'll also receive Yardbarker's daily Top 10, featuring the best sports stories from around the web. Customize your newsletter to get articles on your favorite sports and teams. And the best part? It's free!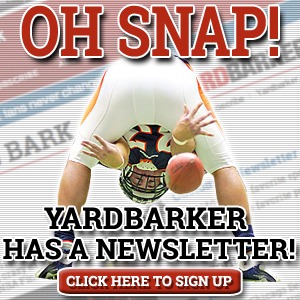 Latest Rumors
Best of Yardbarker

Today's Best Stuff

For Bloggers

Join the Yardbarker Network for more promotion, traffic, and money.

Company Info

Help

What is Yardbarker?

Yardbarker is the largest network of sports blogs and pro athlete blogs on the web. This site is the hub of the Yardbarker Network, where our editors and algorithms curate the best sports content from our network and beyond.