Found July 17, 2013 on isportsweb.com:
A year ago, the New York Rangers were feared by every other team in the N.H.L . Their style of play using body checks and young speed in front of Lundqvist allowed them to punish their opponents. If they didn't bring the intensity at the start someone (Brandon Prust most likely) would drop the gloves and the Rangers game came back to life. After this dismal locked out season, the Blueshirts have lost their identity and are in search of a new one that provides them with offense. Where the Rangers started to go down hill was losing their toughest player, Brandon Prust summer 2012. He's not the biggest guy in the league, however he had the most fights in the N.H.L. in 2011-2012. Prust would sacrifice his body in order for his team to gain some momentum and it worked. Unfortunately for the Rangers, he was an UFA after 2012 and was offered a $10 million contract from the Canadians. A huge step up from his previous deal of $800,000 you can't blame him for taking that deal. You also can't blame New York for letting him go, Prust is not worth $10 million. So they lose Prust and get back on track in the 2012 offseason to grab Rick Nash by trading key Ranger role players in Dubinsky and Anisimov. After a disappointing season from the two, trading Dubinsky's grit and Anisimov's finesse it was a fair deal. When the Rangers traded Dubi, they also traded their last hope of using a physical style of play to find success. The Rangers need Nash to put up points and he was successful this year with 42 points, second behind Derek Stepan. However, the original idea was for Nash to work alongside Gaborik and Richards. With Gaborik gone, even with a lackluster season the Rangers trade to add more depth wasn't enough to make a deep playoff run. Brad Richards is another story as he looked lost in almost every game he played this season, especially failing to lead the pathetic power play. He couldn't keep up with the pace of the N.H.L and the bad news for Richards is the game isn't getting any slower and he's not getting any younger. Richards, who was expected to be bought out to save the Rangers a risk of taking a massive cap hit and being stuck with another Chris Drury. He's still eligible for a buyout after 2013-2014 so it is up to him to determine his future. The last act was firing John Tortorella  and basically swapping coaches with the hiring of Alain Vigneault Vancouver's former head coach. Taking out Torts's hard hitting and constant fore checking system out of the organization provides a clean slate for the Rangers to find a new way to utilize their talent. What Vigneault will bring to the table is a mystery but he may want to start with the extra man. The Rangers have been busy this offseason, locking up Ryan McDonough long term with a six year deal and bringing back Carl Hagelin for another two. They still need to sign team point leader Derek Stepan who will be essential for another winning season in New York. Also, the Rangers need to give Hank an extension, on of the best goalie in the world and a fierce. If the Rangers fail to make a run and the King is not signed don't be surprised if he tests the market hard.
Original Story:
http://feedproxy.google.com/~r/isport...
THE BACKYARD
BEST OF MAXIM
RELATED ARTICLES
For several off-seasons running, I've been creating these "master plans" that talk about the future rosters of the Rangers. The purpose of these posts is to really come full circle on all of the topics and rumors we've been covering over the course of the season. During prior offseasons, creating these plans was pretty easy for me as John Tortorella frequently talked about...
Glen Sather should have plenty of financial flexibility next summer Whether the Rangers re-sign Mats Zuccarello or not, they're going to be right up against the salary cap ceiling when the 2013-2014 season opens.  Things are tight financially for New York right now, but 12 months from now the situation will be very different. According to CapGeek, the Rangers have barely over...
Last week, the Rangers officially agreed to a new six-year, $28.2 million contract extension with restricted free agent defenseman Ryan McDonagh, keeping the 24-year-old stud on Broadway likely through the prime years of his career. The deal, which makes McDonagh the fourth-highest paid player on the Rangers behind only Rick Nash, Henrik Lundqvist and Brad [...]
RANGERS ANNOUNCE 2013 PRESEASON SCHEDULE Blueshirts to play six road games in 11 days   NEW YORK, July 16, 2013 – The New York Rangers have announced their 2013 preseason schedule today, which includes a total of six games, one of which will be held on neutral ice. The Rangers 2013 preseason schedule opens on [...]
When the Rangers traded Michal Rozsival to Phoenix in 2011, I – being one of the much-maligned Czech defenseman's few supporters in Ranger circles – of course decided to keep tabs on him. So I ended up watching a fair number of Coyotes games, in the process familiarizing myself with much of their roster. While [...]
By Bob Crawford Twenty-eight-year-old defenseman Danny Syvret, a veteran of eight seasons in pro hockey, came to the New York Ranger organization July 1, in a trade with the Philadelphia Flyers for Kris Newbury.  Syvret, who had spent much of the previous five seasons in the Philadelphia organization, had been through the process of being traded before, but is particularly enthused...
Best Ranger bracket As the offseason wears on, us and Matt Josephs of Blue Line Station (Twitter: 11Matt_Josephs8) will be running a tournament for the Best Ranger since the 2005 lockout. Henrik Lundqvist won the first matchup against Olli Jokinen in a landslide. And yesterday we saw Martin Rucinsky (#9) upset Nigel Dawes (#8). Today's matchup is #5 Anton Stralman vs. #12 Aaron...
(Photo by Tom Szczerbowski/Getty Images) The Rangers stand to have a number of prospects vying for NHL spots in the upcoming preseason, but worst case scenario they will have a number of younger players playing prominent roles in the AHL in Hartford. One of the harder players to gauge is Jesper Fast. Exceptionally quick, and fresh off a strong SEL campaign, Fast has been playing...
The New York Rangers have released the team's pre-season schedule prior to the upcoming 2013-2014 season. #NYR 2013 Preseason Schedule: 9/16 @ NJD 9/17 @ PHI 9/23 @ CAL 9/24 @ EDM 9/26 @ VAN 9/27 @ LAK (In Vegas) — New York Rangers (@NYRangers) July 16, 2013     Obviously, pre-season is pre-season but there's still a few interesting games...
The preseason schedule for the Rangers has been released: 9/16 @ New Jersey, 7PM 9/17 @ Philly, 7PM 9/23 @ Calgary, TBD 9/24 @ Edmonton, 9:30PM 9/26 @ Vancouver, 10PM 9/27 @ LA in Las Vegas, 10PM With the final year of the renovation still in progress, the Rangers will be on the road for all six road games, and likely all of October when the season starts. Training camp will begin...
from Kevin Woodley of InGoal Magazine, Henrik Lundqvist isn't worried about the impending changes to goaltending equipment in the NHL – as long the New York Rangers' star gets enough time to adjust to them. "If they change it, as long as I have the new gear early August it should be fine," Lundqvist wrote in an email to InGoal Magazine from his native Sweden. ...
So once again Free Agency began and yet again there were loads of money being thrown around to them by various teams, surprisingly the Rangers not being among them.  One main reason is the Brad Richards contract, which handicaps the teams cap space for at least this season and the hope that he bounces back.  [...]
Rangers News

Delivered to your inbox

You'll also receive Yardbarker's daily Top 10, featuring the best sports stories from around the web. Customize your newsletter to get articles on your favorite sports and teams. And the best part? It's free!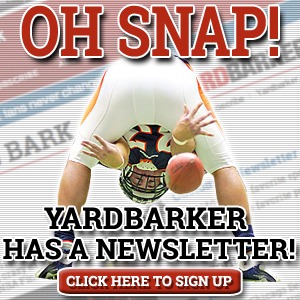 Latest Rumors
Best of Yardbarker

Today's Best Stuff

For Bloggers

Join the Yardbarker Network for more promotion, traffic, and money.

Company Info

Help

What is Yardbarker?

Yardbarker is the largest network of sports blogs and pro athlete blogs on the web. This site is the hub of the Yardbarker Network, where our editors and algorithms curate the best sports content from our network and beyond.