Found November 20, 2012 on Fox Sports North:
NEW YORK (AP) -- This time, NHL owners and players are staying apart for just one day.Negotiations aimed at ended the league's lockout are expected to resume on Wednesday, following a brief break in talks. Before Monday night's 90-minute session, it had been eight days since the sides got together. Whether the players' association will bring a new complete proposal, as requested by the NHL on Monday, to the next round of talks remained uncertain. But the union huddled for internal conversations after negotiations ended, and continued talking on Tuesday -- pushing further bargaining back a day. "It looks like tomorrow," NHL deputy commissioner Bill Daly told The Associated Press in an email Tuesday. "No other details at this point." The lockout entered its 66th day on Tuesday and has already wiped out 327 games. More cancellations could be coming soon without a new deal. While neither side offered much insight following Monday night's talks, there didn't seem to be any of the anger that reportedly existed when the previous negotiations ended a week earlier. Both sides looked forward to when they would reconvene to try to reach the elusive deal that would end the lockout that has already shortened the season and threatens scrap it completely. "We talked about various things," union executive director Donald Fehr said Monday. "No new proposals were made, they were not expected to be made. We had hoped to engage them in a discussion about the player-contracting issues that are so important to the players. At least (Monday) they were unwilling to do that." The prevailing question is when will one side say something the other really wants to hear. These negotiations have been going for a while, yet there hasn't been any kind of breakthrough to pave the way to a new collective bargaining agreement. Both sides know the lockout has inflicted a lot of damage on the sport that produced record revenues of over 3 billion last season. Every day of lost time is hurting everyone, and at some point owners and players will have to decide how much of the losses each side will have to absorb. "I think every week is important in the process," Daly said Monday. "I don't attach a particular significance to this week over last week or next week. I want to play tomorrow." The league contends it is waiting for the players to present a full proposal on all the major issues -- including core economics and player contracting, which deals with the entry-level system, arbitration and free agency. After the request was made, the players' association asked for a break and the meeting adjourned soon after. "We've never heard a full proposal from them," Daly said. "They have given us a variation of the same proposal on economics a couple of times and there was no change in that position. They are still suggesting that they are moving in our direction on economics, but until we know exactly what their position is on economics now, we think it's all tied together and would like to hear it all together." Union representatives, along with 18 players who were in attendance, returned to the players' association office to have discussions among themselves. It is unclear if talks will continue through the Thanksgiving holiday if progress is made on Wednesday. The players tried to put the focus on player-contract issues on Monday night before returning to specific revenue and economic areas, but the NHL wasn't interested in that because the league considers everything to be intertwined. Neither side wants to agree to anything, or make concessions in one single area, without knowing how those will affect other parts of the CBA that still need to be negotiated."Our position all along has been on the player contracting issues that they become considerably more important to players as the cap becomes limited," Fehr said. After turning down a suggestion from NHL Commissioner Gary Bettman to take a two-week break from negotiations, the union requested another meeting with the league. That produced Monday's get-together. "We could've taken a couple of weeks off, I suppose," Fehr said. "It's hard for me to see how you make an agreement if you aren't talking, so you talk. Sometimes it doesn't lead anywhere, and perhaps very often it doesn't lead anywhere, but if you aren't talking it's 100 percent sure it doesn't lead anywhere. "They were willing to have the meeting if we said we wanted to meet. That is about as far as I can go." Daly said the NHL is always willing to listen if the players have something meaningful to say."We're never going to shut down the process," he said. "If they think there is a reason to meet and we can make progress, we're happy to meet. That's what we told them and that's what led to today's meeting." It was the first bargaining session since Nov. 11, when a busy week of negotiating wrapped up without results. All games through Nov. 30 and the New Year's Day Winter Classic have been called off. More games -- including the All-Star game in Columbus, Ohio -- could soon be axed, too. One area in which the NHL hasn't budged is in the area of guaranteed money to players. The league wants a percentage split of actual hockey-related revenue instead of a promised dollar amount to players based on projections of how the game will grow. "If their proposal continues to be a guaranteed amount of player-share dollars, we have told them that that is not a proposal that is acceptable to us or would ever to be acceptable to our owners right now," Daly said. "If that continues to be where we are, we are a long way apart."
Original Story:
http://www.foxsportsnorth.com/11/20/1...
THE BACKYARD
BEST OF MAXIM
RELATED ARTICLES
After yesterday's CBA talks, NHL executive Bill Day said... "I'm frustrated." ...is this guy f'n kidding me?!?!?!?! He's frustrated?! He's frustrated?! How do you think us fans are feeling right now? You have the ability to make everyone's frustrations vanish, but instead you and Bettman have decided to torture your fanbase instead. And...
The last post in the previous blog stated Billy Daly was frustrated. Now this...   Bill Daly said NHL is urging NHLPA to submit a full proposal re. the HRR split so there is clarity b4 tackling player contracting issues. — Dan Rosen (@drosennhl) November 20, 2012   Daly emphasizes that owners absolutely will not accept a $ proposal that guarantees...
Make sure to follow Travis on Twitter! -- Over the weekend, NHL deputy commissioner Bill Daly indicated that the NHLPA had expressed desires to reconvene, and confirmed that the two sides would begin a new round of negotiations starting Monday night. There's no word on whether or not the union will table a new proposal, but because the NHL wouldn't meet unless there was...
I just got off the phone with Theresa Caputo. She was explaining to me what's going to happen tomorrow during the NHL/NHLPA CBA negotiations in New York. Apparently, the fun begins at 10am. 10:05am - The day will begin with Bill Daly asking the NHLPA to present their formal, full, and complete CBA proposal. For those of you keeping track, the NHLPA has made five CBA proposals...
The NHL has called off all games through Dec. 14, plus the 2013 NHL All-Star Weekend scheduled for Jan. 26-27 in Columbus, Ohio. The league made the announcement Friday, the 69th day of the NHL's lockout of its players. The new cancelations come as little surprise. The two sides had an unproductive negotiating session on Wednesday that produced no movement to break an impasse...
TALK-OUT THE LOCKOUT
Representatives from the NHL and NHLPA are scheduled to meet again on Wednesday morning at the NHL league offices to continue negotiations.
Make sure to follow Travis on Twitter! -- After a thirty-six hour hiatus to confer on the specifics, the NHLPA opted to table its newest proposal to ownership -- this one based on hockey-related revenue percentages, as opposed to fixed dollar totals. The above move was key to avoid nuclear meltdown in these negotiations, as Bill Daly said that any kind of proposal that dealt...
Both sides in the ongoing NHL labor fight say negotiations are expected to resume Wednesday following a one-day break in talks. After owners and players met for about 90 minutes Monday night at the NHL office in Manhattan, the players' association huddled to go over the league's request for a full proposal. Those internal conversations continued Tuesday, and the sides focused...
from the CP with TSN Files, The NHL wants to see everything put in writing. With negotiations on a new collective bargaining agreement seemingly at a stalemate, the league met with the NHL Players' Association on Monday night and requested that the union put all of its desires together into one complete offer. "It's our position that we've made a couple...
The two sides will be meeting today, but does it mean anything? Will anything be resolved? "I can confirm that we will be meeting [Wednesday] morning," Deputy Commissioner Bill Daly told NHL.com. "I don't know about the substance and I have no expectations." NHLPA Executive Director Donald Fehr said after Monday's meeting that the Union wanted to...
Kris Versteeg with @hayestsn and @jamiemclennan29: "You gotta cut out the cancers...you have to look at Bill Daly and Bettman...(cont....) — TSN Radio (@TSN1050Radio) November 19, 2012   "They've been polluting this game for far too long" - Kris Versteeg on Bill Daly and Gary Bettman — TSN Radio (@TSN1050Radio) November 19, 2012
First up is Donald Fehr, followed by Bill Daly below...   Continue reading "Video- Both Sides Talk After Monday's CBA Meeting"
NHL News

Delivered to your inbox

You'll also receive Yardbarker's daily Top 10, featuring the best sports stories from around the web. Customize your newsletter to get articles on your favorite sports and teams. And the best part? It's free!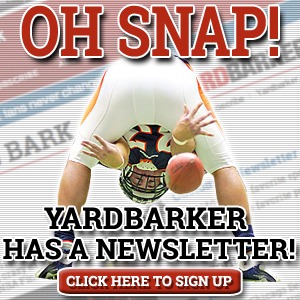 Latest Rumors
The Backyard

Today's Best Stuff

For Bloggers

Join the Yardbarker Network for more promotion, traffic, and money.

Company Info

Help

What is Yardbarker?

Yardbarker is the largest network of sports blogs and pro athlete blogs on the web. This site is the hub of the Yardbarker Network, where our editors and algorithms curate the best sports content from our network and beyond.