Found January 10, 2013 on Tonight's Healthy Scratches:
Earlier today, Adrian Dater at Sports Illustrated, released his version of the uber-ridiculous exercise in futility known as "power rankings." He conjured up quite a stir by ranking the Edmonton Oilers third, ahead of the Vancouver Canucks, 2012 Presidents Trophy winners, and the Los Angeles Kings, who won something or other last season too.  If you're not familiar with the idea of this column, it gives writers an excuse to lazily list each team in a certain professional sports league in whatever order they see fit based essentially on any number of factors they deem relevant to their cause. Oh you mean like standings? Well, yes. No. Kind of? Alright, not really at all. Power rankings are like standings with a poetic license. If you've got an agenda to establish, wins and losses need not apply. Now one could argue that the best time (and, perhaps, only time) for such an article would be prior to any games being played. After all, how else would we ever determine who's best and who's worst without any tangible proof? This is not an indictment of Dater's character or work by any stretch. I'll leave that to the more experienced, professional trolls such as Puck Daddy's Ryan Lambert. People make outlandish predictions without any  And I understand that there is an editorial movement that pushes this sort of thing on its' writers, no matter how hard they fight it. People just want to read four non-descript sentences about the teams they love, the teams they love to hate, and the teams they forgot existed. But Dater's been around for a while. If he wanted to write a calculated, intelligent column for a change, he likely would have the freedom to do so. Why not profess your penchant for Edmonton's stable of young stars by putting together a piece claiming Edmonton may very well be the favorite in the Northwest division. A worst-to-first column would surely draw it's fair share of snarky comments from the peanut gallery, but at least it would be original. You could spend as many words as you saw fit gushing about Eberle's ability to score early and often, and how Justin Schultz is going to take the league by storm. Or you could spend five listless lines justifying your aggressive gesture, jettisoning the Oilers among the league's elite. I guess that works too.
Original Story:
http://www.tonightshealthyscratches.c...
THE BACKYARD
BEST OF MAXIM
RELATED ARTICLES
The Los Angeles Kings won their first Stanley Cup in franchise history and will be receiving their championship rings on opening day. Even though their rings aren't supposed to be unveiled until then, it looks like there has already been a leak. According to Puck Daddy, Francesca Leiweke, the daughter of AEG CEO Tim Leiweke (AEG owns the Kings), shared a photo on her Instagram...
LOS ANGELES The Los Angeles Kings, the 2012 Stanley Cup Champions, in a joint effort with McDonalds will donate 1 Million to local charities as a special Thank You to the city of Los Angeles for its support this past year, the hockey club including its players announced this afternoon as part of a news conference at STAPLES Center. As part of the pledge which was announced...
As part of the NHLPA's delegation of players in collective bargaining, Kevin Westgarth had a different lockout experience than most. Los Angeles Kings enforcer Kevin Westgarth, a 2007 graduate of Princeton, was the Los Angeles Kings' player representative amongst the NHLPA's delegation of players during collective bargaining agreement negotiations with NHL owners. On...
The shortened NHL season might force coaches to change their ways, but not the delightfully consistent Kings head coach Darryl Sutter, especially when it comes to his No. 1 goalie. Sutter has done his lockout research and his inner baseball fan surfaced as he said there will be no "pitching rotation" during this 48-game season. "If you look at the last team that...
The Los Angeles Kings raised the Stanley Cup for the first time last summer. Thanks to the NHL lockout, they still haven't raised their first championship banner. The Kings are eager for that celebration, but they're also ready to get back to work on defending their title. With their entire roster returning intact from last season's eighth-seeded championship team, they...
Perhaps the Bruce Springsteen song My Hometown should have been playing in the background, the way Dean Lombardi was talking recently about his day with the Stanley Cup in Ludlow, Mass. There will be more Stanley Cup memories when the Kings visit the White House later this season. AEGs Tim Leiweke said that a visit has been tentatively scheduled and that the Kings and the MLS champion...
The last time the Chicago Blackhawks visited Staples Center, Dustin Brown shook off trade rumors with a hat trick, Jeff Carter made his Kings debut, and Jonathan Quick posted a shutout in a 4-0 Los Angeles victory that represented the tectonic shift between the early season Kings and the Kings that would go on to win the Stanley Cup. I think its just a matter of time before the...
The NHL's Board of Governors gave unanimous approval Wednesday to the collective bargaining agreement it had tentatively reached with the players' association. The next step will be for players to ratify the deal. That electronic voting process is expected to begin on Friday and conclude on Saturday, with players also approving the deal. That would allow the NHL to officially...
NHL News

Delivered to your inbox

You'll also receive Yardbarker's daily Top 10, featuring the best sports stories from around the web. Customize your newsletter to get articles on your favorite sports and teams. And the best part? It's free!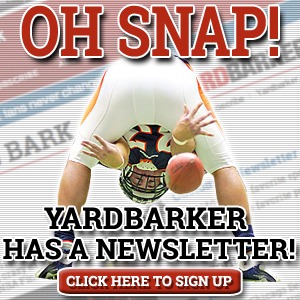 Latest Rumors
Best of Yardbarker

Today's Best Stuff

For Bloggers

Join the Yardbarker Network for more promotion, traffic, and money.

Company Info

Help

What is Yardbarker?

Yardbarker is the largest network of sports blogs and pro athlete blogs on the web. This site is the hub of the Yardbarker Network, where our editors and algorithms curate the best sports content from our network and beyond.