Found April 24, 2013 on Awful Announcing:
Ed Note: This article appears courtesy Bloguin's national NHL blog Puck Drunk Love. On Monday evening, the Pittsburgh Penguins traveled to Scotiabank Place to take on the Ottawa Senators in their first trip to the Canadian capital since Erik Karlsson's Achilles tendon was partially severed by Cooke's skate. While the spotlight should've been on the Penguins' 3-1 victory, the main headline became about an interaction between Cooke and Don Brennan, a reporter for the Ottawa Sun.  Let's start with the title where Don Brennan refers to himself in the third person: Sadly, this is the highlight of the article. It only goes downhill from here. Here's an except from this article: "Matt Cooke was quite focused at Scotiabank Place on Monday morning. He was focused on that night's game against the Senators. He was focused on helping the Penguins track down the Blackhawks in the overall standings. He was focused on his job as a penalty killer and pest. Then, after practice, he was focused on the humongous media scrum around his stall in the dressing room. And he was focused on my package. Cooke must have read the Ottawa Sun on his way to the rink because something in it clearly had him rattled. And I'm still not sure which part. After listening to Cooke answer questions about the Feb. 13 incident in which his skate sliced 70% of the way through Erik Karlsson's Achilles tendon, I went to speak with other players in the room about different matters. Like every other reporter there. On the way out, I found Cooke waiting to have a word in private with me. He wanted to tell me I have no balls. At first I think he said "small balls." But by the time he had finished, and knew Penguins GM Ray Shero was listening, he had decided I had none. Oh, and I believe he also mumbled something about me having no penis before disappearing into the players-only room, which I found interesting. I will not take this opportunity to, ahem, brag about my manhood." Let's backtrack a bit here. On Sunday, Brennan wrote an article in the Sun calling into question Cooke's manhood. He further states that the only reason why the Senators will not retaliate for Karlsson's injury is because they are in the middle of a playoff race and will not do anything to screw that up, such as taking a bad penalty which could lead to a goal. Brennan feels that Cooke may have read that article and became upset about it, and rightfully so. Calling into question anybody's "manhood" is petty at best and shows what kind of hack Brennan really is.  Did Cooke really confront Brennan? Probably, but the only people who know what truly happened are Cooke, Brennan, and allegedly Penguins general manager Ray Shero. The other thing here is that Shero is a well-respected guy around the league. I highly doubt he would sit back and let one of his players talk to a reporter like that. Not only is it bad press and media relations, it's just flat-out unprofessional.  You can say whatever you want about Cooke as a player. Yes, he's notorious for being dirty and has caused serious harm to other players, such as all but ending Marc Savard's career. While he has tried to clean up his image, he will always have the stigma of being a dirty player.  This doesn't excuse Brennan for writing those two articles. As a journalist (and even a blogger), you're required to maintain some sort of objectivity. He showed none in either article.  What's even scarier is that the Ottawa Sun, whose reputation doesn't speak highly of them, allowed this article to see the light of day. Brennan should be reprimanded for writing this garbage, at the very least. He won't, which speaks volumes about the Ottawa Sun.  Hopefully, both Cooke and Brennan can stop this public hissy-fit and solve this like mature adults.  Follow Jeff on Twitter @JeffreyKleiman and make sure to bookmark Puck Drunk Love for all your Stanley Cup Playoff needs.
Original Story:
http://www.awfulannouncing.com/2013/a...
THE BACKYARD
BEST OF MAXIM
RELATED ARTICLES
Matt Cooke has deserved his time spent as public enemy number one in many cities over the years.  It's not even debatable.  He has done a few things that are going to keep him from ever receiving the hockey equivalent of saint hood, or the Lady Byng award.  The entire city of Ottawa has spent the last two months trying to prove that Cooke did something based entirely on Cooke's...
A pair of gender-related comments have me shaking my head this morning, I suppose proving that hockey is an equal-opportunity sport when it comes to placing one's feet in one's mouth (perhaps on both sides of the digital voice recorder). When Matt Cooke played in the Pittsburgh Penguins' 3-1 win over Ottawa, visiting Canada's capital for the first time since accidentally...
Today is the day Matt Cooke makes his first appearance in the nation's capital for the first time since his skate blade cut seventy-percent of Erik Karlsson's Achilles tendon. Tonight the Senators will present their ninth annual Canadian Forces Appreciation night and depending on who you ask, this may be the only 'presence' the Senators will have in the building tonight...
Well the saying " don't tell them dick," just got a new meaning. There is no way we could ever make this up. Don Brennan, who is a complete nutjob, wrote one of the more bizarre columns of all-time shortly after the Penguins beat the Senators. Brennan and his disdain for the Penguins is very well documented.  But even this is a little extreme. Brennan apparenty...
Tonight, the Pittsburgh Penguins travel to Ottawa to play the Senators and this will be the first matchup between the Senators and Penguins since the defenseman Erik Karlsson was injured by a check by Matt Cooke. From reading some of the news articles around the web, it would appear that this is going to be one of those must watch games. One almost has to suspect there will be...
The Ottawa Senators were the team with something to play for but you would have never known it by their approach to the game. This contest was just weird. Everything about it. Even down to the pregame. Matt Cooke told an Ottawa reporter that he had no balls so the guy decided to write a…
Can Jack Edwards please call this game? Steve Ott and Matt Cooke on the ice at the same time. Edwards would be so confused seeing two versions of Sirhan Sirhan on the ice. It would terrify him. I'd say that it would cause him to lose his mind if that was something that hadn't already…
When Matt Cooke's skate cut through Erik Karlsson's Achilles tendon back in February, hockey fans and writers universally assumed that it meant the end to the defenseman's 2013 season. Shockingly, Karlsson has not only returned to practicing with his team, but he is reportedly ready to return as soon as Thursday when the Senators battle the Washington Capitals.  ...
Oh man. Grab yourselves. Some huge ones. The big one is Ottawa heading to Washington. The Pens' recent game in Ottawa has us really pulling for Ottawa to move up in the standings. It's not that we think the Pens would have trouble with them, but it's just that the Matt Cooke stuff is already pretty tired. Actually, take a look at betting on the Sens tonight...
Pittsburgh Penguins (34-10-0) @ Ottawa Senators (23-15-6) ROOT, SNET-E, TVA, 7:30 pm/et Hell's Kitchen - Kanata, ON Hopefully tonight's contest resembles a hockey game and not the bizarre sideshow that the Ottawa Senators and many of their fans want it to be. We doubt it though. We put the over/under on staged fights at three. Place your bets. Also...
Pittsburgh Penguins Free Agents for 2013-14 Current Salary Cap: $70,200,000 2013/14 Salary Cap: $64,300,000   Unrestricted Free Agents Name/Current Salary Jarome Iginla 35 yr  $7,000,000 Brenden Morrow 34 yr $4,100,000 Matt Cooke 34 yr $1,800,000 Pascal Dupuis 33 yr $1,500,000 Craig Adams 35 yr $675,000 Douglas Murray 33 yr $2,500,000 Mark Eaton 35 yr  $725,000 [...]
NHL News

Delivered to your inbox

You'll also receive Yardbarker's daily Top 10, featuring the best sports stories from around the web. Customize your newsletter to get articles on your favorite sports and teams. And the best part? It's free!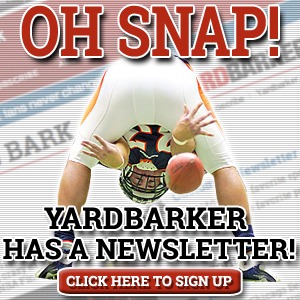 Latest Rumors
Best of Yardbarker

Today's Best Stuff

For Bloggers

Join the Yardbarker Network for more promotion, traffic, and money.

Company Info

Help

What is Yardbarker?

Yardbarker is the largest network of sports blogs and pro athlete blogs on the web. This site is the hub of the Yardbarker Network, where our editors and algorithms curate the best sports content from our network and beyond.