Found July 09, 2012 on Fox Sports North:
ST. PAUL, Minn. Zach Parise proudly put on his new Minnesota Wild jersey, sporting the No. 11 his dad famously wore with the Minnesota North Stars, and smiled for the cameras alongside friend and now teammate Ryan Suter on Monday. Parise's unease of being the center of the hockey world for an entire week in July was easily apparent. He smiled for the cameras in his new sweater, but seemed overwhelmed by the enormity of Monday's press conference at the Xcel Energy Center as the two franchise-altering free agents were introduced as members of the Wild.Through it all, Parise didn't even notice the "A" stitched onto the front of his new green Minnesota sweater until it was pointed out by a reporter."We probably should have talked to them first," Wild coach Mike Yeo joked about Parise and Suter already being given the "A," meaning they are assistant captains on a team where they have yet to meet all of their new teammates.Such is life when you ...
Original Story:
http://www.foxsportsnorth.com/07/09/1...
THE BACKYARD
BEST OF MAXIM
RELATED ARTICLES
ST. PAUL, Minn. Less than an hour away from the Xcel Energy Center, the new home for Minnesota Wild forward Zach Parise is the rink where Parise shined as a star for Shattuck-St. Mary's. The prep school in Faribault, Minn., has turned into a hockey hotbed for high school players, and the school has Parise to thank for that.Parise spent two seasons playing at SSM, from 2000-2002...
ST. PAUL, Minn. Minnesota Wild owner Craig Leipold unveiled his shiny new, expensive purchases on Monday, introducing big free-agent signings Zach Parise and Ryan Suter to the team's excited fan base and is hoping for another new addition. Leipold's hoping for another big addition to the organization soona new practice facility across the street from the Xcel Energy Center...
The Minnesota Wild are hoping that landing the top two free agents on the market with massive contracts will help turn flyover country into the place to be for top talent going forward. The Wild introduced forward Zach Parise and defenseman Ryan Suter on Monday, five days after signing them to matching 13-year, $98 million contracts. They were the premiere players available this...
Since Ryan Suter and Zach Parise agreed to terms with the Minnesota Wild on Independence Day, the Detroit Red Wings have been reassessing what appears to be their limited options. While the Wings take a long, hard look in the mirror before they begin to implement Plan B, C, D or even E, there's a theory being bandied about as to why the mighty Wings have not fared well in the...
The Wild are planning a press conference in under a half an hour. The idea is that it is an introductory press conference for Zach Parise and Ryan Suter is quaint. Very nice. I've been around the Wild and Minnesota sports for too long. I have some other ideas of what might be said at the press conference.- The real reason Parise and Suter signed with the Wild was becuase they...
Waking up with a start after a surprisingly poor night's worth of sleep, I see that the Minneapolis Star-Tribune's Howard Sinker mocking a certain part of the Oakland Press's Pat Caputo's suggestion that failing to land Zach Parise and Ryan Suter does not in fact mark the end of the world as we know it… [I]n retrospect, it may turn out to be the best thing that could have...
First Brad Stuart left Detroit for San Jose, then Jiri Hudler signed a fat contract in Calgary.  Both Zach Parise and Ryan Suter chose Minnesota over Detroit, surprising hockey fans everywhere and leaving the Motor City quite dejected.  With the top two free agents off the board, what now for the Detroit Red Wings? Parise [...]
With less than a week since the ink dried on the identical contracts to Zach Parise and Ryan Suter the forward momentum of the growth of a hockey organization continues irregardless of that improbable outcome.  I am of course talking about the 2012 Wild Prospect Camp which opens tomorrow.  Heck, even as there are still a little over an hour (as I write this) Parise and Suter'...
Last offseason, Coyotes GM Don Maloney prognosticated that some GM's may "go berserk" at free agency and "the people who have money may just blow their brains out." Maloney wasn't too far off in that regard. With the exception of the Parise/Suter signings, this year's free agency hasn't been as crazy. Though, several high priced talent (i.e. Semin, Doan, Selanne...
from Tony Gallagher of the Vancouver Province, There are some well informed people around the NHL who feel the massive spend fest over the last few days has an excellent chance to make the new collective bargaining agreement negotiations a lot more difficult…. Take the behaviour of the Carolina Hurricanes for instance. Here was a team that was apparently hot and heavy after Zach...
Devils lost Adam Oates a couple of weeks ago as he became the head coach of the Washington Capitals. Then Zach Parise left to go play the rest of his career in Minnesota. NOW Larry Robinson is leaving us to go coach in San Jose?? WTF is going on? Is this a sign about the financial situation in NJ? We were 2 wins away from a cup, guys shouldn't be bolting like this....
Wild News

Delivered to your inbox

You'll also receive Yardbarker's daily Top 10, featuring the best sports stories from around the web. Customize your newsletter to get articles on your favorite sports and teams. And the best part? It's free!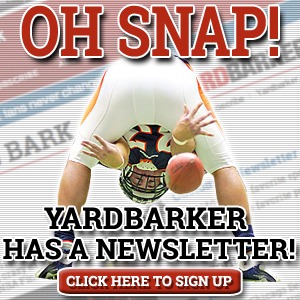 Latest Rumors
Best of Yardbarker

Today's Best Stuff

For Bloggers

Join the Yardbarker Network for more promotion, traffic, and money.

Company Info

Help

What is Yardbarker?

Yardbarker is the largest network of sports blogs and pro athlete blogs on the web. This site is the hub of the Yardbarker Network, where our editors and algorithms curate the best sports content from our network and beyond.