Found April 24, 2012 on Shutdown Line:
If you look at the rosters for every team in the NHL, most of them will have a player like Patrick Dwyer in their bottom-six. Dwyer is a prototypical defensive forward who specializes in killing penalties, blocking shots and preventing chances and he does all three of those tasks very well for the Hurricanes. You could say that he's a "dime a dozen" player but what makes Dwyer more valuable than other defensive forwards is how big of a workload he (and Sutter) take on.
For most of the year, these two and Andreas Nodl made up the team's shutdown line and they started almost 70% of their shifts in the offensive zone. Dywer and Sutter alone were in the bottom quarter of the league in offensive zone start percentage and were always matched up against opposing team's top lines. The Hurricanes also yielded fewer scoring chances whenever Dwyer was on the ice, which shows that he's above other standard defensive forwards when you consider the situations that he plays in. That is what makes Dwyer a valuable member to the Hurricanes.
What keeps Dwyer from being more than just a defensive or a bottom-sixer is his offensive skill-set, which is almost non-existent. He can skate well and his hands aren't made out of stone, but he doesn't have much of a scoring upside at all. That's the reason why he appears as a replacement level player in both boxcar and underlying numbers but he plays a very important role on the Hurricanes and does a solid job at it.
We will look at said underlying numbers after the jump
Patrick Dwyer 2011-12 Scoring Chances

Average TOI: 15:22
Scoring Chance% Forward Ranking: 15/19
Chance Diff/60 Ranking: 15/19
QualComp Forward Ranking: 1/12
OZ%: 37.4%
Scoring Chance by Season Segment
Game #
TCF
TCA
SCF
SCA
Segment%
Team %
1-10
27 32 27 32 0.458 0.475
11-20
38 63 11 31 0.262 0.527
21-30
67 91 29 28 0.509 0.518
31-40
78 108 11 17 0.393 0.473
41-50
107 137 29 29 0.500 0.465
51-60
139 175 32 38 0.457 0.511
61-70
155 194 16 19 0.457 0.454
71-82
175 223 20 29 0.408 0.548
TC = total chances, SC = segment chances, Segment% = scoring chance percentage during segment, Team %= Hurricanes' scoring chance percentage during segment
Scoring Chance Line Graph
The red line is Dwyer's scoring chance percentage and the black line is the Hurricanes' team average. Dwyer ended up performing well below the team average for most of the year and had a very bad stretch during games 11-20 where he couldn't seem to create any offense for the life of him. He seemed to play better and be more consistent during the second half of the season, though. You can see that the was performing around the team average for most of that time and even broke the 50% mark a couple times.
You do have to take his playing situation into account when looking at this graph, though. Dwyer plays extremely tough minutes, some of the toughest in the league, so most of his shifts were an uphill battle and it's impressive to see that he actually outchanced his competition a few times. Plus, when you look at how many chances he surrendered this season, it's hard to say that he didn't play his role this season. Referring to the scoring chance post I linked earlier, you will see that Dwyer was on ice for fewer scoring chances than just about any other Carolina forward. The reason why his scoring chance ratio is so low is because he couldn't manufacture any offense. That hurts his overall value as a player but not as a defensive forward.
Carolina was last in the league in shots allowed this season, so they need defensive specialists like Dwyer on the team who are capable of playing against opposing first lines. That being said, Carolina is also in need of guys who can drive possession forward and Dwyer didn't exactly help in that area. It's partially due to his playing situation and the fact that he doesn't have much offensive upside. Like I said, every team has a player like Dwyer and they are replaceable but that does not mean that they don't play important roles.
Dwyer WOWY
Dwyer spent most of the season on Brandon Sutter's line and you can see that Sutter played better with Dwyer on his wing but he wasn't exactly suffering without him. Andreas Nodl, however, is a much different story as he performed a lot better with Dywer than he did without. This is probably because whenever Nodl wasn't playing with Dwyer, he was on the fourth line. Something interesting here is that Drayson Bowman performed better away from Dwyer, which is important to know because he is likely going to start next season on the third line.
Something else to keep an eye on is that Tim Gleason had a lot of success away from Dwyer which is interesting because those two play in very similar situations. This was the case for Jay Harrison and Justin Faulk, as well. Conversely, Dwyer seemed to play a lot better away from Faulk & Harrison too. Defensemen who played better with Dwyer were Jamie McBain and Joni Pitkanen.
Original Story:
http://www.shutdownline.com/hurricane...
THE BACKYARD
BEST OF MAXIM
RELATED ARTICLES
Jiri Tlusty has signed a two-year contract worth $3.2 million to stay with the Carolina Hurricanes. The team said Tuesday that Tlusty agreed to a deal that will pay him $1.5 million next season and $1.7 million in 2013-14. The 24-year-old forward had career highs this season with 79 games, 17 goals, 19 assists and 36 points. He could have become a restricted free agent July 1,...
The biggest surprise of the year for Carolina has to be the emergence of Justin Faulk. The thought coming into this season was that the 19-year old would spend most of the season in Charlotte but he ended up playing 66 games with the Hurricanes and was one of their more consistent defensemen. Faulk's development is leaps and bounds above what many expected as he is already playing...
Yesterday, Hurricanes beat writer Chip Alexander tweeted that GM Jim Rutherford re-signed 24-year old forward Jiri Tlusty to a two year contract extension which will have a cap hit of $1.6 mil. each year. Tlusty is coming off a breakout season where he set career high marks in both goals and points (17 and 36 respectively) and became a regular on the first line with Eric Staal. He...
RALEIGH, NC – Jim Rutherford, President and General Manager of the National Hockey League's Carolina Hurricanes, today announced that the team has signed forward Jiri Tlusty to a two-year contract. The deal will pay Tlusty $1.5 million in 2012-13, and $1.7 million in 2013-14. "Jiri had a very good season and showed that he can contribute as a top-end NHL forward," said...
Hurricanes News

Delivered to your inbox

You'll also receive Yardbarker's daily Top 10, featuring the best sports stories from around the web. Customize your newsletter to get articles on your favorite sports and teams. And the best part? It's free!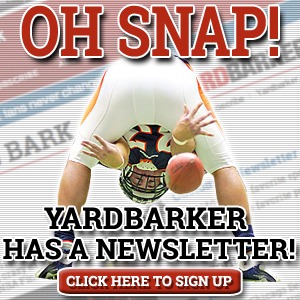 Latest Rumors
The Backyard

Today's Best Stuff

For Bloggers

Join the Yardbarker Network for more promotion, traffic, and money.

Company Info

Help

What is Yardbarker?

Yardbarker is the largest network of sports blogs and pro athlete blogs on the web. This site is the hub of the Yardbarker Network, where our editors and algorithms curate the best sports content from our network and beyond.