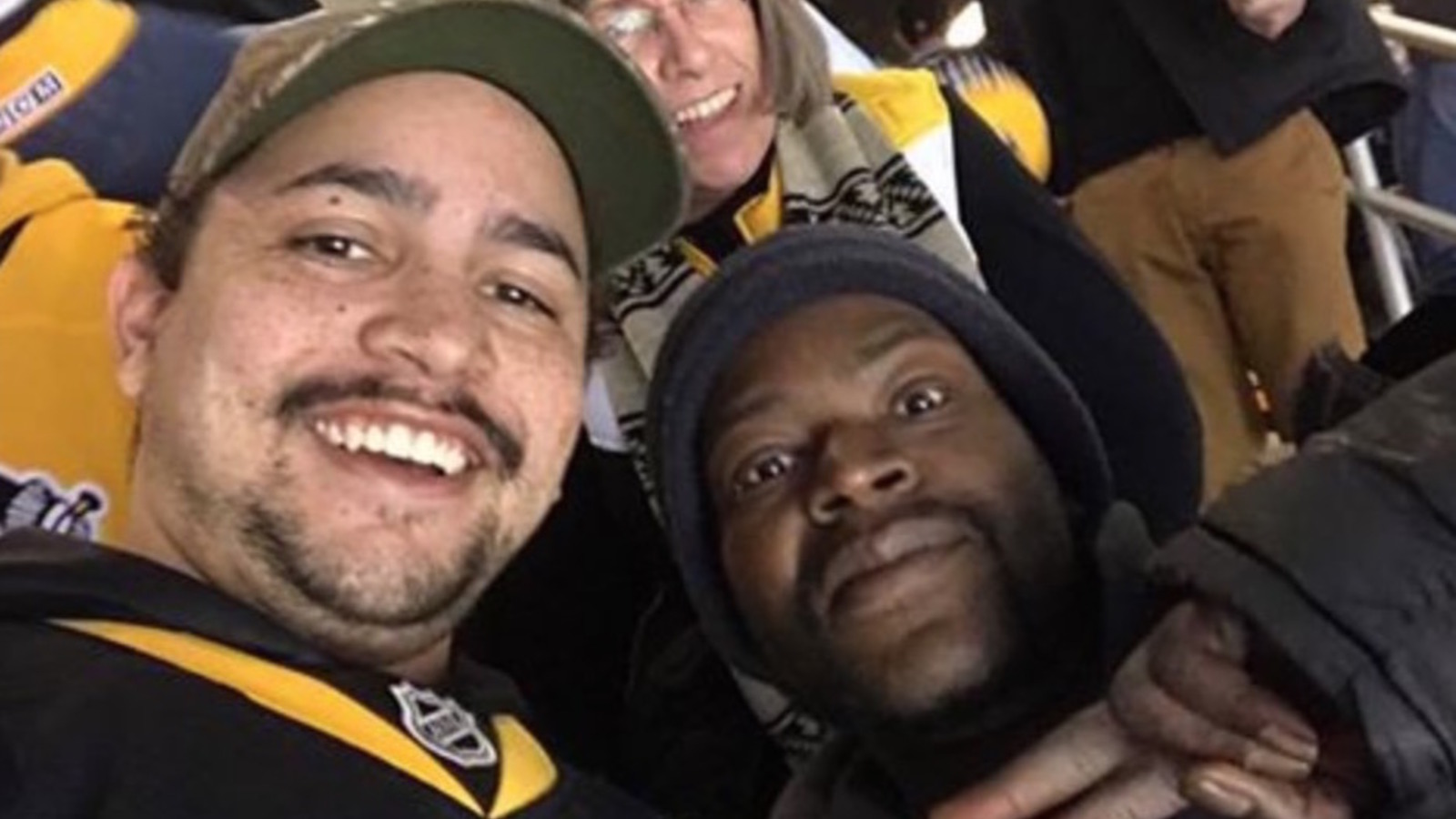 A Penguins fan went above and beyond to show a homeless man a good time.
Jimmy Mains/Facebook
A Pittsburgh Penguins fan was on his way to last Friday's game against the Tampa Bay Lightning at PPG Paints Arena when a homeless man named Rob asked him for some money. What happened next is nothing short of heartwarming.
Jimmy Mains, a police officer in Rankin, Pa., realized he had no cash, but had a spare ticket for the game. So, instead of leaving Rob empty-handed and on the street, Mains invited him to come along.
"I told him that I don't carry any cash," said Mains, via NHL.com. "But if he wanted to come into the game with me and get out of the cold for a little bit I had an extra ticket."
Rob took up Mains on the offer.
"I don't think it set in with him that we were going to the game until we went through the gate and through the metal detectors," Mains said. "He told me he had never been inside (the arena), only outside."
Mains said Rob really enjoyed the game, a 5-2 Penguins victory, from the anthem to the final horn.
"He was yelling and cheering the whole game, Mains said. "It was just great to see a guy, who is obviously a little down on his luck, so happy."
The two shared chicken fingers during an intermission, where Rob told Mains he might be landing a job. The two later exchanged contact information before parting.
Mains took a selfie of the two enjoying the game and posted it on Facebook.
The post quickly went viral, already garnering over 16,000 shares, over 57,000 reactions and 3,500-plus comments.
"I posted (the picture) on Facebook just because there is so much negativity on there now. And this was a positive," Mains said. "He told me I made his life. Just by being nice to him."
MORE FROM YARDBARKER
Penguins News

Delivered to your inbox

You'll also receive Yardbarker's daily Top 10, featuring the best sports stories from around the web. Customize your newsletter to get articles on your favorite sports and teams. And the best part? It's free!