Found June 13, 2012 on The Rangers Tribune:
The hype surrounding Swedish-born forward Carl Hagelin began last year when the then-Michigan State Wolverine was tearing it up in the NCAA. Hagelin's powerful strides were a clear indicator as to how his speed was going to set himself apart from the competition upon making it to the NHL level. After about a month in the American Hockey League playing with the Connecticut Whale in 2011-12, Hagelin was recalled by the Rangers and neither side would ever look back from there. It was the team's smartest recall since Ryan McDonagh was brought up in the prior season, for an endless number of reasons.  The Good: Carl Hagelin adjusted to the NHL game quicker than any rookie I've seen in a long while. In just his first game he was already having an impact on the ice that simply could not go unnoticed by the coaching staff, leaving them with no other option but to gradually slide him up in the lineup. Nothing fazes this kid, he will go into the corner with any opponent, he is not afraid to get hit, he can outskate any opponent and he's an incredible playmaker. Over the course of 64 games during the regular season, we saw all of that displayed by the 23-year-old in addition to much more.  Hagelin's 14 goals and 24 assists put him at sixth on the team in scoring with 38 points, fifth among Ranger forwards and sixth among NHL rookies in scoring. Those numbers alone are impressive, but then you look at the way in which Hagelin contributed to the Blueshirts' bountiful success this season and he really becomes a player you cannot resist from keeping your eye on. He is an extremely skilled hockey player on both sides of the puck with confidence that will take him very far in this League. The best is yet to come from young Carl, which is frightening considering the damage already done in his freshman campaign.  Plus, he has the next best hair on the team behind Henrik Lundqvist.  The Bad: There aren't a whole lot of negative comments to be made about Carl Hagelin as far as the regular season goes. It did take him a little while to establish himself as a playmaker with his speed, whether that was his goal or not, and it did take him some time to learn when to explode with that speed and when to maybe hold back a bit. Then again, that is normally the case with all rookies, and as I said, Hags made those adjustments much quicker than most of his peers did in their first seasons.  Hagelin was awfully quiet in the postseason, however, only recording 3 assists in 17 games. I don't think a three-game suspension thrown in there helped to establish any sort of rhythm, either, but we aren't here to make excuses. After the production the Rangers received from Hagelin during the regular season, they needed more from him in the playoffs to balance out the depth with the top scoring. I know, that's a lot to put on a rookie, but it's the truth.  He'll learn with experience, and going all the way to the Conference Finals (plus Winter Classic, plus All-Star Wekend) this year was excellent for his development.  Highlight of the Year:  
Overall Assessment: With Hagelin's versatility in skills and ability to fit in fine with any offensive line, he's gearing up for a long and successful career in the NHL. This is a kid that will develop into a difference maker if he hasn't already, and will be helping the Rangers reach the Conference Finals for many years to come. It's unbelievable just how bright his future is.  Report Card Grade: A
Original Story:
http://www.rangerstribune.com/the-ran...
THE BACKYARD
BEST OF MAXIM
RELATED ARTICLES
Yesterday we reviewed rookie Carl Hagelin on the blog, so it was only appropriate that we followed that up with Chris Kreider (more like their names coincidentally come right after each other on the roster). But anyway, Kreider was signed by the Rangers just before the playoffs in the NHL kicked off, and immediately after his Boston College Eagles won the Frozen Four NCAA tournament...
One of the biggest parts of the New York Rangers great season was their defense. So far we have graded all of the forwards but now it's time to look at the likes of Dan Girardi, Ryan McDonagh and company.   Stu Bickel: Grade – B- Schoeller: Bickel started off hott (yes, it warrants 2 T's), [...]
Time for our final grades here at Ranger Nation. We are now going to look at the New York Rangers goaltenders, coaches and GM Glen Sather. Yes, we expect some heat this round as we did with our grades on the centers. Drum roll please…………..   Henrik Lundqvist: Grade – A+ Decker: Lundqvist is, no doubt, the [...]
In terms of regular season play, 2011-12 was the second best of Marian Gaborik's three seasons with the New York Rangers to date. His offensive prowess coming off not only a rough year in 2010-11 on the ice, but off the ice as well when he lost two dear friends in Derek Boogaard and Pavol Demitra, carried the Blueshirts very far. Without Marian, there's not doubt that this...
The Rangers bottom six forwards are likely to go through a bit of turnover this summer with Ruslan Fedotenko, Brandon Prust, and John Mitchell all being unrestricted free agents and Mats Zuccarello seemingly headed to the KHL. Although discussion about signing third and fourth line players isn't the most enthralling topic in the world, these transactions are still critical when...
Zach Parise will not be signing with the Rangers. Parise went on record today to openly express the fact he will not be signing with the Rangers nor will he consider it. 'Don't make a headline out of it' was his final response to beat reporters when pressed on the matter. Parise removing himself from the Rangers' future plans narrows the obvious options the Rangers are linked...
Rangers News

Delivered to your inbox

You'll also receive Yardbarker's daily Top 10, featuring the best sports stories from around the web. Customize your newsletter to get articles on your favorite sports and teams. And the best part? It's free!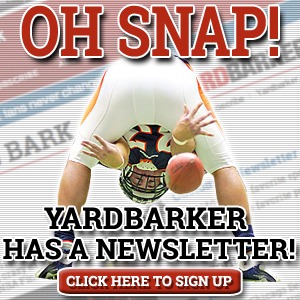 Latest Rumors
Best of Yardbarker

Today's Best Stuff

For Bloggers

Join the Yardbarker Network for more promotion, traffic, and money.

Company Info

Help

What is Yardbarker?

Yardbarker is the largest network of sports blogs and pro athlete blogs on the web. This site is the hub of the Yardbarker Network, where our editors and algorithms curate the best sports content from our network and beyond.