Found April 12, 2012 on Fox Sports Midwest:
PLAYERS:
Jaroslav Halak
,
Kent Huskins
,
Jamie Langenbrunner
,
Jason Arnott
,
Scott Nichol
,
Alex Pietrangelo
,
Kevin Shattenkirk
,
David Backes
,
Carlo Colaiacovo
,
T.J. Oshie
,
David Perron
,
Brian Elliott
TEAMS:
St. Louis Blues
,
Phoenix Coyotes
,
San Jose Sharks
ST. LOUIS The question was common this week, and goalie Jaroslav Halak turned to the crowd after practice to explain how the St. Louis Blues have faith in their chance to advance despite playoff inexperience. The past doesnt matter, he said without emotion to the cameras and microphones nearby. Hockey can be an unforgiving game, but it rewards teams that stay true to an approach that made them excel. Such was the Blues reality in the days before their Western Conference quarterfinals series against the San Jose Sharks begins tonight at the Scottrade Center. St. Louis earned its first playoff berth since 2009. Meanwhile, San Jose has played in the postseason 12 of the past 13 years. The inquiries came fast in the Blues locker room at St. Louis Mills, each framed in various ways but all similar: How will St. Louis respond against a tested postseason opponent? How will the Blues react knowing few on coach Ken Hitchcocks bench have lived a deep playoffs run? Right now is right now, said Halak, who was named the Blues Game 1 starter. Its the present. I just need to play simple, play my game. I know in the playoffs, its a little different game than the regular season. But you still have to do your job stop the puck and help the guys. Just play and have fun and dont put any extra pressure on yourself. Avoiding pressure will be crucial, and the Blues will lean on seasoned teammates to do so. Defenseman Kent Huskins, winger Jamie Langenbrunner and centers Jason Arnott and Scott Nichol have played 339 postseason games between them. Meanwhile, some key contributors such as defensemen Alex Pietrangelo and Kevin Shattenkirk have never appeared in the playoffs. Other notable names such as center David Backes, defenseman Carlo Colaiacovo and wingers T.J. Oshie and David Perron have each played in four postseason contests. I think the biggest thing is be a calming influence, Langenbrunner said when asked about being a mentor. It is the playoffs, but its still the same game. Its a little ramped up. Teams arent going to get better. Its about teams that can make the other team crack. For us, its just about staying with that focus and doing the things that we do well. The Blues did plenty well in the regular season to clinch the Western Conferences No. 2 seed. They formed a reputation as one of the NHLs best with a 30-6-5 record at the Scottrade Center. They formed an identity as a group that relies on stars such as Backes (24 goals) and Perron (21) to provide opportune scoring to supplement the leagues best goaltending tandem in Halak and Brian Elliott. But, as Halak made clear, what happened before the puck drops tonight is irrelevant. The Blues will confront the grind of the NHLs second season. They will confront a mental challenge as well as a test of attrition. Yes, few in the Blues locker room have experienced a long playoffs stay. But they hope the same focus that allowed them to clinch the franchises first Central Division title since 2000 will prolong their season in the coming weeks. What I like about our players right now is every little detail we talk that we need to do, were doing, Hitchcock said. Were going to need all those details in place. Were lucky, because the players have bought in since day one. We are doing a lot of things to get us ready for what we think is going to be a very significant challenge. And the Blues challenge will be stiff. St. Louis swept the four-game series against San Jose in the regular season. However, the Sharks closed their campaign by winning four consecutive contests to finish with 96 points one behind the Phoenix Coyotes for the Pacific Division title. Halak and Elliott were strong in the previous meetings, allowing the Blues to outscore the Sharks 11-3. Each goalie started twice and earned a shutout. So despite a vast difference in postseason experience between the teams, the Blues have reason to believe they can control their opponent. Youre going to have your ups and downs, Nichol said. Youre going to learn from it. Thats why its a seven-game series. If we stumble and lose a few, its not a panic. Youve got four games to win. Experience helps, but we have so much youthful enthusiasm. Its exciting these guys havent been in this situation. Weve got some young legs that are ready to go. Starting tonight, those legs will gain more playoff experience. Starting tonight, a new season begins, and the Blues have faith their postseason push can take them far.
Original Story:
http://www.foxsportsmidwest.com/04/12...
THE BACKYARD
BEST OF MAXIM
RELATED ARTICLES
ST. LOUIS It was during a four-day span last summer that the St. Louis Blues first envisioned their season playing out like this. It began July 2, when the club signed defenseman Kent Huskins. Then came the signing of veteran winger Scott Nichol on July 5. The next afternoon, the Blues then announced one-year deals with Jason Arnott and Jamie Langenbrunner. In barely 96 hours...
ST. LOUIS (AP) -- Jaroslav Halak will start in goal for the St. Louis Blues in their playoff opener against the San Jose Sharks on Thursday night. Coach Ken Hitchcock announced his decision Wednesday. Goaltender Brian Elliott is nursing an unspecified upper-body injury and he didn't practice. Elliott led the NHL with a 1.56 goals-against average and nine shutouts. Halak wasn...
Sharks vs Blues First Round Preview: What You Need to Know & Watch For   -   Submitted for your approval are today's collection of St. Louis Blues Playoff News, Notes, & Thoughts for Wednesday, April 11th.   The question on everyone's mind today is who will Ken Hitchcock name the game one starter?  Who took the ice for practice should have been...
ST. LOUIS Playing in his first career playoff game, Blues defenseman Kevin Shattenkirk played 33:06, had a team-high 11 shots on goal, blocked four shots and assisted on the game-tying goal early in the third period. But following a tough 3-2 double overtime loss to the San Jose Sharks at Scottrade Center Thursday night in Game 1 of the Western Conference Quarterfinals, the 23...
ST. LOUIS - Four days before his evolution as a leader continues in the playoffs, the captain stands in the St. Louis Blues locker room, strong and stern. After a practice Monday at St. Louis Mills, David Backes looks at the crowd in front of his stall. Sweat drips from his left ear. He places both hands on his dark-blue shorts and fields questions about his team's first postseason...
Nearly a month has past since the St. Louis Blues were the first team in the NHL to qualify for the playoffs. In the days between then and now there has been enough discussion regarding the first such event in three years around the city that even the most casual of local hockey fans know what's going on. If the blue, not red, color of the fountain at Kiener Plaza and the...
ST. LOUIS Their screams began behind closed doors, deep in the Scottrade Center after a crucial road victory. Not far away, a stunned crowd filed to the exits, silenced after winger Martin Havlat gave the San Jose Sharks reason to celebrate a statement triumph in their cramped locker room. Before their 3-2 double-overtime victory Thursday, not much had gone right for the Sharks...
Ken Hitchcock's big decision decided itself. It was no surprise when the St. Louis Blues coach announced Jaroslav Halak would start in goal in the playoff opener against the San Jose Sharks. After all, his other option, Brian Elliott, didn't practice because of an unspecified upper-body injury sustained about a week ago. ''Oh yeah, it's a big decision before...
The NHL Playoffs have arrived. The CS staff is pleased to present you with a preview , a couple of keys to the series, and Sean Keenan's prediction of the winner and MVP of each series. Our thanks go out to Kenny Krizsanitz for his help in writing this preview.   Where the hell did St. Louis come from this year? Out of nowhere they just exploded into a winning machine that has...
ST. LOUIS (AP) -- Martin Havlat scored his second goal of the game 3:34 into the second overtime, giving the San Jose Sharks a 3-2 victory over the St. Louis Blues in Game 1 of their playoff series Thursday night. Andrew Desjardins tied it for San Jose with 5:16 in regulation, banging in a one-timer from the slot from Tommy Wingels, and Dan Boyle had two assists. Antti Niemmi made...
Jean-Sebastien Giguere carried the Anaheim (Mighty) Ducks to the Stanley Cup final in 2003. Seven years later, Montreal's Jaroslav Halak willed the Canadiens to the third round. If there's a goalie on one of this spring's lower-seeded teams that can pull off what Giguere and Halak accomplished, it's Jonathan Quick.I don't know if you can really put into words what Quick...
NHL News

Delivered to your inbox

You'll also receive Yardbarker's daily Top 10, featuring the best sports stories from around the web. Customize your newsletter to get articles on your favorite sports and teams. And the best part? It's free!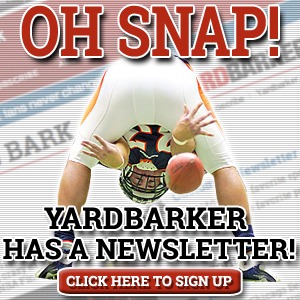 Latest Rumors
The Backyard

Today's Best Stuff

For Bloggers

Join the Yardbarker Network for more promotion, traffic, and money.

Company Info

Help

What is Yardbarker?

Yardbarker is the largest network of sports blogs and pro athlete blogs on the web. This site is the hub of the Yardbarker Network, where our editors and algorithms curate the best sports content from our network and beyond.