Found February 21, 2012 on The Rangers Tribune:
PLAYERS:
Marc-Andre Fleury
,
Henrik Lundqvist
,
Evgeni Malkin
,
Brad Richards
,
Marc Staal
,
Steve Sullivan
,
John Tortorella
,
Rick Nash
,
Anton Stralman
,
Steve Eminger
TEAMS:
Pittsburgh Penguins
,
New York Rangers
,
Columbus Blue Jackets
It's games like tonight's 2-0 loss to the Pittsburgh Penguins at CONSOL Energy Center that the Rangers could really use another scoring threat in their lineup. For half of the tilt the scoring chances were not even there, and when they finally did begin to present themselves, the Blueshirts struggled to put one behind Marc-Andre Fleury. The Penguins didn't put on a spectacular performance tonight; it was more of what the Rangers did and didn't do that decided this game, and this is the second time in three games in which that's been the case. It makes you wonder if another game-changer would actually make a dramatic difference in New York's lineup.
The Rangers got off to an apathetic start in this game, and the Penguins took total advantage and completely dominated the pace early on. It was a hassle for New York to clear its own zone, so it was up to goaltender Henrik Lundqvist to stand strong between the pipes and keep his team within reach. He actually did more than just that, though, as The King managed to stop all 11 shots that were thrown his way in the opening stanza to get his club out of the period in a scoreless tie.
I'm not sure what it is about this team, but all season long the Rangers have struggled with their starts. They eventually make up for it as the game progresses, but they are sluggish and disinterested in the opening minutes. Luckily Lundqvist comes out of the gate ready to play, because otherwise the Rangers would find themselves trailing early a lot more nights than they actually do.
Lundqvist can only do so much, however, and unfortunately he was not stopping Evgeni Malkin on a breakaway to open the second period. The Rangers' first mistake on the play was leaving Malkin alone in the neutral zone to begin with. Secondly, both defensemen on the play – Del Zotto and Stralman – decided to pinch low in the offensive zone and leave the point unattended. Finally, Brad Richards, who was hovering at the top of the zone, also decided to skate low with DZ and Stralman, so now the entire Ranger unit on the ice was deep. Malkin cruised in, faked Lundqvist with a pair of dekes and lifted a backhander to the back of the net for the 1-0 lead.
It's just straight up stupid decisions like this by Richards that have frustrated me this season. Yes, I know that Del Zotto and Stralman both should not have pinched at the same time, but at least Richards was momentarily a reinforcement at the point. Naturally, when you see one defenseman, let alone two, join the offense, it is your job as the forward to drop back and cover. Instead, Richards decides to pull off some slide-tackle maneuver that completely took him out of the play. That's not a mistake I expect to see from a veteran like Richie.
The Penguins would score again midway through the second period when Marc Staal was called on a very weak tripping penalty that, at least I thought, was a clean defensive play. Steve Sullivan's slapper from the point was deflected in the slot and beat Lundqvist through a screen to put Pittsburgh up, 2-0. This was expected, though, because more often than not chintzy penalty calls end up as a goal against for the Rangers.
By the third period John Tortorella had to be ripping his hair out, because his squad was failing on scoring chance after scoring chance. Richards had several chances, as did Gaborik and Callahan. Those three are usually the go-to scorers, but they couldn't bury a puck if their lives depended on it tonight. It was a rather easy shutout for Marc-Andre Fleury in my opinion. 
And I won't even get started on the powerplay. There's nothing more I can say about that – it's just a waste of energy.
Looking at this game head-to-head, I think Pittsburgh's top players (Malkin, Staal, Neal, etc.) outperformed the Rangers' top players (Gaborik, Richards, Callahan, etc.) and that's basically what this one came down too. I didn't think the Pens played anything near a solid team game tonight. They look flustered defensively, only one or two offensive lines did much of anything and Fleury was not challenged as often as he should have been.
Henrik Lundqvist gave his team a chance to win tonight, but the offense didn't respond the way he would've liked. The first period was pathetic as far as the effort went, but their inability to convert on chances in the second and third periods may have been even more pathetic than when they weren't generating them at all.
This is why fans are crying for a Rick Nash, because against talented teams like the Penguins, sometimes just three offensive threats are not enough to get the job done. Again, I'm not sold on the idea of acquiring Nash because of the asking price and the effect he'd have on the salary situation in the future, but there's no arguing that a guy like that makes a difference in the outcome tonight.
We'll see what the response is on Friday when the Rangers head out to Long Island to take on another rival in the Islanders, who have been cooling off as of late.
* Anton Stralman did not see the ice beyond the 12:36 mark tonight, when he took a holding penalty to the obvious dislike of head coach John Tortorella. Steve Eminger did not take a shift in the third period, either. 
Original Story:
http://www.rangerstribune.com/the-ran...
THE BACKYARD
BEST OF MAXIM
RELATED ARTICLES
When the Rangers sent Roman Horak and two second round picks to Calgary for Tim Erixon, the fifth round pick that came back with Erixon was a mere after thought for most. After all, the Rangers had just traded a bottom-six prospect and two second rounders for someone who would have gone in the top ten in the 2011 draft. The fifth round pick doesn't matter much when acquiring a...
Andrew Gross at the Bergen Record reports that both Ruslan Fedotenko and Wojtek Wolski were wearing yellow jerseys and practiced on the fourth line with John Mitchell and Mike Rupp.Which meant Stu Bickel went back to wearing the red defense practice jersey....you would assume either Feds or Wolski get back in the line-up tomorrow in Pittsburgh but this is what happened during Saturday...
Sean Leahy at Puck Daddy feels that as the NHL enters the final month and a half of the regular season, the Hart Trophy race is down to Henrik Lundqvist and Evgeni Malkin with Lundqvist as the front runner..."The last two modern goaltenders to win the MVP — Hasek and Jose Theodore — posted numbers that were tremendous for backstops, but should Lundqvist keep up his pace...
Lots of time for things to change, but sources say the Flyers are out on Nash at the current asking price. Still think NYR is frontrunner. — Darren Dreger (@DarrenDreger) February 20, 2012   … uh oh. As long as Sather doesn't giveaway Chris Kreider and a few other names I won't mind. Nash is [...]
Alyonka Larionov followed Henrik Lundqvist around yesterday as he prepared for his Rock of Dreams concert last night as part of a feature she's doing on him for TSN.All the ladies should thank Alyonka for this pic...Here's Hank prepping for his show which donated all proceeds to the Garden of Dreams Foundation...Finally Alyonka provides this video of Lundqvist talking strategy...
Jonathan Ragus and Christopher Decker are back with Episode 2 of Ranger Nation Radio. On Wednesday night, Jon and Chris welcomed NYRNation.net writer Glen Miller to the show to talk New York Rangers hockey. The Triple Threat of Ranger Nation discussed the Rangers loss to the Penguins, the goal scoring as well as, of course, [...]
7:00 PM Ticketmaster | Ticket Exchange | Student Rush Don't have a ticket yet? It's not too late. The Pittsburgh Penguins will host the New York Rangers on Tuesday, February 21 at CONSOL Energy Center. Here are some tips for fans who p...
Bauer Equipment posted this pic of Henrik Lundqvist's new mask on their Facebook page which he debuted Tuesday night in Pittsburgh......i thought he looked different. With the way the team played in front of him in Pittsburgh maybe he should stick with the old mask. Yes I am superstitious like that.For Marty Biron's thoughts on ditching his brown gear after a tough game against...
Who: Pittsburgh Penguins (33-21-5) vs. New York Rangers (38-14-5) Where: Consol Energy Center When: 7:00 PM EST Channel: ROOT Sports At least the boys should be pumped up after that embarrassment on Sunday. The Pens are 1-2 against the Rangers this season, but they did win the last game, 4-1. Marc-Andre Fleury stopped 30 of 31 and [...]
Here's all the latest information on how to join #NYR Adam Graves live on screen today, or even just how to watch: bit.ly/wq9DG7— New York Rangers (@thenyrangers) February 22, 2012 Remember to follow me on Twitter & Facebook or e-mail me at nyrfan94@yahoo.com.
NHL News

Delivered to your inbox

You'll also receive Yardbarker's daily Top 10, featuring the best sports stories from around the web. Customize your newsletter to get articles on your favorite sports and teams. And the best part? It's free!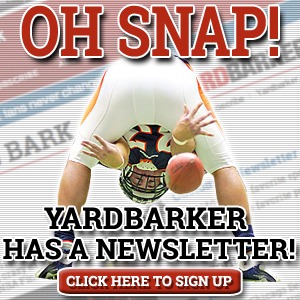 Latest Rumors
Best of Yardbarker

Today's Best Stuff

For Bloggers

Join the Yardbarker Network for more promotion, traffic, and money.

Company Info

Help

What is Yardbarker?

Yardbarker is the largest network of sports blogs and pro athlete blogs on the web. This site is the hub of the Yardbarker Network, where our editors and algorithms curate the best sports content from our network and beyond.