Found January 04, 2013 on Blue Seat Blogs:
PLAYERS:
Wade Redden
,
Scott Gomez
,
Rick Nash
,
Marian Gaborik
,
Brad Richards
,
Ryan Callahan
,
Chris Kreider
,
Marc Staal
,
Dan Girardi
,
Stu Bickel
,
Taylor Pyatt
,
Anton Stralman
,
Arron Asham
,
Brian Boyle
TEAMS:
New York Rangers
,
Montreal Canadiens
Christopher Pasatieri/Getty Images News broke yesterday that the NHL and the NHLPA had agreed to two amnesty buyouts before the 2013-2014 season. One buyout will be allowed before the start of this season –if it happens– with the second occurring before the start of the 2013-2014 campaign. The owners appear to be dead-set against a cap higher than $60 million for 2013-2014, so multiple teams will need to use both buyouts to get to that number. The first buyout for the Rangers will have to be Wade Redden. The new CBA will not allow teams to bury bad contracts in the AHL, so Redden's full $6.5 million cap hit will be on the books. This one is a no-brainer. Redden, much like Scott Gomez in Montreal, will be bought out. That's the easy one to guess. The Rangers may need to use that second buyout to stay under that $60 million cap for 2013-2014. Of the players currently signed, the organization will not be looking to buyout either of their goaltenders, Rick Nash, Marian Gaborik, Brad Richards, Ryan Callahan, Chris Kreider, Marc Staal, Dan Girardi, or Stu Bickel. These guys are either cheap (Bickel), part of a group that the Rangers need to win (everyone else), or both (Girardi). That leaves Taylor Pyatt ($1.55 million), Mike Rupp ($1.5 million), Anton Stralman ($1.7 million), Arron Asham ($1 million), and Brian Boyle ($1.7 million) as the borderline players. It's extremely unlikely that Boyle gets bought out, as he is one of the top defensive centers for the Rangers, and he's also pretty solid on face offs. Of the remaining four players, there are three giant question marks in Pyatt, Asham, and Stralman. Pyatt and Asham have never played for the Rangers, and while they come with decent pedigree, some players just don't mesh well with others. Their performances on the ice will dictate if they stay or go. The same goes for Stralman, but he's less of a question mark considering his play last year. The question with him is whether or not he can repeat it. The only player that really jumps out is Rupp. I like Rupp, we are pretty big Rupp fans here. Teams need players like him. He's a leader and someone who the coaching staff leans on heavily in the locker room. On the ice, he's not the best, but he does what is needed to be done. The issue is that he makes $1.5 million to play about 5-7 minutes per game. With a decreasing cap, the organization may not be able to afford to pay Rupp $1.5 million for the 2013-2014 season. In terms of dollars per ice time, Pyatt makes as much as Rupp and will be expected to be on the ice for almost double the minutes. It's not cost-effective for the Rangers to keep a $1.5 million, fourth line winger who will play five minutes a game. There are a lot of "ifs" right now regarding that second buyout. If it comes down to Rupp, then it's not a move the club will want to make, but the new CBA may force their hand. Tweet
Original Story:
http://www.blueseatblogs.com/2013/01/...
THE BACKYARD
BEST OF MAXIM
RELATED ARTICLES
A $60 million cap will be tough to get to with Ryan McDonagh as an RFA. As mentioned yesterday, the NHL is very adamant about sticking to a $60 million cap for the 2013-2014 season. This has a lot of the larger market teams worried, as GMs built their clubs for at least a $70 million cap, not a $60 million cap. The Rangers have a total of 16 players (10 forwards, 4 defensemen, 2...
No reason to panic with Skjei Perhaps lost amid the excellent world junior campaign played by Team USA are the struggles of Brady Skjei in his freshman year with Minnesota in the WCHA. Skjei has just two points, which both came in one game way back in October, and has been outplayed by fellow freshman Mike Reilly who – unlike Skjei – made the US world junior team that's earned...
Arthur Staple at Newsday tweets that if the new CBA includes two buyouts the Rangers could use them on Wade Redden and Marian Gaborik. Gaborik has another year on his contract at $7.5 million per, while Redden also has just one year left but at $6.5 million. ...if Redden's salary is going to count against the Rangers cap under a new CBA, he's an obvious choice, but...
Olympic Silver Medalist Tim Morehouse seems to have found another occupation while he's not fencing, and that will be as a reporter ?? Tim excitedly went to Twitter yesterday where he posted a photo from his first segment with  E! News, as he got the opportunity to interview NHL star Brad Richards. Tim talked to Brad about his recent collaboration with fashion Brand Untuckit,becoming...
Last night, the rest of the AHL was put on notice, don't take liberties with members of the CT Whale or you will be pounded by one Dylan McIlrath... ...and this is why, if healthy, McIlrath will be a huge asset for the Rangers. If anyone even so much as sneezes near a skill player they'll have to deal with "The Undertaker". Effin love this kid. ...best...
Connecticut Whale 3, Adirondack Phantoms 0 By Wil Goldsholl Hartford, CT, January 4, 2013 - After losing four of their last five games, the Connecticut Whale beat the Adirondack Phantoms 3-0 in Hartford on Friday, in the first of six meetings scheduled between the teams. A home-and-home series will conclude between the teams in Glen Falls Saturday night. Throughout Friday's game...
As the NHL lockout continues, let's take a look at how NHL players are performing in various leagues around the world.Rick Nash (New York Rangers): Nash has been struggling with the HC Davos of the Swiss League. Nash, who was aqcuired by the by the New York Rangers in the off-season, suffered a shoulder injury on September 28th. He then suffered a groin injury and returned to...
Here's live stream of Chris Kreider, Dylan McIlrath and the CT Whale taking on the Adirondack Phantoms starting at 7pm... Remember to follow me on Twitter & Facebook or e-mail me at nyrfan94@yahoo.com.
By Wil Goldsholl Hartford, CT, January 4, 2013 - After losing four of their last five games, the Connecticut Whale beat the Adirondack Phantoms 3-0 in Hartford on Friday, in the first of six meetings scheduled between the teams. A home-and-home series will conclude between the teams in Glen Falls Saturday night. Throughout Friday's game Connecticut protected keystone goalkeeper...
NHL News

Delivered to your inbox

You'll also receive Yardbarker's daily Top 10, featuring the best sports stories from around the web. Customize your newsletter to get articles on your favorite sports and teams. And the best part? It's free!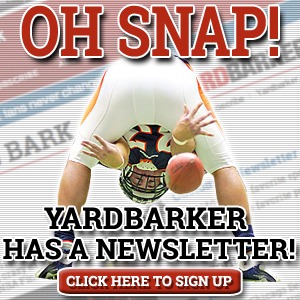 Latest Rumors
The Backyard

Today's Best Stuff

For Bloggers

Join the Yardbarker Network for more promotion, traffic, and money.

Company Info

Help

What is Yardbarker?

Yardbarker is the largest network of sports blogs and pro athlete blogs on the web. This site is the hub of the Yardbarker Network, where our editors and algorithms curate the best sports content from our network and beyond.