Found January 14, 2013 on Blue Seat Blogs:
PLAYERS:
Carl Hagelin
,
Brad Richards
,
Rick Nash
,
Marian Gaborik
,
Derek Stepan
,
Ryan Callahan
,
Chris Kreider
,
Brian Boyle
,
Taylor Pyatt
,
Jeff Halpern
,
Arron Asham
,
Marek Hrivik
,
Blair Betts
,
Jed Ortmeyer
,
Radek Dvorak
,
Petr Sykora
,
Jesse Winchester
,
Matt Bradley
TEAMS:
New York Rangers
,
Philadelphia Flyers
,
Minnesota Wild
,
Dallas Stars
,
New Jersey Devils
,
Ottawa Senators
,
Florida Panthers
A depth forward could be on the radar for the Rangers. Looking over the Rangers training camp roster, one thing that really stands out is the lack of depth, particularly on offense. Right now, the following has been reported as Torts' early line combos. Line 1: Carl Hagelin – Brad Richards – Rick Nash Line 2: Marian Gaborik – Derek Stepan – Ryan Callahan Line 3: Chris Kreider – Brian Boyle – Taylor Pyatt Line 4: Mike Rupp – Jeff Halpern – Arron Asham One would think the Rangers would probably like to add another forward to the mix, specifically for that 4th line. Rupp and Asham will certainly find themselves useful matching up against other enforcement-type 4th lines. However, we may have some issues against speedier 4th lines. If I were a betting man, I'd put money on Sather bringing in another body. This is something that Dave covered briefly this weekend. I know the knee-jerk reaction is to bring up a player from the AHL, but I don't see Sather taking kids like J.T. Miller or Marek Hrivik and sticking them on the 4th line to play 7-8 minutes a night. My guess is that when these kids are ready for full-time duty, they'll be here. With such a shortened camp, I also don't see the Rangers making a trade at this stage of the game. Even if they are entertaining the idea, I don't think we could cover every trade possibility in one post. That leaves us with Sather exploring the free agent market. Looking over the UFA list at Capgeek, there's plenty to be had on the cheap right now. There are several known quantities available in Blair Betts, Dominic Moore, Jed Ortmeyer, Radek Dvorak and Petr Sykora. All of whom are familiar with our organization and could probably be signed for under $1.5M. Perhaps the Rangers will look elsewhere at some less heralded players like Jesse Winchester, Matt Bradley, etc. Either way, I doubt Torts wants to go into the season with just 12 forwards. Whether they explore a trade, a free agent sign, etc. remains to be seen, but I'd expect an addition before the puck drops. Tweet
Original Story:
http://www.blueseatblogs.com/2013/01/...
THE BACKYARD
BEST OF MAXIM
RELATED ARTICLES
According to Andrew Gross, the Rangers opened camp with a condensed roster. Here's what has been reported. Offense:  Brad Richards, Rick Nash, Marian Gaborik, Ryan Callahan, Derek Stepan, Carl Hagelin, Brian Boyle, Taylor Pyatt, Chris Kreider, Jeff Halpern, Mike Rupp, Arron Asham Defense: Marc Staal, Ryan McDonagh, Anton Stralman, Dan Girardi, Michael Del Zotto, Steve Eminger...
Per Bob McKenzie, the Rangers have agreed to terms with RFA defenseman Michael Del Zotto. Terms of the deal have not been disclosed, but Del Zotto will be in camp today. MDZ was priority number one for the Rangers in their "preseason" agenda. We will post more updates as they become available. Tweet
Waivers Rangers: Sean Collins, Michael Haley, Chad Kolarik, Kris Newbury, Logan Pyett, Brendon Segal, Mike Vernace, Tommy Grant. — Renaud Lavoie (@RenLavoieRDS) January 15, 2013 Kolarik leads Whale with 15 goals and tied for team lead in points with 29. ...scratching my head at Kolarik being on that list. I was originally surprised when he wasn't in training camp...
Hockey will be back soon and finally we can start talking about the systems and strategies of this great game we all know and love. One of the most critical – and contested – aspects of the Rangers system in 2012 was their power play. For the sake of brevity, I will just say that last year's mediocre power play was not due to coaching decisions or their umbrella formation...
Katie Strang at ESPN.com reports that the NHLPA is reviewing the developing situation between Wade Redden and Rangers in which the Blueshirts will sit the veteran defenseman for the remainder of the season to ensure he is not injured and jeopardize their ability to buy him out this summer. The Rangers have also been in contact with the league. The Canadiens have deployed the...
New York Rangers defenseman Michael Del Zotto has agreed to a new contract with the team, according to a TSN report. Del Zotto would become the first restricted free agent to sign under new Collective Bargaining Agreement, which went into effect Saturday. The 22-year-old was selected 20th overall in the 2008 Draft by the Rangers.
from Larry Brooks of the NY Post, This is the organization Rangers fans have dreamed of for generations — one that is rich in blue-blooded, blue-collar laborers who come to work with a single-minded sense of purpose that honors the season ticket-holders who pay the very expensive freight. In New York, we expect our top athletes to make top dollar. All we expect in return...
These are the exact words that can be used to describe New York Rangers' defenseman Michael Del Zotto's new two-year deal with the club. There is no doubting Del Zotto's offensive skills. Last season, Del Zotto was fifth on the team in the regular season with 41 points (10 goals and 31 assists) while adding another 10 (2 goals and 8 assists) in 20 postseason games....
Portland, ME, January 15, 2013 – Kris Newbury scored two goals, and Cam Talbot made 29 saves, as the Connecticut Whale rolled to a 6-1 win over the Atlantic Division-leading Portland Pirates Tuesday night at the Cumberland County Civic Center. Portland had won eight straight home games, tying a franchise record, and 13 of its previous 15 overall.  The Whale won despite being...
If you were to ask people who they felt would be the first two amnesty buyouts under the NHL's new CBA, they probably would have said Wade Redden and Scott Gomez. Apparently lots of folks have ESP, or at the very least have been alive and conscious the past couple of years, because who will be the first two guys bought out? Why, Redden and Gomez, of course! Redden came...
The New York Rangers signed defenseman Matt Gilroy to a one-year contract, and the New York Post reported the deal is worth $650,000. He provides depth for the Rangers after getting three goals and 17 assists in 67 games last season, which he split between Tampa Bay and Ottawa. Gilroy has been playing this season in the AHL with the Rangers' affiliate in Hartford, Conn.
As mentioned yesterday, both Wade Redden and Scott Gomez are widely expected to be bought out at the end of this season. Both players are being told to go home, sit, and get paid for it -- the NHL's teams can't buyout injured players. While this is a smart strategy for the New York Rangers and Montreal Canadiens, the NHLPA is taking issue with two of their players being told...
NHL News

Delivered to your inbox

You'll also receive Yardbarker's daily Top 10, featuring the best sports stories from around the web. Customize your newsletter to get articles on your favorite sports and teams. And the best part? It's free!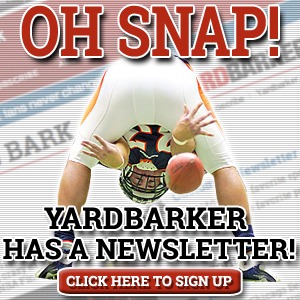 Latest Rumors
Best of Yardbarker

Today's Best Stuff

For Bloggers

Join the Yardbarker Network for more promotion, traffic, and money.

Company Info

Help

What is Yardbarker?

Yardbarker is the largest network of sports blogs and pro athlete blogs on the web. This site is the hub of the Yardbarker Network, where our editors and algorithms curate the best sports content from our network and beyond.