Found November 27, 2011 on The Rangers Tribune:
In their past two wins against the Washington Capitals and Philadelphia Flyers, the New York Rangers arguably played their best hockey of the season; better than they did during their seven-game winning streak two weeks ago. Don't get me wrong, there were times when they looked very sharp throughout that streak, but they weren't playing to their potential.  In a very well thought-out column in today's New York Post, Larry Brooks suggests that the Rangers' problem previously had been that they were trying too hard to replicate the 2010-11 season. Yes, the roster, for the most part, has remained in-tact since then, but now, in 2011-12, the Rangers are a more mature and developed hockey club ready to tackle larger challenges. In other words, it was time to establish a new identity for this year and leave last season in the past.  Brian Boyle said that transformation occurred over the course of this past weekend...
"I think as individuals we had to figure that out, we had to get going," said Brian Boyle. "We had that [seven-game] winning streak, but I don't think we were particularly satisfied with the way we were playing. "I think after we lost in Florida, we decided, 'Screw it, we know how to play.' "
In the game against the Caps after that loss to Florida, the Rangers sure showed us how to play. They were in the Caps' faces, resilient on the forecheck and they were hitting them as much as possible. The Rangers are a bigger force than they were a year ago. I think last season the Blueshirts were often considered the underdogs in match-ups like that, but that's no longer the case. They are a whole different beast in 2011-12.  Now I know what you are going to say about yesterday's win; the Flyers were without key players in their lineup. However, seeing how the Rangers defended against their top scorer, Claude Giroux, I don't know how much of a difference those players would have made if they were in the lineup. The Rangers weren't losing yesterday, and they came out and established that just four seconds into the game.  Oh, and one more interesting tidbit from Brooks' article regarding Henrik Lundqvist and why he felt pressured to get the shutout Saturday afternoon...
"I have to say that I think I was playing with a guilty feeling because I miscalculated the time, showed up an hour late and missed the meeting," revealed The King, who had made a couple of brilliant saves that included one on a breakaway early in the first period of Friday's victory. "I know how important the first few minutes are, both to me and to the group."
As long as Lundqvist continues to play the way he has this season, he can even skip warm-ups for all I care. But in all seriousness, that just shows how dedicated Henrik is to this hockey club. He felt like he owed them the win -- even though he didn't -- but he went out and got it anyway. All hail The King. 
Original Story:
http://www.rangerstribune.com/the-ran...
THE BACKYARD
BEST OF MAXIM
RELATED ARTICLES
Jeff Woywitka had the same amount of points as Brian Boyle prior to last night's game. While Boyle isn't (or at least should not be) judged purely on offensive statistics that first comment is quite a damning statement given Woywitka is a throw-in and plays minimal minutes on the bottom defensive pair. Simply put Brian Boyle, even with his goal yesterday, hasn't been good enough...
… amazing.  I really hope the New York Rangers have a tribute for Derek Boogaard, Alexander Karpovtsev and Karel Rachunek soon. I really am disappointed with the organization when it comes to paying their respects to 3 former teammates who all died tragically and WAY TOO SOON. 
NHL.com has this pic of Brad Richards wearing a Winter Classic knit hat before Saturday afternoon's game vs. the Flyers......would be cool if Hank wore the knit hat over his mask during Winter Classic ala Ryan Miller. Remember to follow me on Twitter & Facebook or e-mail me at nyrfan94@yahoo.com.
Similar to last Tuesday, I'm asking everyone to vote at least 90 times for Dan Girardi today. The second results of All Star voting will be released tomorrow.The best way to get around the 30 vote limit using the online ballot is to create numerous NHL profiles using multiple e-mail accounts. The easiest way to do this is by using disposable e-mail accounts. The way to...
Since many of you don't subscribe to HBO, we will be scouring the internet for clips and full episodes of this year's 24/7. In case you missed the preview this past Friday, here it is. Be sure to check back here following the series debut.
The New York Rangers have officially unveiled their jerseys for this season's Winter Classic match-up against the Philadelphia Flyers. The jerseys will officially go on-sale on December 5.   There has been a mixed bag of reactions regarding the look and feel of the jersey. What do you think?    
Henrik Lundqvist stopped 29 shots to post his second shutout of the season, as the New York Rangers topped Philadelphia, 2-0, at Madison Square Garden.
Here, for the second time today, is the teaser for HBO's much-anticipated 24/7 Flyers Rangers, which should serve to get you appropriately excited for program. It's worth a revisit, especially in light of the delicious back-and-f0rth it has spawned between Jody Shelley and Brandon Dubinsky. I direct your attention specifically to Shelley's standout moment at the six-minute...
Henrik Lundqvist stopped 29 shots, Carl Hagelin scored his first NHL goal and the New York Rangers beat the Philadelphia Flyers 2-0 on Saturday to improve on their best home start in nearly 20 years. After a scoreless first period that featured a fight 4 seconds into the game between...
Temper the giddiness over the six goals for a moment, because, well, you have to realistically say that some of that was on Michal Neuvirth and some of that was on a Washington team that wasn't great in its own end. But the truth is, the Rangers had the puck more and did more with it when they had it because they were able to get "there" in time more often then they had been...
In a little over a month, the Atlantic Division rival Philadelphia Flyers and New York Rangers will square off in the league's annual Winter Classic.
Brandon Dubinsky heard Flyers winger Jody Shelley call him a "weasel" on HBO's 24-7 preview, and on Monday, the weasel popped.
NHL News

Delivered to your inbox

You'll also receive Yardbarker's daily Top 10, featuring the best sports stories from around the web. Customize your newsletter to get articles on your favorite sports and teams. And the best part? It's free!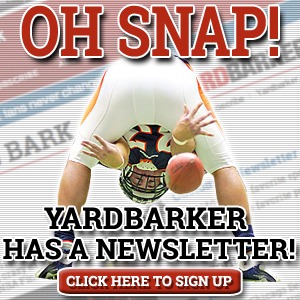 Latest Rumors
Best of Yardbarker

Today's Best Stuff

For Bloggers

Join the Yardbarker Network for more promotion, traffic, and money.

Company Info

Help

What is Yardbarker?

Yardbarker is the largest network of sports blogs and pro athlete blogs on the web. This site is the hub of the Yardbarker Network, where our editors and algorithms curate the best sports content from our network and beyond.