Found August 16, 2013 on Kukla's Korner:
The Detroit News's Ted Kulfan duly noted that Jimmy Howard will probably have a little extra motivation to perform well for the Red Wings over the first third of the season--Howard's NHL performance will likely determine whether he heads to Sochi with the U.S. Olympic team--and the Bangor Daily News's Larry Mahoney spoke with Howard about his Olympic hopes on Friday evening. Howard's got a stiff task ahead of him in attempting to un-seat Ryan Miller and Jonathan Quick while also competing against Corey Schneider and Craig Anderson, but Howard believes that he can accomplish the task: "It's a great honor to be on the radar," said the 29-year-old Howard, who has a home in Dedham on Green Lake but has spent most of his summer working out in Detroit. "There's a lot of great goalies on the list. It's going to be tough. It's going to be a challenge." Howard is coming off a season in which he went 21-13-7 with a 2.13 goals-against average and a .923 save percenta...
Original Story:
http://kuklaskorner.com/tmr/comments/...
THE BACKYARD
BEST OF MAXIM
RELATED ARTICLES
For better or worse, Red Wings defenseman Niklas Kronwall entered last season as the de-facto #1 defenseman, and while playing 24-27 minutes a night (or more) yielded both a minus-5 plus-minus rating and a tempering of his physical play to simply hold up under a tremendous workload...He proved that he could at least fill part of Nicklas Lidstrom's long shadow. This morning...
I know it got garbled in code (not quite sure why), but I noted this two days ago, so I at least get to smirk and say, "Well, of course he did." The Free Press's Brian Manzullo duly notes that Henrik Zetterberg led the charge when Aftonbladet's Linus Norberg asked members of the Swedish Olympic orientation camp to weigh in on Russia's anti-homosexuality law...
The Detroit News's Ted Kulfan continues his three-part look at the Red Wings' 2013-2014 season roster this morning, following up yesterday's look at the Wings' forwards with an article about the Red Wings' defense. His spotlight shines most squarely upon the free agent signing that allowed the Wings to pursue more balanced offensive output in July instead of overpaying...
After fourteen updates to the Daniel Alfredsson presser entry, OF COURSE Senators GM Bryan Murray had to do nothing less than speak to OttawaSenators.com's Chris Lund to set the record "straight" regarding what Murray seems to believe was misdirection by Alfredsson's agent, J.P. Barry... On the Alfredsson situation: Well, again, I'm disappointed that Daniel...
Yesterday afternoon, Bryan Murray tried to get his "last word" in on the Daniel Alfredsson situation, blaming Alfredsson's agent, J.P. Barry, for helping scuttle the ship, and now Senators owner Eguene Melnyk's tossing in his Toonie's worth to TSN: "For anyone to even suggest the remote possibility that Bryan Murray is not fully honest in his clear...
Ben Eaves, brother of Detroit Red Wings forward Patrick Eaves, has retired from professional hockey due to injuries suffered during the 2012-2013 season. Eaves was drafted 131st overall by the Pittsburgh Penguins in the 2001 NHL Entry Draft. He spent four seasons at Boston College before turning pro in 2004. He signed an entry-level contract with the Penguins, but with the 2004–05...
Today's survey of Red Wings-related news begins with slightly disturbing news from the other side of the Atlantic Ocean. According to Iltahleti and Jokerit Helsinki's website, Red Wings forward Patrick Eaves' brother Ben, who's 31 years old, is retiring due to post-concussion syndrome. Perhaps it really does run in families, as the Moore family's issues with concussions...
NHL.com's "30 in 30" slate of team previews shifts its focus to the Red Wings today, offering a quintet of articles discussing the Red Wings' present status as moving to the Eastern Conference, its roster changes, questions that the team faces, the team's "X-Factor" and possible future contributors. EJ Hradek's video discussion of the state-of...
Daniel Alfredsson signed a one-year, $5.5 million contract with the Detroit Red Wings on the first day of free agency this year. That's less money than he asked the Ottawa Senators for, but more than they were willing to offer. After Alfredsson's much-anticipated news conference Thursday at The Royal Mental Health Centre in Ottawa, the Ottawa Sun's Bruce Garrioch reported what...
Fans looking for an answer why former Ottawa Senators captain Daniel Alfredsson left their team to join the Detroit Red Wings now have their answer: Money. At a press conference in Ottawa Thursday Alfredsson revealed he and the Senators structured his last contract under the assumption that he would retire before playing the last year for $1 million. That brought the average annual...
Russia's firm stance against homosexuality has been met with criticism from nearly every corner of the planet. Countless athletes and media members have expressed their concern over Russia's position against the gay community leading into the Olympics set to be held in February of next year. You can add Swedish athletes Henrik Zetterberg and Victor Hedman to the growing...
Safe to say Daniel Alfredsson's departure from Ottawa was not a smooth one. (AP Photo) One of the biggest shocks of the past offseason's free agency was watching longtime Ottawa Senators winger and captain Daniel Alfredsson walk away from the team. Alfredsson chose to sign a one year, $5.5 million deal with the Detroit Red Wings after talks broke down between the Senators and...
NHL News

Delivered to your inbox

You'll also receive Yardbarker's daily Top 10, featuring the best sports stories from around the web. Customize your newsletter to get articles on your favorite sports and teams. And the best part? It's free!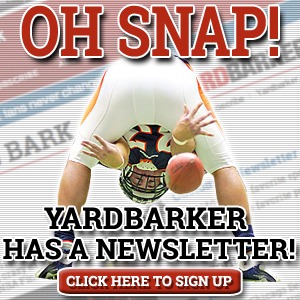 Latest Rumors
Best of Yardbarker

Today's Best Stuff

For Bloggers

Join the Yardbarker Network for more promotion, traffic, and money.

Company Info

Help

What is Yardbarker?

Yardbarker is the largest network of sports blogs and pro athlete blogs on the web. This site is the hub of the Yardbarker Network, where our editors and algorithms curate the best sports content from our network and beyond.