Found March 08, 2012 on Kukla's Korner:
PLAYERS:
Niklas Kronwall
,
Pavel Datsyuk
,
Jonathan Ericsson
,
Nicklas Lidstrom
,
Jimmy Howard
,
Henrik Zetterberg
,
Todd Bertuzzi
,
Gustav Nyquist
,
Jakub Kindl
,
Jakub Voracek
TEAMS:
Detroit Red Wings
,
Philadelphia Flyers
The Detroit Red Wings received a mixed bag of injury news during Thursday's practice as Pavel Datsyuk (knee, back next week) skated in full gear, Jonathan Ericsson (broken wrist, out 3-4 more weeks) took part in the affair, and Nicklas Lidstrom (bone bruise in his ankle, back next week) nd Jimmy Howard (groin, out for the weekend) at least laced up their skates, but Henrik Zetterberg (???, will play tomorrow), Todd Bertuzzi (groin, won't play tomorrow, thus Gustav Nyquist's recall) are "out," as is Jakub Kindl (upper-body, returning next week?). The Red Wings' resident injury-inducing defenseman also spoke to WXYZ's Tom Leyden about any potential changes to his game given his hit on Flyers forward Jakub Voracek, and whatever Niklas Kronwall plans on doing to refine his checking game will be slight, at best: I think everything happens so fast out there it's not always easy to judge if it's a good hit or not," said Kronwall. "You always want to think it's a good hit, but you can't r
Original Story:
http://www.kuklaskorner.com/index.php...
THE BACKYARD
BEST OF MAXIM
RELATED ARTICLES
KEEP YA HEAD UP
Niklas Kronwall's hit on Jakub Voracek Tuesday night was one that you could feel through the TV. The Red Wings were playing the Flyers in Detroit and almost midway through the second period Kronwall laid the back of his shoulder into the body of Voracek and absolutely crushed him. Voracek got up immediately following the hit but had very little understanding of where he was or...
According to MLive's Ansar Khan, Red Wings defenseman Niklas Kronwall escaped a suspension or fine for his hit on Jakub Voracek last night: Detroit Red Wings defenseman Niklas Kronwall will not be suspended or fined for his hit on Philadelphia Flyers forward Jakub Voracek on Tuesday, an NHL spokesman said. Kronwall leveled Voraceck with a shoulder check to the head midway through...
Following up this afternoon's off-day post: we're (as in you and me are) going to talk about Red Wings defenseman Niklas Kronwall escaping supplementary discipline regarding his hit on Flyers forward Jakub Voracek, and instead of sharing my opinion, as it's not going to change yours—and trust me, in six years of doing this I've learned that people form their opinions when...
Red Wings defenseman Niklas Kronwall lined up Philadelphia Flyers forward Jakub Voracek at the Flyers' blueline tonight, hoping to land an elbow or butt into Voracek's body…But Voracek was leaning forward and hit Voracek shoulder-to-head. I don't believe there was any intent to injure on Kronwall's part, but this will certainly be reviewed as Voracek was woozy and left...
Niklas Kronwall of the Detroit Red Wings is known for giving out punishing hits, something Philadelphia's Jakub Voracek learned the hard way during Tuesday's game between the two teams. Grabbing the puck and starting to head up the ice quickly, Voracek runs into the solid barrier that is Kronwall's shoulder. Immediately staggering on the ice, the refs should have whistled...
People are still discussing the huge hit that Niklas Kronwall put on Jakub Voracek in last night's game against the Detroit Red Wings. Voracek gave his thoughts. [CSN Philly] "The hit was clean." "I had my head down. I've got to be aware that Kronwall is standing there at the blue line. It was the end of my shift and I look up and he's standing at the blue line...
There is that hit every season, a hit where every player but the skater who is about to get destroyed sees it coming. That hit come earlier tonight, when Jakub Voracek of the Philadelphia Flyers skated up the side boards while reaching behind him to catch the puck.That moment would cause any defenseman's eyes to light up. Which I'm sure happened to Kronwall when Voracek...
Skating with your head down is definitely dangerous. Just ask Jakub Voracek. Voracek took his eye off of where he was headed against the Detroit Red Wings on Tuesday night, and paid for it dearly. Niklas Kronwall levelled him with a huge check and Voracek went down, likely concussed. Voracek skated off under his own power but did not return to the game. The team has announced that...
If Flyers winger Jakub Voracek has never met Red Wings defenseman Niklas Kronwall before, he still hasn't. Voracek, skating with his head down just inside his own zone, looked up and Kronwall planted him into the Wells Fargo Arena ice surface. Voracek had his head down, picked it up for a split second to see the brick wall wearing #55 in red and white.
Highlight of the video: always the professional, Ken Daniels sneaks in the Belle Tire sponsorship mention. Oh, and some guy named Niklas Kronwall makes an appearance too. Kronwall's latest victim is the completely unsuspecting Jakub Voracek of the Philadelphia Flyers. While, it looks ugly at first glance, this is a legal hit. Kronwall didn't leave his feet...
Announcer Bill Clement is right on the money as Red Wing Niklas Kronwall KO's Philadelphia Flyer Jakub Voracek. MMA stops the fight when a fighter is out. The NHL? Nope, scoring opportunity cannot be... Full story at Bob's Blitz ~ http://www.bobsblitz.com
NHL News

Delivered to your inbox

You'll also receive Yardbarker's daily Top 10, featuring the best sports stories from around the web. Customize your newsletter to get articles on your favorite sports and teams. And the best part? It's free!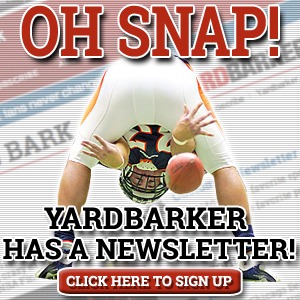 Latest Rumors
Best of Yardbarker

Today's Best Stuff

For Bloggers

Join the Yardbarker Network for more promotion, traffic, and money.

Company Info

Help

What is Yardbarker?

Yardbarker is the largest network of sports blogs and pro athlete blogs on the web. This site is the hub of the Yardbarker Network, where our editors and algorithms curate the best sports content from our network and beyond.