Posted December 15, 2012 on AP on Fox
Mike Richter missed hockey when a lockout kept the star goalie and his New York Rangers teammates off the ice 18 years ago. Now as a parent and an observer of the game, Richter is feeling the loss all over again. ''It's very disappointing,'' he said. ''It's disappointing to be a player. Someone made the point the other day that the average life of a player in the NHL is just over four years, and you don't want to give away 25 percent of that by missing a season. You don't get it back, and it's not just the money. You don't get the opportunity to perform, you don't get to win the Stanley Cup that year, you don't get to compete and hone your skills.'' Richter will put his talent on display Sunday in the middle of Manhattan and will instruct kids at Bryant Park as he hosts the Citi Mike Richter Hockey ProCamp for boys and girls ages 7-14. Just because the NHL is shut down, that doesn't mean that hockey has to disappear altogether. ''The sport of hockey is so much fun, and fans are particularly passionate,'' said the 46-year-old, a key member of the Rangers' 1994 championship team. ''If there is an NBA lockout or an NFL lockout, (fans) migrate to other sports, but hockey fans seem to kind of sit in their own juices and get a little bit upset, but they stay there. ''They are particularly upset by the lack of professional hockey, but that labor issue will pass. The good news is the game remains, and the best part of the game is playing it. Any chance I get to play outdoors, I go with my kids to upstate New York and play on the pond on the outdoor ice surfaces there. ''Playing outdoors makes the game more authentic.'' So he and the campers will take the game outside. The event Sunday will start at the break of dawn and will take place in the cool soon-to-be winter air. The NHL's Winter Classic scheduled for New Year's Day was an early casualty of the ongoing lockout, but Richter and the children will stage their own version of outdoor hockey. Those in attendance at this event for Citi Private Pass members will be taught fundamentals and the team concept of hockey. The groups will be small so each camper will receive maximum instruction from top coaches in New York. In addition, 1998 Olympic gold medal winning forward Alana Blahoski will also participate. ''The weather comes into play,'' Richter said with a sense of delight in his voice. ''It's a cool thing. If you've ever had the experience of skating outdoors, it's pretty special. That setting is about as cool as it gets anywhere I've been. ''We'll give instruction, and the key is for the kids to learn something and have a really fun experience and ask questions. There is not enough opportunities for kids to experience any sports, and of course I'm biased toward hockey because I grew up playing it.'' Richter was raised in Pennsylvania and then landed at Wisconsin before becoming a second-round pick of the Rangers in 1998 and an adopted son of New York. ''I remember doing my first radio call-in to New York, and people knew my stats better than I did from college,'' Richter said with a laugh. ''I think that passion has always been there, with obviously Yankees success and Giants success, but Rangers hockey has been so well followed. They haven't been as rewarded as you'd like them to be, and `94 was one of the most gratifying feelings. ''It changes your relationship to the city in a lot of ways. Certainly the most straightforward way is there is just more devotion, more awareness of the sport and the individual players.'' Injuries caused his 14-year NHL career to end in the 2002-03 season. The career-long Ranger made multiple NHL All-Star teams, was a two-time Olympian, was enshrined in the U.S. Hockey Hall of Fame, and had his No. 35 raised to the Madison Square Garden rafters after posting 301 regular-season wins and 76 more in the playoffs. The crowning moment for Richter was the 1994 Stanley Cup championship, when the club ended a 54-year title drought. Then, the season after the Rangers' championship was cut to 48 games and delayed until January because of a lockout. Now he again sees how the current lockout is trying fans' patience. ''Is it being tested? One hundred percent it is,'' Richter said. ''The good news is there is a lot of hockey outside the NHL. There is great college, there is great high school, and perhaps you get your fix doing that. I would say the best way to do that is to participate. ''It is amazing. In this city we have so many teams to choose from, especially now with Brooklyn. It's really kind of concentrated in this really small circumference: Rangers, Islanders, Devils, two football teams, baseball, basketball. I guess there is a huge population but there are really intense sports fans here. People work hard and they play hard and they know an awful lot.'' Richter doesn't go a day without being reminded of his championship run that will forever link him to the city. He joked that if someone doesn't bring it up, he makes sure he does instead. ''It is amazing how much people come up to you 18, 19 years later,'' said Richter, who was involved in this week's 12-12-12 concert for victims of Superstorm Sandy. ''They are going to shake your hand and say, `That really meant a lot to me and it still does.' You just go `Wow!' That's a really great connection. ''I don't think you can know how much it means and how deep that connection is while you are playing as much as you do once you retire.''
Original Story:
http://msn.foxsports.com/nhl/story/Ri...
THE BACKYARD
BEST OF MAXIM
RELATED ARTICLES
Tommy Panico could be a draft sleeper. Even if the entire season is lost (unlikely), the NHL will still hold it's 2013 draft. The Rangers first pick will likely draft in the later half of the second round, so it's extremely likely they won't be drafting someone who gets a lot of hype. Instead, they will be looking for more of that second round magic that has worked so well...
Mike Richter missed hockey when a lockout kept the star goalie and his New York Rangers teammates off the ice 18 years ago. Now, as a parent and an observer of the game, Richter is feeling the loss all over again. ''It's very disappointing,'' he said. ''It's disappointing to be a player. Someone made the point the other day that the average life of...
A man accused of beating two New York Rangers fans in a brawl after the NHL Winter Classic in Philadelphia has been sentenced to house arrest. A Philadelphia judge on Friday sentenced 33-year-old Dennis Veteri of Glassboro, N.J., to a range of slightly under one year to nearly two years of house arrest followed by five years' probation. He pleaded guilty earlier this year to...
Yesterday, the NHL filed a Class Action Complaint in Federal Court in New York and a simultaneous Unfair Labor Practice Charge with the National Labor Relations Board against the NHLPA. According to Ryan Dadoun at Pro Hockey Talk, the NHL made these moves after the player union's executive board reportedly gave its members the ability to vote on whether to give the board authorization...
With federal mediators presiding over CBA talks for a second straight day yesterday, progress had to have been made...right?... Doesn't sound like PA is willing to work with the NHL's 3 main issues. League responded by saying it won't budge. No progress. As you were. — Darren Dreger (@DarrenDreger) December 13, 2012 The three main issues are "make...
Rangers News

Delivered to your inbox

You'll also receive Yardbarker's daily Top 10, featuring the best sports stories from around the web. Customize your newsletter to get articles on your favorite sports and teams. And the best part? It's free!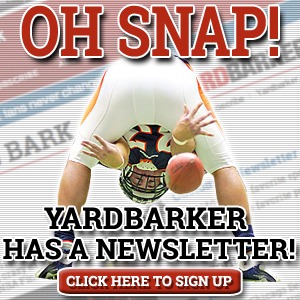 Latest Rumors
The Backyard

Today's Best Stuff

For Bloggers

Join the Yardbarker Network for more promotion, traffic, and money.

Company Info

Help

What is Yardbarker?

Yardbarker is the largest network of sports blogs and pro athlete blogs on the web. This site is the hub of the Yardbarker Network, where our editors and algorithms curate the best sports content from our network and beyond.