Found December 24, 2011 on Red Light District Hockey:
The Buffalo Sabres are struggling, and there have been recent rumors that owner Terry Pegula is looking to shake things up. Goaltender Ryan Miller's name has been thrown into those rumors due to his below-average performance this season. But should the Sabres deal Miller? Carolyn and I debate…
No, trading a franchise netminder won't help Buffalo
By Ryan Porth
The Sabres may be struggling and underachieving, and Miller may be having the worst season of his career, but that's no reason to trade away their franchise goalie.
There is an array of reasons why the Sabres are on outside of the Eastern Conference's top eight right now. Rarely have they been able to play with a full lineup, as the injury bug has constantly bit them this year. The defense in front of Miller (and backup Jhonas Enroth) has been wildly inconsistent despite the off-season upgrades.
Ever since Miller went down with a concussion in Boston on Nov. 12, the Sabres have not won two games in a row. At the time they were 10-5-0; ever since they are 6-10-3 – with both Miller and Enroth seeing equal playing time in that span.
In short, the Sabres' struggles are not Miller's fault.
Trade rumors initially surfaced when Miller, whose contract runs through 2014 with a limited no-trade clause, was sidelined with a concussion in November. Here is how the 31-year-old netminder responded:
"I've never made a comment about my status with the team. My comment about my status with the team now is I'm proud of being a Sabre. I'm excited for what we can accomplish moving forward, and I want to be a part of it. There's no reason for me to want to leave the situation. We have great new ownership who's excited to put a winner on the ice, and I want to be a part of it."
Miller is 8-8-2 with a 3.11 goals-against average; his numbers are suspiciously awful at home (3.58 GAA, .890 save percentage), where the Sabres as a team cannot buy a win. Miller is two years removed from winning the Vezina Trophy and carrying Team USA to the Olympic gold medal game in Vancouver.
Is he an elite goaltender? Not right now, obviously, but he is when he's at the top of his game. And maybe he needs a change of scenery to get back to that level.
But is it in the Sabres' best interest to trade their best player and face of the franchise? Absolutely not. There are other problems that GM Darcy Regier and company need to focus on if they wish to make the playoffs. The team has been awful on home ice, the defense is inconsistent and injuries have been costly.
The Sabres may need a shake-up of some sort, but trading Miller wouldn't help.
---
Yes, the time has come to move on
By Carolyn Christians
As an organization, the Buffalo Sabres are ready to leave Ryan Miller behind. And at 31, Miller sure sounds these days like a fresh start would be of great benefit his career as well.
The sea-change in western New York hockey that is the Terry Pegula era has re-defined how the Buffalo team is built and what the expectations are, within the team, from the fanbase, among the local press, and more broadly, around the League. No longer relying on a franchise goalie as the backbone to a collection of budget-friendly leftovers and young prospects, these new Sabres need first and foremost to define a new culture. With the ability to bid for free agent heavy-weights, they also need salary cap relief.
Miller's contract runs two and a half more years, at a cap hit of $6.25 million. And the heir apparent, Jhonas Enroth, 23, has shown he is ready to go. In fact, the tandem has been more 1A and 1B since Miller suffered an injury down the stretch last spring and Enroth showed he was a good as hoped.
Now, looking at their season stats side-by-side, Enroth continues to hold his own, even when Miller was again sidelined with injury last month. It is clear that Miller has become expendable.
GOALIEGPIGSMINGAAWLOTSOSAGASV% RYAN MILLER191910413.118821560540.904 JHONAS ENROTH18159702.548711497410.918
For whatever reasons, Miller has not seemed at peace with the new regime in Buffalo this season. The aftermath of the Nov. 12 game in which the Bruins' Milan Lucic ran over Miller with no consequence (other than a concussion to the goaltender) was the catalyst that put the lack of cohesiveness in the Sabres room in the spotlight across the puckwebz. I haven't anything to suggest those perceptions were unfounded.
This should and can be a win/win. There are teams with near-term expectations but aging starters, like Tampa Bay or New Jersey, or even the Capitals (Vokoun's contract was just one year – you thinking he's earned a new one yet?) searching for a proven answer in goal next season. The Bolts will even be joining the same Snowbird Diviference as Miller's familiar Northeast Division rivals starting next fall.
It's hard to imagine that Sabres GM Darcy Regier wouldn't find a taker for someone with a resume as solid as Miller's, littered with accolades like "Vezina" and "Olympic MVP." The return on the trade would be enticing.
It's time for the Sabres to move beyond their prior history as also-rans and build a new identity. Moving Miller would make it clear they want that clean slate. For the embattled Miller, he'd get a chance to show a new team and their fans what a very special goaltender he can be.
Photo credit: Getty Images
Original Story:
http://www.rldhockey.net/2011/12/satu...
THE BACKYARD
BEST OF MAXIM
RELATED ARTICLES
The Buffalo Sabres were expected to be among the Stanley Cup contenders after several high-profile offseason moves. Instead, a disappointing December combined with a lengthy injury list has the Sabres in a fight to make the playoffs. On Nov. 15, the Sabres sat atop the Northeast Division and third in the Eastern Conference with an 11-6-0 record. They had 22 points, one point ahead...
Tyler Myers will have his wrist injury reevaluated Monday, and the Buffalo Sabres defenseman may return to the lineup sometime next week.Myers hasn't played since suffering a broken wrist Nov. 19 against the Phoenix Coyotes.He was expected to miss at least a month, and head coach Lindy Ruff isn't so sure Myers will be able to return before the end of 2011.Myers, 21, has two...
Image via WikipediaHere is a nice article talking about former Fighting Sioux defenseman Joe Finley and his journey this season as Finley finally is healthy and made his NHL debut with the Buffalo Sabres a few weeks ago. Dan Peters, AHL On The Beat ---- When Joe Finley came into training camp this season with the Rochester Americans on a try-out basis, he was simply attempting...
There are a few goaltenders rather displeased with the NHL right now about offensive players intentionally barreling into them while they reside inside the cozy confines of their crease. These few goalies believe they're not being protected enough. To those goaltenders, we'd offer the following advice. Get hurt. Badly. The NHL has shown, time and again, that it responds to...
(Ed. Note: No Trending Topics or Puck Previews tonight; we'll have coverage of the games and Three Stars later.) When it comes to Christmas lights, I'm a curmudgeon. They're hard to put up, it's cold, you have to climb a ladder, they're always tangled, and so on. I'm the guy who spends ten minutes power-stapling a cheap string of lights around the garage and...
Both the Washington Capitals and the Buffalo Sabres spent Christmas feeling dissatisfied about their seasons so far. Each team will have plenty to say about whether the other can begin to turn things around before the end of 2011. The frustrated clubs square off Monday night at Buffalo in the first of two meetings in a five-day span. The Sabres (16-15-3) haven't exactly played...
Toronto Maple Leafs' James Reimer and Buffalo Sabres' Ryan Miller both got shelved for a bit this season as victims of goalie crashing. Brian Gionta collided with Reimer while Milan Lucic barreled through Miller in open ice. It would have been a shame if Ryan Howard of the Detroit Red Wings came out seriously injured after last night. Twitter erupted and some were...
Here are your Puck Headlines: a glorious collection of news and views collected from the greatest blogosphere in sports and the few, the proud, the mainstream hockey media. • Earlier this week, Tim Thomas of the Boston Bruins explained that his team likes to get stronger as the game goes on: "Stronger 'til dawn, like Lancelot. …You know Lancelot, the knight? The...
TORONTO _ Nazem Kadri's latest audition with the Toronto Maple Leafs is off to a roaring start. The winger snapped the winning goal past Ryan Miller's glove in the third period as the Maple Leafs beat the Buffalo Sabres 3-2 on Thursday night. ...
Toronto Maple Leafs' James Reimer and Buffalo Sabres' Ryan Miller both got shelved for a bit this season as victims of goalie crashing. Brian Gionta collided with Reimer while Milan Lucic barreled through Miller in open ice. It would have been a shame if Jimmy Howard of the Detroit Red Wings came out seriously injured after last night. Twitter erupted and some were...
NHL News

Delivered to your inbox

You'll also receive Yardbarker's daily Top 10, featuring the best sports stories from around the web. Customize your newsletter to get articles on your favorite sports and teams. And the best part? It's free!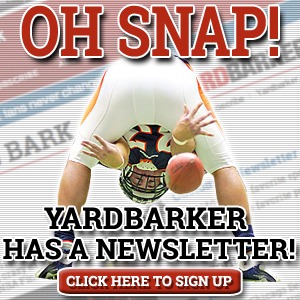 Latest Rumors
Best of Yardbarker

Today's Best Stuff

For Bloggers

Join the Yardbarker Network for more promotion, traffic, and money.

Company Info

Help

What is Yardbarker?

Yardbarker is the largest network of sports blogs and pro athlete blogs on the web. This site is the hub of the Yardbarker Network, where our editors and algorithms curate the best sports content from our network and beyond.