Found January 08, 2013 on Fox Sports North:
ST. PAUL, Minn. Through the first 30 games of the 2011-12 NHL season, the Minnesota Wild had sprinted to a league-best 20-7-3 record. But during the remainder of last year's 82-game schedule, the Wild faded after their hot start and missed out on the playoffs entirely. If that fast start were to be duplicated during the upcoming lockout-shortened season, Minnesota would likely be a shoe-in to make the playoffs. The lengthy lockout has forced the NHL to play a condensed season, likely play 48 games each. With less time to make up ground, getting off to a fast start will be more important than ever. "It's basically half of a season and go, so it'll be a sprint to the playoffs," said new Wild forward Zach Parise. "You want to make sure the games at the beginning of the season are just as, if not more important than, the ones at the end. You want to put yourself in a good spot." Teams are expected to begin the regular season Jan. 19, which also happens to be Hockey Day in Minnesota. By Jan. 19 of last season, the Wild had already slipped to 22-18-7 by losing 15 of 17 games after sitting in first place in the NHL. "Last year, we got a good start and it didn't go all the way," said Wild goalie Niklas Backstrom. "Every year you have to get a good start, especially now. It's 15 good teams in the West, 15 in the East. (This year), you can't have a bad start. You can't have a bad week. You have to find a way to bounce back and play good every minute." The NBA went through a similar condensed schedule last year after a lockout cut the basketball season short. Teams played a 66-game schedule instead of the regular 82. That meant a more hectic travel schedule, with some teams having to play games on three straight nights. The NHL schedules still haven't been released, but there will likely be some similarities. One difference, though, is the physicality of hockey compared to basketball. Because of the nature of the sport, preparation for and within the shortened season will become a balancing act. "You might have to ease up on practice time. You might have to get more days off," said Mike Yeo, the Wild's second-year coach. "I think the other thing for us is with the travel that we have and where we are geographically, I think we might have to look at some adjustments to our travel as far as staying over in cities a little bit more. I would think that we're facing a few more days on the road than we have in the past." Defenseman Ryan Suter was one of the Wild's big offseason additions, as he and Parise signed matching 13-year, 98 million contracts in early July. Neither was a part of Minnesota's quick start or its eventual collapse last season. Still, Suter knows the importance of Minnesota starting on the right foot during a 48-game season. "I think there will be a sense of urgency, definitely. With a shortened schedule, guys know that they have to be going from Game 1," Suter said. "In the past, you could get away with having a little bit of a slump, but now with the shortened schedule you're not going to be able to." In a way, the short season will make almost every game feel like a playoff game. For those teams that fall behind early, catching up will become much harder but not impossible. "In every season, there's always a big emphasis on starting strong, this year more so than ever. But having said that, one real key to this year is also being able to stay in the moment," Yeo said. "If you get off to a great start, that's good. You've got to feel good about it, but you have to be ready to move on and you have to be ready to attack the next group of games because you can also lose ground very quickly. "But having said that, if you get off to a tough start, it doesn't mean your season's over. You're still in the race. You just have a little catching up to do." Follow Tyler Mason on Twitter.
Original Story:
http://www.foxsportsnorth.com/01/08/1...
THE BACKYARD
BEST OF MAXIM
RELATED ARTICLES
ST. PAUL, Minn. It was an odd sight, seeing Zach Parise and Ryan Suter in green Minnesota Wild practice sweaters Monday. Something about it didn't look right, as if the NHL lockout dashed any hope that those two would play for their new team this season. One day after the NHL and the players' associated reached an agreement to end the 113-day lockout, members of the Wild...
ST. PAUL, Minn. The NHL lockout was both a blessing and a curse for Minnesota Wild prospect Mikael Granlund. The 20-year-old Finnish center spent part of the lockout playing for the Houston Aeros, Minnesota's affiliate in the American Hockey League. While with the Aeros, though, Granlund suffered an ankle injury that sidelined him for a month. When he was healthy, Granlund...
Zach Parise and Ryan Suter are finally going to work for the Minnesota Wild. The two big free-agent signings pulled on Wild sweaters for the first time on Monday during an informal practice with 16 of their new teammates. Parise and Suter signed matching 13-year, $98 million deals in July only to have to sit on the sideline during the NHL lockout. The owners and players came to...
ST. PAUL, Minn. The gang's all here for the Minnesota Wild. Well, almost. But with the arrivals of Mikko Koivu and Dany Heatley to Wednesday's skate at Xcel Energy Center, nearly the entire Wild roster was able to skate together three days after the NHL lockout came to an unofficial end. The only player missing from Wednesday's hour-long skate was Zenon Konopka, who...
ST. PAUL, Minn. For the past several months, members of the Minnesota Wild spent time skating together at various rinks around the Twin Cities to stay in shape during the NHL lockout. On Monday, the Wild finally were able to get back onto the ice at Xcel Energy Center and skate as a team, not as a collection of locked-out players. There was no hiding their excitement, either. ...
MINNEAPOLIS (AP) Before everyone settled in for their fireworks on the Fourth of July, the Minnesota Wild put on quite a show themselves. Eschewing patience and pragmatism for go-for-it-all aggressiveness, Wild owner Craig Leipold shelled out 198 million for free agents Zach Parise and Ryan Suter to get the State of Hockey all amped up for the coming season. The season, it turns...
No team lost more momentum during the NHL's long lockout than the Minnesota Wild. Now that it's over, they're eager to get to work getting it back. The NHL and the players' association reached accord on a new collective bargaining agreement Sunday, the 113th day of the lockout. The Wild were the biggest buyers in free agency last summer, spending nearly $200 million...
As the release of the official schedule for this shortened season grows near, we are almost assured of a 48 game season composed entirely of intra-conference play. The East will play the East, and the West will play the West. Bob McKenzie noted how the schedule will likely break down: Each team plays: 4 games vs. two Divisional opponents (8); 5 games vs. two divisional opponents...
Wild News

Delivered to your inbox

You'll also receive Yardbarker's daily Top 10, featuring the best sports stories from around the web. Customize your newsletter to get articles on your favorite sports and teams. And the best part? It's free!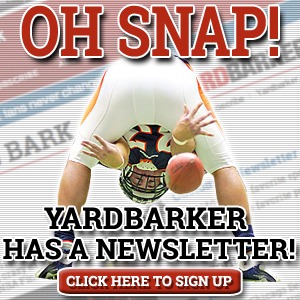 Latest Rumors
The Backyard

Today's Best Stuff

For Bloggers

Join the Yardbarker Network for more promotion, traffic, and money.

Company Info

Help

What is Yardbarker?

Yardbarker is the largest network of sports blogs and pro athlete blogs on the web. This site is the hub of the Yardbarker Network, where our editors and algorithms curate the best sports content from our network and beyond.