Found February 07, 2013 on Shutdown Line:
PLAYERS:
Eric Staal
,
Alexander Semin
,
Jordan Staal
,
Jeff Skinner
,
Tim Brent
,
Jiri Tlusty
,
Chad LaRose
,
Jussi Jokinen
,
Drayson Bowman
,
Zac Dalpe
TEAMS:
Carolina Hurricanes
,
Buffalo Sabres
Most of the talk surrounding the Carolina Hurricanes right now is centered around how well some of their top forwards are playing right now. Eric Staal is off to his best start in quite some time, Alexander Semin has been producing well and so have both Jordan Staal and Jeff Skinner. The fact that these four are providing most of the offense is a good thing because the Hurricanes need them to produce if they are going to have a chance at the playoffs. They can't be the only ones producing, though because they are going to have off-nights and that's where the rest of the team needs to pitch in. So far, that hasn't been happening. I mentioned a couple weeks ago that the Buffalo Sabres were going to run into trouble because they had one line doing basically all the work. The Hurricanes aren't too far off from being in that territory as their top-six has been on-ice for all but one even strength goal and their first line has produced about 36% of their total goals on the season. Again, it's good to see the top-six doing their job but not having much scoring depth is going to hurt the team eventually. I made a few pie-graphs to show just how skewed Carolina's offense has been this year and it really illustrates how much the top-six is being leaned on, especially the first line. Overall Goals The top-six takes up more than half of this graph while the defensemen have actually scored a higher percentage of goals than anyone from the bottom-six. This graph is actually a bit generous because I included Patrick Dwyer as part of the bottom-six and he has all three goals they have scored. Dwyer was playing on Jordan Staal's line on two of his three goals, so things would look even more skewed had I excluded him. If I did that, the third line wouldn't even be visible in the chart. Even Strength Goals Once again, the top-six accounts for over 65% of the scoring and the first line is doing the bulk of the work. The bottom-six has scored a total of two even strength goals and both of them are from Dwyer. The defense is actually outscoring them with three total goals. Total Points The second line has accounted for more of the Hurricanes points which is probably due to Jordan Staal's seven assists but the overall point remains with the top-six doing the majority of the scoring. Jeff Skinner also has two powerplay goals along with a pair of helpers with the man-advantage, which makes the second line look a lot better here. Patrick Dwyer and Tim Brent's five combined points are all the production the Hurricanes have gotten from their bottom-two lines. Brent's point also came on the powerplay, which provides a nice transition into the final chart. Pretty much the same story only the first line looks a lot better because they have been producing more at even strength. The Hurricanes haven't exaxctly been receiving balanced scoring in this young season and it could hurt them if/when their top-lines goes through a dry spell. On the other hand, they could actually be getting more out of their first line when you consider that neither Alexander Semin or Jiri Tlusty have scored an even strength goal this year and it's mostly due to them having some terribly poor shooting luck. Their is definitely some untapped potential there, but the Canes still need to have some more scoring depth. This all boils down to their third line playing better than they have this year. Chad LaRose, Jussi Jokinen and Drayson Bowman have yet to get on the scoresheet and haven't even been on-ice for one Carolina goal this season. They are also posting some brutal underlying numbers on top of that. It looked like things would pick up after Dwyer was promoted to this line last Friday but that all ended once Zac Dalpe was sent to Charlotte and Dwyer was promoted to the top-six, returning the third-line back to its original state. The third line's talent level is better than they've shown thus far, but the Canes are going to need the rest of their lineup to pick it up if they want to establish some scoring depth.
Original Story:
http://www.shutdownline.com/hurricane...
THE BACKYARD
BEST OF MAXIM
RELATED ARTICLES
Some teams were bound to have hiccups with the abbreviated NHL season starting after only one week of training camp. In the case of the Carolina Hurricanes, they might have been holding their breath to try to find a cure for what ailed them after their first two games. They lost that pair of games by a combined 9-2 score and while that might have given them cause for despair, the...
Jay Harrison scored the overtime winner for the Carolina Hurricanes, and was quick to credit Cam Ward for the victory. The Hurricanes' goalie made 45 saves on Thursday night as Carolina escaped Ottawa with a 3-2 victory over the Senators. Ward's heroics, which included 16 saves in a chaotic second period in which Carolina was outshot 17-3, helped set up Harrison's winner...
OTTAWA (AP) -- Cam Ward made 45 saves and Jay Harrison scored 2:19 into overtime to rally the Carolina Hurricanes to a 3-2 victory over the Ottawa Senators on Thursday night. Harrison's winner came off a scramble in front as he banged a loose puck past Senators goalie Craig Anderson. Chad LaRose and Alexander Semin scored in regulation for the Hurricanes, who have won five...
Generally speaking, the Hurricanes have done a pretty good job of outplaying their opponents this year or at least keeping things relatively even against them. The wins haven't been coming as often as fans would like but the Canes have had more good games than bad this year by my account. Tonight's game against Ottawa had all the makings of being one of the worst games the...
Cam Ward made 45 saves and Jay Harrison scored 2:19 into overtime to rally the Carolina Hurricanes to a 3-2 victory over the Ottawa Senators on Thursday night. Harrison's winner came off a scramble in front as he banged a loose puck past Senators goalie Craig Anderson. Chad LaRose and Alexander Semin scored in regulation for the Hurricanes, who have won five of their last seven...
The Hurricanes have been a pretty decent team at even strength so far this year but their underlying numbers are skewed heavily due to the fact that they have been forced to play from behind in all but two of their games. This is partially the reason why they have outchanced their opponents in every game this year and why most of their players have very positive underlying numbers...
Even though the Hurricanes won last night's game in overtime, their performance reminded me a lot of how they played last year. Not only were they heavily outshot, but the Senators had control for most of the game and the Hurricanes were forced to play in their own end more often than they would have liked. They were able to stay in the game and force overtime thanks to great...
Aside from a win over the Carolina Hurricanes last week, the Philadelphia Flyers have mostly had a hard time scoring goals. Another matchup with Carolina could be just what they need to get on track offensively. The Flyers try to continue their recent domination of the series when they host the Hurricanes on Saturday. Philadelphia's 3.2 goals per game last season were tied...
from Doug Harrison of CBC, You signed free-agent forward Alexander Semin to a one-year dea llast July with hopes he would play alongside Eric Staal. So far, Semin has played well offensively (one goal, six points) and been responsible defensively (plus-7). Do you consider him your best $7-million investment in recent memory? "Yeah. I don't want to discount other guys...
NHL News

Delivered to your inbox

You'll also receive Yardbarker's daily Top 10, featuring the best sports stories from around the web. Customize your newsletter to get articles on your favorite sports and teams. And the best part? It's free!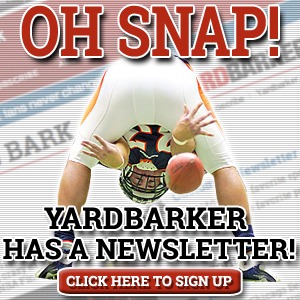 Latest Rumors
Best of Yardbarker

Today's Best Stuff

For Bloggers

Join the Yardbarker Network for more promotion, traffic, and money.

Company Info

Help

What is Yardbarker?

Yardbarker is the largest network of sports blogs and pro athlete blogs on the web. This site is the hub of the Yardbarker Network, where our editors and algorithms curate the best sports content from our network and beyond.