Found May 29, 2013 on Blue Seat Blogs:
Could they move Girardi to create cap space? You know what you're going to get with Dan Girardi. An honest effort, fearless play, positional consistency, relentless shot blocking and an overall fine defensive game (not to mention cyborg body parts). While Girardi chips in offensively, he's clearly a defensive player first, and an impressive one at that. That said, Girardi has a glass ceiling, and given the seemingly never ending (over) use of Girardi by the Rangers, Girardi has tired toward the end of the season – which was inevitable – and the potential of all that overuse blunting his game, and future, is a legitimate concern. With Ryan McDonagh already every bit the equal of Girardi, Michael Del Zotto (still, and perhaps worryingly) the Rangers best offensive option, and John Moore developing nicely in his short period with the Rangers (throw in Anton Stralman and the potential of Marc Staal returning), the Rangers have a host of defensive options. The back end needs an upgrade in the nastiness department, and in all likelihood that will need to be addressed from outside the organisation in the short term (with Dylan McIlrath hopefully filling the void long term). All this brings us back to Dan Girardi. This isn't a post to say they should move him or have to move him. Defensively, Girardi is All Star calibre. However he's not been the same player this season and that may be due to overuse by the coaching staff for various reasons. What this post is about is Dan Girardi not being as critical as he once was and the Rangers, having multiple needs on the roster and limited cap space to address them. Girardi cold be a solution of sorts. Quality defense is the most sought after commodity in the NHL. That is a reason why the Rangers could at least consider moving Girardi. He should fetch a fine return, given his affordable 1 year remaining at a bargain $3.4 million. That money and any potential return of assets would leave the Rangers in a better position going forward. If the (sensationalised) media reports of Henrik Lundqvist potentially demanding maximum term and money are anywhere close to being true, the Rangers will need all the help they can get financially. Girardi's cap savings (in this theoretical scenario) would help. So much of this theory is based on Marc Staal's return, but IF Staal does come back, then a top four of McDonagh, Staal, Del Zotto, and Moore/Stralman is a pretty fine start defensively. If the Rangers keep Girardi then they keep a quality defenseman without doubt, no complaints there. However, with some players already talking about a 'steps backward' and several truly essential players approaching key crossroads in their Ranger futures (within the next twelve months), perhaps Dan Girardi can help this club more by being sacrificed for the greater good. It's at least worth thinking about, even if it's not Girardi who they wind up moving. The Rangers are at a point where they may need to deal a veteran favorite to make cap room for youth. Tweet
Original Story:
http://www.blueseatblogs.com/2013/05/...
THE BACKYARD
BEST OF MAXIM
RELATED ARTICLES
The New York Rangers announced Wednesday that head coach John Tortorella has been relieved of his duties, four days after the team was eliminated in five games by the Boston Bruins in the Eastern Conference 
Larry Brooks at the New York Post reports that Glen Sather had no intention of firing John Tortorella after the Rangers were eliminated by the Bruins until a large contingent of players made it clear during their exit interviews that their head coach's "overbearing personality" was the reason for the team's lack of success this season. While no ultimatums were...
TORTS REFORM
After four-plus seasons behind the bench, head coach John Tortorella has been let go by the New York Rangers.
The Bruins' 3-1 win over the Rangers last Saturday dropped New York out of the playoffs and put John Tortorella out of a job. Tortorella was fired as head coach of the Blueshirts on Wednesday, five days after they were eliminated by the Bruins in the Eastern Conference semifinals. Torts' pack-it-in style of hockey and notoriously prickly attitude toward the media rubbed many...
Now that the 2012 – 2013 New York Rangers are officially out of the Stanley Cup playoffs (sorry for the harsh reminder, folks) it's time for the organization to concentrate solely on making next year's edition better. I'm sure they've been working on their offseason strategy for some time but with no more playoff games [...]
Wowzers, per ESPN's Katie Strang: #NYR BREAKING: John Tortorella has been dismissed as head coach of the Rangers, source confirms — Katie Strang (@KatieStrangESPN) May 29, 2013 The Rangers are confirming: BREAKING NEWS: The #NYR have relieved John Tortorella of his coaching duties...details to follow — New York Rangers (@NYRangers) May 29, 2013
from Larry Brooks of the New York Post, The Rangers players had had enough of the coach and they said so during their exit meetings on Monday. Sources have confirmed Sather had no intention of dismissing Tortorella in the wake of the team's second-round elimination by the Bruins until a critical mass of players informed the GM that the coach's overbearing personality had...
The Rangers made headlines on Wednesday when they announced they had fired John Tortorella as their head coach after four and a half seasons. This shouldn't come as a surprise, as the Blueshirts have come up short in the playoffs each of the last three seasons and were easily dispatched by the Boston Bruins in five games in the 2013 playoffs.  Tortorella was hired with...
With John Tortorella being fired there's been a lot of posting of his top 10 media outbursts, but for me I'd rather post this video which shows how much the success of the Rangers organization meant to him... ...listen, I don't have my head in the sand when it comes to Tortorella's shortcomings. The power play was abysmal, his failure to adapt his system...
There will be plenty of time this offseason to worry about Henrik Lundqvist's "We'll see" heard round the world and a potential Brad Richards buyout, but I wanted to take a few seconds to thank all TheNYRBlog readers for another amazing year on the blog. Despite the torturous lockout, you guys came back in full force. TheNYRBlog broke numerous traffic records...
#NYRBREAKING: John Tortorella has been dismissed as head coach of the Rangers, source confirms — Katie Strang (@KatieStrangESPN) May 29, 2013 ...WOW!!!!!!!!!!!!!!!!!!!!!!!! I am in complete shock. As I have mentioned numerous times, there is a lot to complain about when it comes to Torts, but this to me is a panic move. Unless, as Sean Avery told us, the players hated him...
Rangers News

Delivered to your inbox

You'll also receive Yardbarker's daily Top 10, featuring the best sports stories from around the web. Customize your newsletter to get articles on your favorite sports and teams. And the best part? It's free!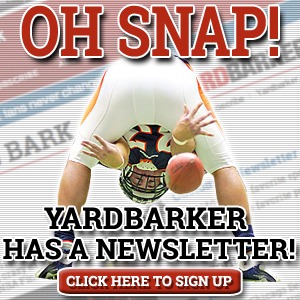 Latest Rumors
Best of Yardbarker

Today's Best Stuff

For Bloggers

Join the Yardbarker Network for more promotion, traffic, and money.

Company Info

Help

What is Yardbarker?

Yardbarker is the largest network of sports blogs and pro athlete blogs on the web. This site is the hub of the Yardbarker Network, where our editors and algorithms curate the best sports content from our network and beyond.