Found June 26, 2013 on Shutdown Line:
There was an audible loud groan from the Hurricanes fanbase on July 1, 2012 when the team signed Joe Corvo to a one-year deal. Seeing how this was Corvo's third tour of duty with the Hurricanes, most fans knew what to expect with him and they were expecting the worst. Corvo takes more criticism than he deserves for his on-ice performance, but he was far from an ideal signing for the Hurricanes. The team needed a top-four defenseman and someone who could kill penalties and while Corvo did that two years ago with the Hurricanes, he was a third-pairing defenseman and a healthy scratch for the Bruins last year. Bringing him on board for one-year on a low salary deal isn't the worst risk you can take, but he didn't fit the Hurricanes needs at the time either.  Corvo isn't all bad, though. There are some fans who talk about him as if he is a complete liability and the worst defenseman in the league but he has redeeming qualities. Offensive defensemen in general are kind of underrated by a lot of fans because all they really notice are the mistakes that they make in their own zone. Those do happen (some more often than others) but defensemen who can produce offensively are valuable and ones who can drive the play forward are even better to have. It's true that Corvo can get lost when playing in his own zone and is prone to bad turnovers, but these are mitigated if he is able to keep the puck in the offensive zone and only defend for 20% of his ice-time. Corvo was very good at doing this for most of his career and he was able to do it while playing some big minutes with the Hurricanes in past years. The problem with signing him this year was that Corvo looked to be past his prime in Boston last year. He was used in extremely sheltered minutes and was eventually taken out of the lineup in the playoffs. Corvo might have been only one year removed from being an important defenseman for the Hurricanes, but the last thing they needed was another bottom-pairing defenseman, which is what Corvo appeared to be when the Hurricanes signed him. As a GM, there are worse risks you can take and Corvo would have been fine as a replacement for Jaroslav Spacek on the third pairing. However, there was a good chance that Corvo was going to be asked more to do than Spacek was last year and that was likely going to end poorly for the Canes unless Corvo exceeded expectations. After the jump, we'll talk about whether or not he did that in his third stint with the Hurricanes. Usage   Corvo Def rank GP 40   EV TOI/G 15:46 6th PP TOI/G 2:15 4th PK TOI/G 0:43 7th QualComp 0.149 6th OZ% 55.1% 5th In the introduction, I mentioned that Corvo would not have been terrible as a replacement for Spacek and that's exactly how he was used earlier in the year. He was even scratched for a couple games in favor of Bobby Sanguinetti and Jamie McBain. Injuries forced him back into the lineup, though and Corvo eventually took on a bigger role and he was a top-four defenseman for a good chunk of the year. However, Corvo rarely got the tough matchups even though he played a lot of minutes. The only time he did was when Justin Faulk was injured or when he played with Tim Gleason. So, while Corvo was a de-facto "top four" defenseman in Carolina he was not intended to be one and it's doubtful that he would get these minutes on a team with better defensive depth. Performance   Corvo Def rank 5v5 Fenwick Diff/20 0.401 4th 5v5 Chance Diff/20 -0.02 5th 5v5 SCF/20 4.57 3rd 5v5 SCA/20 4.59 6th GF/60 2.84 2nd GA/60 2.74 4th SAF/60 60.5 4th SAA/60 61.14 7th SAD/60 -0.64 5th ESG/60 0.29 1st ESPts/60 0.88 2nd Corvo's season can be broken down into two parts. He started off playing very well, thriving in a third-pairing role and doing just about everything you could ask from a sheltered defenseman. However, as time went on he was asked to do more and he struggled when having to adjust to tougher minutes. You can see here that his ability to keep play in the offensive zone got worse as the season went on and he ended the year with some pretty brutal defensive numbers. His offensive performance stayed consistent throughout the year, but his defensive play got worse.  That was a decline that anyone could have seen coming and one of the reasons why signing Corvo was risky even on a one-year deal. As a sheltered defenseman, he is fine and well worth his $2 mil. cap hit but ask him to do anything more than that and there could be trouble. There was certainly a lot of that once Corvo was promoted to the top-four, as he was one of the Hurricanes worse defensemen at shot prevention and also ranked very low at preventing scoring chances. Again, this was predictable but frustrating the watch nonetheless. With all of that being said, Corvo's offensive performance was still good and this was the one part of his game that stayed consistent throughout the year. Corvo's point production wasn't stellar, but his scoring rate was pretty solid for a defenseman. He was also the Hurricanes highest scoring defenseman at even strength and added three goals on the power play. Corvo's ability to create chances was also among the best on the Hurricanes defense corps, so he was doing his job as an offensive defenseman. The problem was that he was giving up just as much in his own end, so the Hurricanes struggled to break even when he was on the ice. Although, it's worth noting that he wasn't completely awful at controlling puck-possession & scoring chanes and he was far from a liability in his own zone. 5v5 Zone Entries   Corvo Def Rank Entries/60 9.13 3rd Controlled/60 2.14 3rd Controlled% 23.4% 5th Corvo was no more effective at gaining the offensive zone with control of the puck as the rest of the Hurricanes defense corps. It's disappointing because he is actually a fairly good puck-mover in a lot of other aspects, but carrying the puck through the neutral zone was not one of his specialties. Pitkanen and Sanguinetti seemed to be the only ones who could do this frequently. I think it could be relate to the system since dump-and-chase is something that Muller seems to emphasize based my observations. Season Grade: C What the Hurricanes got out of Corvo this year was about what I had expected, so I think a C is a fair grade. I was considering giving him a C+ because he was a tad better than I had expected, but Corvo did struggle a lot when he had to play bigger minutes and that was also in line with my expectations for him. Corvo was best sutied as a sheltered, third-pairing defenseman because that's what he is at this stage in his career. The Final Word Corvo proved to be an okay, low-risk investment for the Hurricanes and really could have been a lot worse when you consider the minutes he played this year and how much he was asked to do. It's already a given that he won't be re-signed and the Hurricanes are going to have to find someone who will be an upgrade over him. Seeing how Corvo's a borderline top four defenseman, finding an upgrade shouldn't be terribly hard but it's probably easier said than done in this free agent class. Either way, I would expect Corvo to get a contract from another team this off-season because he is still useful in a limited role but it's pretty obvious that the Hurricanes needed more than that.
Original Story:
http://www.shutdownline.com/hurricane...
THE BACKYARD
BEST OF MAXIM
RELATED ARTICLES
The Carolina Hurricanes have agreed to terms on a one-year deal with forward Brett Sutter. The deal announced Tuesday will pay Sutter $600,000 at the NHL level or $150,000 at the American Hockey League level with a guarantee of at least $250,000. The 26-year-old Sutter was team captain for the Charlotte Checkers of the AHL last season with 19 goals and 29 assists in 70 games. The...
When the Carolina Hurricanes pick fifth overall on Sunday at the NHL Draft in Newark, it will mark the highest they will have selected in eight years. In that 2005 draft, they took American defenseman Jack Johnson third overall but Johnson never played for the Canes, as general manager Jim Rutherford sent him to Los Angeles in a deal that brought defenseman Tim Gleason to Raleigh...
The Carolina Hurricanes have agreed to terms with three players on one-year, two-way contracts. The Hurricanes announced deals Thursday with right wing Aaron Palushaj, defenseman Michal Jordan and goalie Mike Murphy. Palushaj will make $600,000 in the NHL or $175,000 in the minor leagues with a guarantee of at least $225,000. Jordan will receive $550,000 with the Hurricanes or...
The Hurricanes enter this year's free agency period in a bit of a different position compared to year's past. Their usual "needs" are to find a winger for the first line and improve the defense and while the latter point is still a huge issue, they don't really need to make any additions to their top-six. Taking a chance on Alexander Semin last year paid off...
By Dylan Howlett (@Dylan Howlett) Drafting a player is a lot like pinning the tail on a donkey, while wearing a blindfold in the pitch black, and not knowing whether it's a donkey, thoroughbred or rented mule. It's an imprecise art. It's easier when the talent pool from which to choose extends several leagues into the sea as, by most accounts, does the 2013 NHL Draft class...
The quarterfinals of the U.S. Open Cup have two underdogs left. The Carolina RailHawks, of the Division 2-NASL, and Orlando City of Division 3-USL Pro, will try to win Wednesday night and move forward to the semifinals in the 100th edition of the U.S. Open Cup, one of the oldest Soccer tournaments in the world. Of course, there is plenty on the line in this championship. The...
A few days ago, we reviewed Carolina's prospect depth at center and talked about how the Hurricanes are in relatively good shape at this position in both the present and future. The same can't be said about the wingers, specifically the left wing. At the NHL level, they have Jeff Skinner and Jiri Tlusty, who are both in their early to mid-20's so their top-six is set...
Hurricanes News

Delivered to your inbox

You'll also receive Yardbarker's daily Top 10, featuring the best sports stories from around the web. Customize your newsletter to get articles on your favorite sports and teams. And the best part? It's free!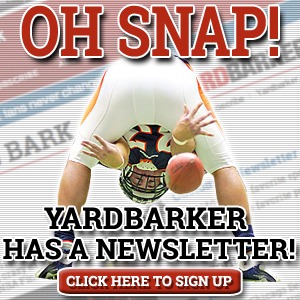 Latest Rumors
Best of Yardbarker

Today's Best Stuff

For Bloggers

Join the Yardbarker Network for more promotion, traffic, and money.

Company Info

Help

What is Yardbarker?

Yardbarker is the largest network of sports blogs and pro athlete blogs on the web. This site is the hub of the Yardbarker Network, where our editors and algorithms curate the best sports content from our network and beyond.