Found February 29, 2012 on The Rangers Tribune:
The New York Rangers may not have landed their biggest target before Monday's trade deadline in Rick Nash of the Columbus Blue Jackets, but when all is said and done, that non-acquisition may very well turn out to be the organization's smartest move all year. The biggest concern with bringing in Nash, other than the future cap constraints he'd put on the team with his hefty salary, was that he would disrupt the club's intimacy and chemistry that's contributed largely to their consistent success this season. There were no guarantees that he would fit like a glove into that locker room, which has developed a very unique atmosphere that they've maintained since their trip to Europe back in September and October. It's best that they didn't take that risk. For those of you that have every participated on a team of any sort, whether it be in sports, business, music or whatever it may have been, after working with that group of individuals for a certain amount of time, you no longer work as individuals - you become one. The body can no longer function without maximum contribution from all of its parts, and when working together at a smooth pace, an indestructible system establishes itself and you run with that for as long and as far as it can take you.  This is exactly how I view the 2011-12 New York Rangers. They're not the most talented roster out there in terms of skill on paper, but I can promise you they are the club with the biggest belief in themselves within the locker room. We, as outsiders, have had the benefit of seeing this in HBO's 24/7 series which actually brought us into that locker room and behind the scenes, showing just how tightly-knit this hockey club actually is. And in addition to that, we see it every night on Twitter following a win. Each player will point out the game's stars, but you'll also notice that they'll include something about "the boys" which is referencing the team as an entirety. Almost every tweet is ended with a hashtag containing the phrase "For the Boys" or "The Right Way". Now every team has a bond in some way or another, but the one here in New York is an extraordinarily special one. We've seen these players have each other's backs a countless number of times this season. Hell, these guys are diving in front of 90+ mph slap shots on a nightly basis for their goaltender – if that's not team commitment than I don't what is. And whether you are open to admitting it or not, head coach John Tortorella deserves a ton of credit for this. His coaching strategy relates greatly to that of a stockbroker. He has a product and he must do everything in his power to get his clientele (in this case his players) to buy into it. Once they are bought into it, it is then his job to maintain their interest as the stock (production) continues to increase in value. Well, we might as well start calling Torts "Gordon Gekko" because he's done this better than any coach I've seen behind a New York Ranger bench in my lifetime (granted I was a newborn in 1994 when Mike Keenan coached). Every player in that room believes in the system, the coaching staff, and most importantly, each other. And coach Tortorella is only the beginning of where this mutual trust stems from. You also have to look at the guy wearing the 'C' on his chest by the name of Ryan Callahan. Callahan is the best role model to skate at Madison Square Garden since Mark Messier. Everything from his effort to his determination is highly contagious. I remember a few weeks ago NBC did a brief special on Callahan during the intermission, and within that special interviewed a number of the Rangers to get their take on the captain's play. Each and every one of them made a comment along these lines: the way Callahan plays makes them want to continue to play better and give more. Just seeing him out there makes the rest of the team want to take their own game to the very next level – that's special. And I should add that one of those players speaking was Brad Richards, who is a veteran noted for his leadership abilities, yet he is still inspired by Callahan. This is where the whole "the right way" thing has emerged from, as the players feel their captain does everything "the right way", so they should as well. I've even heard Tortorella use the phrase a number of times during press conferences. This team togetherness is why the Rangers are so well respected around the National Hockey League. They are not a flashy team by any means, nor do they boast or carry a pompous attitude. Their work ethic remains the same no matter where they are in the standings or what team is opposite them on that specific night. To me, that's most definitely doing it "the right way". I, as a follower, believe in this team just as much as they do in themselves. I've seen many rosters come and go, and by far this year's is the easiest to support and encourage on a gamely basis. They are a fun group, but also a determined and confident group that can accomplish whatever they set their hearts and minds to. They've proven that they can beat any team under any circumstance, so I don't think there should be any doubt that they have a chance to make this season a memorable one in the spring. Now I can sit here and talk about the team's unique bonding and togetherness and what not all I want, but I don't think anything says it better than this quote from Henrik Lundqvist following Monday's 2-0 win over the New Jersey Devils at Madison Square Garden...
"I'm glad management believes in us and what we have and what we have built the last five or six months," Henrik said to the New York Post. "This is crunch time now, this is the fun time now and we get to stay together to try and accomplish our goals."
Original Story:
http://www.rangerstribune.com/the-ran...
THE BACKYARD
BEST OF MAXIM
RELATED ARTICLES
Rick Nash may have played his last game as a Blue Jacket on Sunday. His is the biggest name known to be on the trade market as the NHL trade deadline arrives Monday. If so, it was like so many other Nash games for the Blue Jackets. He scored a goal and they lost, falling 4-2 to the Pittsburgh Penguins in Consol Energy Center. According to published reports, the Blue Jackets are...
Judging a GM based on speculative trade rumors is a tough thing to evaluate. Lord only knows if Sather's rejected offer (rumored to be Dubi, Thomas, Miller, Erixon and a first rounder) was accurate or just Brooksie's best guesstimate. What we do know is that Howson likely cost himself his job when he sold out Rick Nash during his post-deadline presser. When reporters asked...
Everyone expected the Columbus Blue Jackets to make a deal before the NHL's trade deadline on Monday. They did. But it did not involve star Rick Nash. Nash was the most prized player available in the league's annual late-season market day. Despite reports of strong pushes from several teams, Nash stayed put.
The New York Rangers have announced the acquisition of defenseman John Scott from the Chicago Blackhawks in exchange for a fifth round draft pick. Scott, age 29, will add size and depth to the Blueshirts' blue-line with a 6-foot-8, 270-pound stature. He's one of the toughest players in the NHL and loves to drop the gloves, but moving forward, I'm not sure how often he...
The Nashville Predators and Vancouver Canucks added some reinforcements for a playoff run, while Rick Nash's wish for a deal didn't come to fruition Monday as the NHL trade deadline passed without any blockbuster moves.Having won a playoff series for the first time in franchise history a year ago, the ...
The Nashville Predators and Vancouver Canucks added some reinforcements for a playoff run, while Rick Nash's wish for a deal didn't come to fruition Monday as the 3 p.m. NHL trade deadline passed without any big moves.
PHT: After all the bluster and hopes of his agent to see his client dealt by the trade deadline, Rick Nash is staying put in Columbus.
On Monday the trade deadline came and went and no one named Rick Nash moved.  It was pretty quiet overall, with a few teams making tweaks here and there.  The Ducks, who only a couple months ago seemed poised to be sellers, made just two minor moves.   Right wing Andrew Gordon, who was sent to Syracuse a while back, was shipped to the Vancouver Canucks in exchange for defenseman...
The Rangers passed through the trade deadline with very little change but plenty of rumour. If you're in the Larry Brooks camp you'll have noted that Glen Sather offered half the organisation (comic exaggeration) for Rick Nash. If you're tending to listen to Glen Sather's rarely spoken word you'll believe the reports regarding the Rick Nash proposal were exaggerated (sensationalizing by...
Well, gang - it's back to hockey.  Today is the first day that the Red Wings can start proving that Kenny Holland was right NOT to sell the farm or trade away assets because this team is capable of winning the Cup without looking for outside help.Kenny was never a guy to make moves for the sake of making moves.  I know we're all still pretty peeved at him for standing idly...
Photo Credit: Yahoo Sports Love his philosophy or hate it, you can never say that David Poile doesn't have a flare for the dramatic. When the news broke on Saturday evening that an unlikely bidder in the Rick Nash sweepstakes had emerged in the form of the Nashville Predators, I was certain that we were going to be in for a nailbiting few days.  While that trade didn't come...
Rangers captain Ryan Callahan is scratched from Thursday night's lineup against the Carolina Hurricanes with a bruised foot.
NHL News

Delivered to your inbox

You'll also receive Yardbarker's daily Top 10, featuring the best sports stories from around the web. Customize your newsletter to get articles on your favorite sports and teams. And the best part? It's free!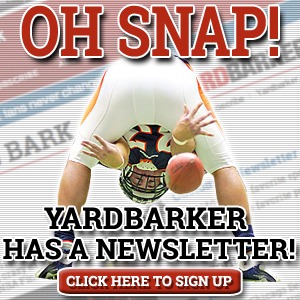 Latest Rumors
Best of Yardbarker

Today's Best Stuff

For Bloggers

Join the Yardbarker Network for more promotion, traffic, and money.

Company Info

Help

What is Yardbarker?

Yardbarker is the largest network of sports blogs and pro athlete blogs on the web. This site is the hub of the Yardbarker Network, where our editors and algorithms curate the best sports content from our network and beyond.