Found August 03, 2012 on Blue Seat Blogs:
PLAYERS:
Michael Sauer
,
Tim Erixon
,
Rick Nash
,
Ryan McDonagh
,
Dan Girardi
,
Marc Staal
,
Anton Stralman
,
Stu Bickel
,
John Tortorella
,
Steve Eminger
,
Brendan Bell
,
Tomas Kundratek
,
Pavel Valentenko
,
Michael Del Zotto
TEAMS:
New York Rangers
Recent reports from radio color commentator Dave Maloney and from Jess Rubenstein at The Prospect Park that Michael Sauer has made "tremendous progress" have added to what has been a spectacular late-July for the New York Rangers. Though Tim Erixon was a necessary piece to acquire Rick Nash, trading him left the Blueshirts woefully thin on the blueline.  The top-four of Ryan McDonagh, Dan Girardi, Marc Staal and Michael Del Zotto rates among the best in the league, but after them New York was left with only Anton Stralman and Stu Bickel. Bickel was a decent fill-in for the Rangers, but it became very clear that Coach John Tortorella just didn't trust him in big situations.  As a seventh defenseman Bickel would be tolerable, but there's simply no way New York would have been willing to pencil him into the top-six heading into the fall. However, it now seems that Sauer, who 18 months ago was the third-best defenseman on the club and a critical piece of the puzzle, may indeed have a shot at resuming his career in New York at the start of the season. As we learned with Staal, it's still unwise to bank on steady concussion recovery, but if all goes well then Sauer could have enough time to recover and condition by October (or later if there's a lockout). It still seems probable that the Blueshirts will add another NHL-worthy defenseman prior to the start of training camp.  Last year, New York has as many as 11 blueliners that had a reasonable chance of earning a roster spot on Broadway (McDonagh, Girardi, Staal, Del Zotto, Sauer, Bickel, Erixon, Steve Eminger, Brendan Bell, Tomas Kundratek and Pavel Valentenko). This year, you could really only make the case for seven, if you include Sauer. But perhaps the recent positive reports regarding Sauer's health mean that the Rangers will only be looking for a decent short-term substitute as opposed to investing in a long-term replacement.  If Sauer can return to his previous level of play, it will make New York's defense three pairs deep and unquestionably the best unit in the league.
Original Story:
http://www.blueseatblogs.com/2012/08/...
THE BACKYARD
BEST OF MAXIM
RELATED ARTICLES
Most Rangers fans were relatively unconcerned when the team parted with its 2013 first-round pick to help acquire Rick Nash.  They recognized that the pick was likely to fall late in the 20s, giving it less value, and that New York's farm system is already stocked with top tier prospects, making the pick less important to the club than it might have been a couple years ago. The...
One of the best parts of the Rangers dedication to building the team from within, has been the willingness of the organization to trust top prospects to play major roles on the big club.In just the last three years we have seen Michael Del Zotto, Michael Sauer and Derek Stepan earn their way onto the Rangers roster out of camp, while others including Ryan McDonagh and Carl Hagelin...
June and early July are the most exciting times of the summer for hockey fans. The Stanley Cup is awarded, the awards are handed out, the draft happens and then free agency is upon us. Ranger fans got their excitement when Rick Nash was traded to New York late in July. But August? It's the [...]
Neil Greenberg at ESPN Insider warns Rangers fans about too high of expectations for Chris Kreider this season..."Kreider, on the other hand, should be met with some tempered expectations. The former Boston College Eagle scored five goals in the playoffs -- a record for players who began their careers in the postseason -- but fans shouldn't get carried away anticipating...
It truly is the low point of the off season. The Rangers are quiet, at least publicly, and attention around the league is primarily focussed on the CBA talks. There are still a few things we can talk about though so welcome to another musings. Jump on in. The Hockey News wrote an article recently on why the North West division is the league's worst. It got me thinking again about...
Now that the free agency period has more or less passed, Bovada, the sports betting agency in Las Vegas, has adjusted its odds for the NHL. And after adding Rick Nash (along with some other role players), the Rangers have jumped up all the way to second on the list, trailing only Atlantic Division rival Pittsburgh, who sits at 8/1. The Rangers, previously 7th at 12/1 odds, now sit...
During the 2004-2005 lockout, NHL players had to figure out a plan B in order to earn a paycheck and stay in game shape. Many players opted to play in Europe for the season, and it was during this period that Henrik Lundqvist of Frölunda would make a name for himself, winning Sweden's equivalent of the Vezina AND Hart trophies. It appears that, should a lockout occur, Lundqvist...
Chris Peters over at The United States of Hockey breaks down the 17 American defensemen that will be looking to make the cut during the U.S. National Junior Evaluation Camp which kicks off in Lake Placid, N.Y. on Saturday, including Rangers 2012 first round pick Brady Skjei..."There's not a better skater among the defensemen in camp and that's going to be a key tool...
So as you've all seen, we've went through a bit of a recruitment process here on The Rangers Tribune to bulk up the staff for the 2012-13 season. That process is finally complete as I've went through all of the applications and made final decisions on which writers would be most beneficial to the direction I am looking to take this blog for the future, and trust me, I...
It was unlikely that the Bruins were ever going to land Rick Nash, but there were undoubtedly still some B's fans hoping that general manager Peter Chiarelli would swing a trade for the talented forward. The Rangers eventually swooped in and nabbed the five-time All-Star, though, forcing Boston to find other ways to improve its offense. The Bruins don't need to improve drastically...
While I was away on vacation last week, the New York Rangers and Columbus Blue Jackets decided to do a little transferring of players. Even if I was here, I probably wouldn't have written anything until now. That's commitment! The Rangers acquired Rick Nash, someone they were rumored to be pursuing months ago leading up to their playoff run, along with Steve Delisle, in exchange...
During last year's first round series against the Ottawa Senators, Brian Boyle was a force, some may argue the Rangers best player, then in Game 5 he was freight trained with a high hit by Chris Neil and was never the same.The initial prognosis was a concussion, but now Boyle tells (via Blueshirts United) us he received other injuries as well..."There were some other things...
Rangers News

Delivered to your inbox

You'll also receive Yardbarker's daily Top 10, featuring the best sports stories from around the web. Customize your newsletter to get articles on your favorite sports and teams. And the best part? It's free!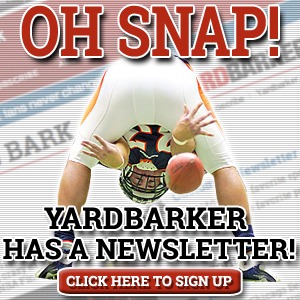 Latest Rumors
Best of Yardbarker

Today's Best Stuff

For Bloggers

Join the Yardbarker Network for more promotion, traffic, and money.

Company Info

Help

What is Yardbarker?

Yardbarker is the largest network of sports blogs and pro athlete blogs on the web. This site is the hub of the Yardbarker Network, where our editors and algorithms curate the best sports content from our network and beyond.