Found January 17, 2013 on Shutdown Line:
PLAYERS:
Brett Sutter
,
Andreas Nodl
,
Tuomo Ruutu
,
Jiri Tlusty
,
Eric Staal
,
Alexander Semin
,
Zach Boychuk
,
Jordan Staal
,
Jeff Skinner
,
Drayson Bowman
,
Jussi Jokinen
,
Chad LaRose
,
Tim Brent
,
Zac Dalpe
,
Kevin Westgarth
,
Tim Wallace
,
Ryan Murphy
,
Tim Gleason
,
Justin Faulk
,
Joni Pitkanen
,
Jamie McBain
,
Jay Harrison
,
Joe Corvo
,
Bobby Sanguinetti
,
Cam Ward
,
Dan Ellis
TEAMS:
Carolina Hurricanes
,
Los Angeles Kings
,
Anaheim Ducks
Earlier on Wednesday, the Carolina Hurricanes made the decision to put both Brett Sutter and Andreas Nodl on waivers, meaning that the Canes are very close to trimming their roster down to the 23 player limit.  Assuming they put Tuomo Ruutu on Long-Term Injured Reserve, the Canes would need to make one more cut to reach the limit and if they don't, then two players need to go. Over the past week, we've discussed who is in camp and what each player would have to do to make the team, but now we have more of a solid idea of what the roster will look like with only a couple more pieces to sort out. Who will make it past final cuts, though? We'll preview that after the jump and talk about some possible line combinations that we could see to open camp. Forwards: 15 on roster, 14 in camp   LW C RW Jiri Tlusty Eric Staal Alexander Semin Zach Boychuk Jordan Staal Jeff Skinner Drayson Bowman Jussi Jokinen Chad LaRose   Tim Brent Patrick Dwyer   Zac Dalpe Kevin Westgarth     Tim Wallace The one forward not in camp is obviously Ruutu, who will be out until at least May after undergoing hip surgery earlier in the month. Putting him on LTIR would allow the Canes to keep at least one more player on the roster for now, which I expect them to do. They could actually keep all 14 forwards on the roster for opening night if they shed a defenseman, most likely Ryan Murphy since he can be sent back to Kitchener with no risk. I also think it's a given that Kirk Muller will carry more than 12 forwards on the roster because Kevin Westgarth isn't going to be playing every night and it will give Kirk Muller some more time to work out some lines after a shortened training camp.  If the Hurricanes do end up cutting a forward, my money would be on Tim Wallace going on waivers. Zac Dalpe is the easiest to send down since he can go back to Charlotte without any issue, but it looks like the coaching staff is giving him a shot in the top-six to see what he can do. Wallace, on the other hand, is a fourth liner and can be replaced relatively easily. The fact that Nodl was placed on waivers before any Boychuk or Bowman tells me that the coaching staff likes what they see from them in camp and they have a good chance at making the final roster. Boychuk was getting a look on Eric Staal's line during Wednesday's practice while Bowman can play a similar role to Nodl as a left winger on the third or fourth line while providing more offense. It's also possible that the team wants to get a "final" look at players like Boychuk during a a game to see what they can do in a more pressured situation. Impressing the coaching staff in practice is one thing, but going up against opposing NHL competition will tell them more about Boychuk, Bowman and Dalpe. As for the line combinations, they could turn out to be anything at this point. The Canes are in kind of a pickle with so many right-handed shooting wingers in camp, but Jeff Skinner and Patrick Dwyer have played on the left side before, so this may not end up being that big of a deal. Jussi Jokinen is also a left-handed shot and has played on the wing before, so they could always move him over and put him in the top-six if they desire. The team still has him centering the third line for now, though. I've always felt that Jokinen's defensive game was underrated, so this could work out well as long as they don't put him in a tough-minute role. We'll just have to wait and see what happens once the final roster cuts are announced. Defensemen (8 on roster & in camp) Left Right Tim Gleason Justin Faulk Joni Pitkanen Jamie McBain Jay Harrison Joe Corvo   Ryan Murphy   Bobby Sanguinetti It's going to be either Bobby Sanguinetti or Ryan Murphy that will get cut and I would have to guess that Murphy ends up being the odd-man out. Although, it's possible that Muller may keep him on the team while cutting a forward instead. The problem is that would involve placing one of them on waivers and risk losing them for nothing. This is the second year that Murphy has been in camp, though and it would be nice to see him play in a few games just to get some experience under his belt. The Canes have six games before they can send him back to Kitchener, so it's entirely possible that they will go in this route but a problem that Muller will run into is deciding which defenseman to bench in favor of Murphy. I've heard good things about how he has looked in camp but sending him to Kitchener might be the easier thing to do, especially with the coaching staff being so high on Sanguinetti. I talked about some possible defense pairings the other day and the only thing getting in the way of those becoming a reality is that Muller doesn't like to use same-handed defensemen on one pairing. This could open the door for a Pitkanen/Faulk or Gleason/Faulk defense pair, both of which could work out. It's likely that we'll see Muller go through a few pairings, especially if Gleason & Corvo begin the season as the team's "shutdown duo." Goaltenders (2 on roster and in camp) Goaltenders Cam Ward Dan Ellis Ward and Ellis are the only goalies in camp and will be on the team barring an injury. This year's camp hasn't brought many surprises but that could change come noon Thursday once the final cuts are made. Just about everyone in camp has performed well enough to make the team from the sound of things but one of them is going to be going back to Charlotte (or Kitchener) in the next 24 hours. All we can do is wait.
Original Story:
http://www.shutdownline.com/hurricane...
THE BACKYARD
BEST OF MAXIM
RELATED ARTICLES
RALEIGH, N.C. -- This Saturday night should be a bit emotional for the Staal brothers. For the first time as professional hockey players, Eric and Jordan Staal will take the ice together as teammates when the Carolina Hurricanes visit the Florida Panthers, kicking off an NHL season that normally would have begun three months earlier. The wait, due to a lockout that lasted more...
RALEIGH, N.C. -- Carolina Hurricanes general manager Jim Rutherford liked the core of his team enough at the end of last season that instead of moving players from a club that didnt reach the postseason, he systematically added parts. Gone, at least for now, is the perception that this is a penny-pinching organization trying to massage a playoff spot out of a group that too often...
The Carolina Hurricanes aren't content to simply build for the future. This year, they're going Staal in. This marks a big year for a small-market franchise that has made the playoffs just once since winning the 2006 Stanley Cup. The Hurricanes are looking to take a significant step forward in coach Kirk Muller's first complete season, and they spent some significant...
The Hurricanes made their first round of roster cuts this afternoon by sending forwards Riley Nash and Jeremy Welsh to the club's AHL affiliate in Charlotte. Nash was a long-shot to make the team, but many expected Welsh to get a look at the third line center spot. He is going to have to wait until later in the season to get his shot there now. Some may say that neither player...
NHL News

Delivered to your inbox

You'll also receive Yardbarker's daily Top 10, featuring the best sports stories from around the web. Customize your newsletter to get articles on your favorite sports and teams. And the best part? It's free!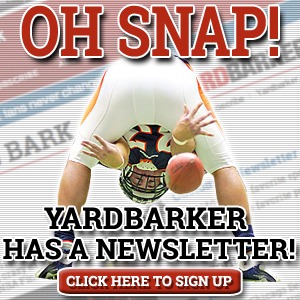 Latest Rumors
Best of Yardbarker

Today's Best Stuff

For Bloggers

Join the Yardbarker Network for more promotion, traffic, and money.

Company Info

Help

What is Yardbarker?

Yardbarker is the largest network of sports blogs and pro athlete blogs on the web. This site is the hub of the Yardbarker Network, where our editors and algorithms curate the best sports content from our network and beyond.