Found December 04, 2011 on PredsOnTheGlass:
PLAYERS:
Jordin Tootoo
,
Ryan Miller
,
Brendan Shanahan
,
Lindy Ruff
,
Anders Lindback
,
Craig Smith
,
Ryan Suter
,
Zack Kassian
TEAMS:
Nashville Predators
,
Buffalo Sabres
,
New Jersey Devils
,
Arizona Coyotes
Last night's game between Buffalo and Nashville was a typical 2-0 defensive snoozer for the sold out Bridgestone Arena crowd until late in the second period when Jordin Tootoo collided with Ryan Miller and brought the crowd and both teams to life.
Probably at some point later today, Brendan Shanahan will review the matter and decide if it was a "hockey play" as the Predators side has been calling it or "open season" on goalies as Lindy Ruff has pitched the matter.
Regardless of what it was, it was one of the more exciting incidents of the year for the fans on hand for the game. The Predators clearly out played the Sabres and out shot them 34-14, which is highly unusual.
Barry Trotz explained that the Preds made six mistakes in the game and three of them found the back of the net. As far as Anders Lindback's performance, Trotz said that he needed "one more save."
The loss dropped the Predators into eleventh place in the Western conference, five points behind division leading Detroit.
The Predators will have a chance to redeem the loss on Tuesday when they host the Phoenix Coyotes.
For POTG ticket pricing go here and use the special offer code "preds" here to get the best prices for the match with the Coyotes and all remaining Predator home games.
Here is our game story from last night, our selection of quotes about the Tootoo-Ryan incident, and Barry Trotz's postgame presser.  Make the jump for the full round-up of everything from the game...
Main Stream Media...
Josh Cooper: (The Tennessean) Game story - Notes - Postgame Ponderings
David Boclair (The City Paper)
Bryan Mullen (Preds.com)
Digital Media...
Jim Diamond (The Examiner)
Ryan Porth (Smashville 24/7) Game Story - Morning Skate
Jeremy Gover (Section 303) Also has pre-game special moment
Mark Willoughby (The View from 111)
Robby Stanley (Hockey Night in Nashville)
Patten Fuqua (Puck Scene)
Dirk Hoag (On The Forecheck)
Paul McCann (Hockey Buzz)
Jeremy Sargent (Predatorial)
Fang Finger
Buffalo Area Media...
Die By The Blade
Black, Blue, and Gold
The Buffalo News
Niagara Gazette
Sabre Noise
Sabre's Edge
WGR
The Gooses Roost
Shots off the Crossbar
Sabres.com
Audio from the Predators from last comes from....
Jordin Tootoo
Craig Smith
Ryan Suter
Craig Smith post-game Video.
From  Buffalo we hear from...
Zack Kassian
Ryan Miller
Lindy Ruff
Highlights come from NHL.com....
More Later...
Buddy Oakes for PredsOnTheGlass
PredsOnTheGlass has partnered with the Nashville Predators to bring you special discount pricing on tickets to every game. Follow this link and click on the game tickets that you want and then enter the special offer code preds to receive the best prices available directly from Ticketmaster. 
Original Story:
http://www.predsontheglass.com/2011/1...
THE BACKYARD
BEST OF MAXIM
RELATED ARTICLES
NOT AGAIN
At 15:54 of the second period, Jordin Tootoo barreled into Sabres goaltender Ryan Miller, and eleven players were involved in an ensuing scrum. Miller is just coming off a concussion, suffered when he got run over by Boston's Milan Lucic three weeks ago. Tootoo got a major for charging and game misconduct. Here is the video (courtesy On the Forecheck), with audio from Tootoo...
Jordin Tootoo hits Ryan Miller from the Buffalo Sabres at Nashville Predators game on Dec 3, 2011. Jordin Tootoo received a charging major and game misconduct. Paul Gaustad received a double roughing and misconduct. via http://www.hockeyfights.comLindy Ruff Post Game Rant - Sabres vs Predators - Dec 3, 2011 (HD)
Welcome back, Ryan Miller. Jordin Tootoo is a target of criticism after running over Ryan Miller during the goalie's first game back from a concussion. That's the saying going around tonight after the Olympic goaltender and starting goaltender for the Buffalo Sabres returned to action Saturday against the Nashville Predators. Miller spent some time out off the...
First off I have no idea what Jordin Tootoo is trying to do in this instance, compare and contrast this with the Lucic incident, Miller is in the blue paint and Lucic ran into Miller going for a puck. In Tootoo's case he simply left his feet and ran over Miller, you can not just run over the the goalie like Tootoo did. I think Jordin Tootoo is going to be getting a suspension...
By Alexander Monaghan President Ryan Miller looked great in his first game back from injury. The Buffalo Sabres starting goalie was cruising towards a victory, perhaps a shutout as his team was winning 2-0 in the second period. Then, resident agitator of the Nashville Predators, left wing Jordin Tootoo, decided to test his boundaries against Miller. Let's take a look at the incident...
Buffalo Sabres goaltender Ryan Miller will serve as Jhonas Enroth's backup for Friday's game against the Detroit Red Wings. It will mark the first time in nearly three weeks that Miller has dressed for a contest. The former Vezina Trophy winner has missed the last eight games with concussion symptoms after he was bowled over by Boston Bruins tough guy Milan Lucic on Nov...
via TSN, 15:54 Nashville Jordin Tootoo: 5 minutes, charging 15:54 Nashville Jordin Tootoo: 10 minutes, game misconduct 15:54 Buffalo Paul Gaustad: 2 minutes, roughing 15:54 Buffalo Paul Gaustad: 2 minutes, roughing 15:54 Buffalo Paul Gaustad: 10 minutes, misconduct
Both Jordin Tootoo and Mark Fistric will have a hearing with Shanahan for their action on Saturday.
NHL News

Delivered to your inbox

You'll also receive Yardbarker's daily Top 10, featuring the best sports stories from around the web. Customize your newsletter to get articles on your favorite sports and teams. And the best part? It's free!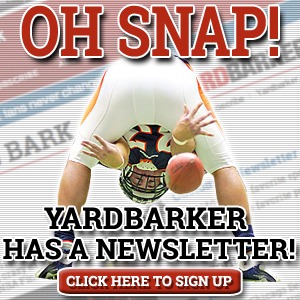 Latest Rumors
Best of Yardbarker

Today's Best Stuff

For Bloggers

Join the Yardbarker Network for more promotion, traffic, and money.

Company Info

Help

What is Yardbarker?

Yardbarker is the largest network of sports blogs and pro athlete blogs on the web. This site is the hub of the Yardbarker Network, where our editors and algorithms curate the best sports content from our network and beyond.