Found March 20, 2012 on Busted Coverage:
While much of the attention from Saturday's Sens-Maple Leafs game was paid to two lesbians getting engaged, there was action off the ice that stole our hearts. It's been a pretty quiet year when it comes to NHL fan fights so this 100-level action got our attention. As an added bonus, we get a couple broads throwing bombs. Special attention should be paid to Phil Kessel chick.
Also, watch the old coot usher not exactly wanting to get in the middle of these St. Patrick's Day drunkards.
Posted: Sunday
Premise of Video: Ottawa vs. Toronto. The fans hate each other. They marry one another. Even lesbians find love with one another. But when it comes to game night, the hate is there.
Climax of Video: Kessel Chick just throwing bombs on that guy being held back. Impressive!
Conclusion: Did she really spit on that guy at the end of the video? Unreal fighting talent on this chick. Do you know her? Of course we'll finance her next trip to Ottawa. It would be BC's honor.
Filed under:
Video
Original Story:
http://bustedcoverage.com/2012/03/20/...
THE BACKYARD
BEST OF MAXIM
RELATED ARTICLES
After an 8-0 loss, the Toronto Maple Leafs will not be looking to lose in their own building. So, tonight, the team that a veteran NY area beat writer calls "irrelevant" will take on the Hockey world's most important team. Funny thing is there is only three points that separate them in the standings, neither one will make the playoffs and the Leafs too haven't...
With the senators hot on the Bruins' tails for the Northeast, fans have been reduced to cheering for some strange teams. NESN Nation's Dan Duquette has had enough of that and is glad to get back to doing what's right -- beating up on the Maple Leafs. Join NESN Nation: In-game home page | Twitter | Facebook
TORONTO—Mired in an eight game home losing streak and facing a growing number of displeased fans, the Toronto Maple Leafs unveiled plans Wednesday to replace up to 40% of the seats in the Air Canada Centre with new, more comfortable, more fan friendly seating that faces away from the action on the ice. The renovations will happen immediately and, according to Leafs President...
The Toronto Maple Leafs defenseman Mike Komisarek and Boston Bruins forward Milan Lucic don't like each other very much. I am surprised that Komisarek would fight Lucic again after all of the time Lucic has absolutely worked him over. [Example 1] and [example 2]
There are not many more expletives and insults to be uttered at the Maple Leafs this morning, after they were systematically dissected by the Stanley Cup Champion Bruins 8-0 at the TD Bank Garden last night. From the opening faceoff, you knew that Toronto was in trouble, as Boston cycled the puck in the offensive zone for a good ninety seconds, before the Leafs were finally...
The next 48 hours will be the final arbiter of whether the Maple Leafs have a glimmer of hope remaining to climb within striking distance of the final playoff spot in the Eastern Conference or whether the eight remaining games will only be determinative of what non-lottery draft slot they will occupy in June. After two straight wins in Tampa and Ottawa, Toronto still trails eighth...
Shockingly, the Toronto Maple Leafs aren't dead yet. Left standing -- strike that, hobbling -- with a 2.9 percent chance of making the NHL playoffs, the season series between the Leafs and Boston Bruins comes to a close tonight in the Hub. Sitting six points away from the eighth seed in the Eastern Conference, the bad news for those in Toronto is that a loss tonight essentially...
Anything Bertuzzi related has been a force in this tournament.   The Bertinator came away a winner yesterday, 78% to 22% over Babbles and For A Few Wins More.  So today brings up the final matchup of the first round.  In corner one, we have #8 Two Mules for Mike Babcock vs. a hilarious version of Phil Kessel in Semi-Pro at #9.  I see a clear winner in this matchup. Hit the jump...
By Kirk R Douglas<span style="font-family: "Leelawadee","sans-serif"; font-size: 9.0pt; mso-bidi-font-family: "Times New Roman"; mso-bidi-font-size: 11.0pt; mso-bidi-theme-font: minor-bidi;">THEY'RE BACK!!!!!<span style="font-family: "Leelawadee","sans-serif"; font-size: 9.0pt; mso-bidi-font-family: &quot...
Maple Leafs News

Delivered to your inbox

You'll also receive Yardbarker's daily Top 10, featuring the best sports stories from around the web. Customize your newsletter to get articles on your favorite sports and teams. And the best part? It's free!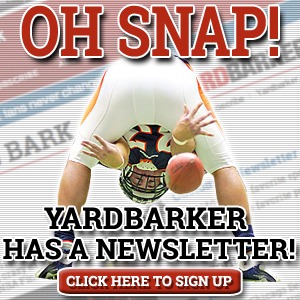 Latest Rumors
The Backyard

Today's Best Stuff

For Bloggers

Join the Yardbarker Network for more promotion, traffic, and money.

Company Info

Help

What is Yardbarker?

Yardbarker is the largest network of sports blogs and pro athlete blogs on the web. This site is the hub of the Yardbarker Network, where our editors and algorithms curate the best sports content from our network and beyond.