Found March 12, 2013 on The Prospect Park:
PLAYERS:
Griffin Reinhart
,
Brenden Kichton
,
Peter Ceresnak
,
Ryan Strome
,
Jesse Graham
,
Samuel Noreau
,
Brady Skjei
,
Scott Mayfield
,
Robbie Russo
,
Steven Fogarty
,
Cristoval Nieves
,
Michael St.Croix
TEAMS:
New York Islanders
,
Notre Dame Fighting Irish
,
Bowling Green Falcons
Michael St. Croix (Edmonton Oil Kings) The best part of the hockey year is here as New York Ranger and New York Islander prospects are involved in playoff hockey. With only one prospect (at the moment) who is not looking forward to playing in some sort of playoff series; there is plenty to of action going on. Teams that have already clinched their playoff status are looking to stay sharp or in a couple of cases, looking to send a message or two to those they might face down the road. The Edmonton Oil Kings with Michael St. Croix (NYR 11 4th) and Griffin Reinhart (NYI 12 1st) will be playing host Tuesday evening to the Saskatoon Blades with their two Ranger prospects Shane McColgan (11 5th) and Josh Nichols (13 UFA). This one will be interesting to watch mainly because since the Oil Kings defeated the Blades on January 23rd 4-2; the Blades have gone 20-1-1-0 including an 18 game winning streak. Both teams have already clinched their playoff spots with Edmonton earning the top seed in the WHL's Eastern Conference and Saskatoon second. With Saskatoon already in the Memorial Cup as the hosts, Edmonton will be looking to remind the Blades that they (the Oil Kings) are the defending WHL Champions. Saskatoon on the other hand has several critics who dismissed the recent run as the Blades feasting on the weaker teams in the WHL. Brenden Kichton (NYI 11 5th) and his Spokane Chiefs have a "home and home" with the Tri-City Americans as the two teams are fighting to see which one will wind up with the home ice advantage in the first round of the WHL's Western Conference playoffs. Spokane and Tri-City will finish the regular season 4th and 5th in the Western Conference but in which order is still up in the air. With both teams currently tied, Spokane holds 4th because they have 1 more win than Tri-City does but they can't afford to look past Prince George who they host on Tuesday. Spokane has to close the regular season on the road in Portland on Sunday so they will want to have their playoff status decided before then. Over in the OHL, somebody upstairs must really like Peter Ceresnak's (NYR 11 6th) Peterborough Petes as they have had just about every possible break fall their way. With Kingston losing on Monday night; the Petes control their own destiny and can finish as high as 7th with a couple of wins. Kingston, Mississauga and Peterborough are 7th, 8th and 9th in that order with all 3 teams having 3 games to play. Peterborough plays both teams and Brampton to finish the regular season so win and they are in as the other 2 don't face each other. Kingston and Mississauga have to face the current division leaders who are still fighting to see which one will finish first in the OHL's Eastern Conference. The Petes finish the season on the road against Brampton who will finish no better than 4th. Mitchell Theoret's (NYI 11 7th) Barrie Colts are one of those division leaders as they go into the final week 2 points behind Belleville and finish their regular season with 3 games in 3 nights. They don't get to face Belleville so they need some help to overtake Belleville which won't be easy. Ryan Strome (NYI 11 1st) and Jesse Graham (NYI 12 6th) know that their Niagara IceDogs will make the OHL playoffs with it most likely being a 6th place finish in the OHL's Eastern Conference. Trailing 5th place Sudbury by 3 points doesn't give them much hope of passing them so staying injury free will be their top priority. Andrey Pedan (NYI 11 3rd) and his Guelph Storm are trying to overtake the Kitchener Rangers for 4th place in the OHL's Western Conference as they trail the Rangers by 2 points. The two teams face each other Wednesday in Guelph and if Guelph wins they will be in the driver's seat for 4th. A Guelph win gives them a huge edge in the tiebreaker as they will have 2 more wins than Kitchener. The Storm finish the season with a "home and home" against non-qualifier Erie who have for the most part fallen apart. Guelph's biggest challenge might be avoiding getting into any kind of behavior that could lead to any kind of suspension especially to Pedan. Pedan has already had two suspensions this season so a third suspension could end his OHL season. Over in the QMJHL, Samuel Noreau (NYR 11 5th) and his Baie Comeau Drakkar are looking for their team's best finish since the 2007-2008 season as they hold the Telus Division lead with 2 games remaining. The Drakkar lead Rimouski Oceanic by 2 points with Rimouski has a game in hand. If the Drakkar win the division then the odds are good that they will wind up with the 2nd best record in the QMJHL and the 2nd seed in the QMJHL playoffs. The Drakkar have been in the QMJHL since 1997 and are still looking for their first QMJHL Championship. For the prospects playing at the NCAA level, it is league playoff time and for them it means playing in a "best of three" series. The CCHA is already in their 2nd round of their league playoffs while the WCHA will be just beginning theirs. The NCAA uses a rather frustrating system called "Pairwise" to decide which teams get invited to the NCAA Tournament. Only 16 teams make it to the NCAAs and of those invited; 5 invites go to the league champions leaving just 11 "at-large" bids. For the NCAA teams with Ranger or Islander prospects on them, only Minnesota (Brady Skjei) and Denver (Scott Mayfield) are considered "locks" to make the NCAA field even if they don't win their league title. However nothing in hockey is a guarantee so neither team will want to risk their invite. Minnesota is the 2nd seed in the WCHA's first round as they are taking on 11th seeded Bemidji State who they just swept in a 2 game series this past weekend. Brady Skjei (NYR 12 1st) and his teammates should repeat their sweep of last weekend especially since this week they will be playing at home. Denver is the 5th seed in their WCHA first round playoff and they have a much tougher matchup against arch rival Colorado College who are seeded 8th. Scott Mayfield (NYI 11 2nd) won't take their rivals lightly as this series will be played on Denver's ice but don't be surprised if it goes 3 games or even a Colorado College series win. Think Ranger/Islanders with a college flavor to it as this one will be fun to watch no matter how many games the series goes. In the CCHA, Notre Dame had a bye for the opening round and will be hosting a second round matchup against Bowling Green. Notre Dame is a huge favorite but had best not take Bowling Green lightly as they are one of those teams who's "Pairwise" number needs to improve to lock in an invite. The Fighting Irish with junior captain Anders Lee (NYI 09 6th), sophomore Robbie Russo (NYI 11 4th), and freshman Steven Fogarty (NYR 11 3rd) at times have trouble scoring will host this series and really need a sweep here. With a "Pairwise" number of 15 any kind of bad outing could drop them right out of the NCAA tournament. Michigan with Cristoval Nieves (NYR 12 2nd) are not a "bubble" team as they travel to Western Michigan for their 2nd round series. Michigan has only one shot at extending it's NCAA record 22 straight NCAA appearances and that is to go all the way to Detroit and win the CCHA championship and the automatic invite. Michigan will enter this series on the road with a 15-18-3 record going against a Western Michigan team that will be seen as a heavy favorite. Western is also looking to make a little history of their own as they are looking to earn their 3rd straight NCAA invite which would be a first for them. As much as one wants to root for the underdog, it really looks like Michigan's hopes and season will end here. Western Michigan will end Michigan's streak most likely in a sweep. All this starts tomorrow and won't end until Sunday evening so hang on and enjoy the ride.
Original Story:
http://feedproxy.google.com/~r/ThePro...
THE BACKYARD
BEST OF MAXIM
RELATED ARTICLES
David Ullstrom's game winning goal last night for Bridgeport against the Falcons earned him the right to return to the NY Islanders line-up today. However Nino Niederreiter's team leaiding 25th goal wasn't enough to earn him a call-up. Jesse Joensuu will make the trip to Florida with the team and Michael Grabner has officially been placed on IR as of March 10th. ...
15 Players UPDATED on The Rumor Chart this AM including.... * Mark Streit: Carolina and Montreal are the most natural fits for Streit right now, and it looks like Chicago may look elsewhere for help on the power play... *Jagr: the NY Rangers and Montreal have not only entered the running, but have leap frogged the field in my opinion. Jagr is proving far more valuable in...
Shane McColgan (Saskatoon Blades) Tuesday evening was one of those nights where if you had a weak heart then watching New York Ranger or New York Islander prospect hockey was not a good idea. Take your pick of the 3 games involving the prospects and yes you got your money's worth and then some. The big one was in Edmonton as Michael St. Croix (NYR 11 4th), Griffin Reinhart...
Bad luck for Gremlin! Michael Grabner has a shoulder injury that will keep him out of the line-up for at least 7 - 10 days when he will be re-evaluated. I am not sure how the injury occured. Jesse Joensuu is practicing with the Isles today for the first time since his injury and return to the Island. Also on the ice this morning at Iceworks is Carkner who has been out of...
Peter Ceresnak (OHL Images) Boy if you want to talk about a really interesting last 7 days for the New York Ranger and New York Islander prospects then what will they do during this upcoming week for an encore? Depending on whether you are playing in the NCAA or the Canadian juniors; this week is "sudden death" or "new life" week for the prospects and their teams...
Islanders News

Delivered to your inbox

You'll also receive Yardbarker's daily Top 10, featuring the best sports stories from around the web. Customize your newsletter to get articles on your favorite sports and teams. And the best part? It's free!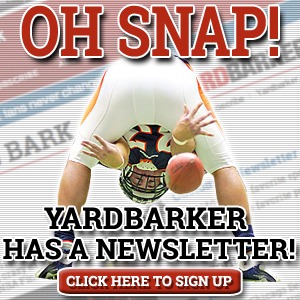 Latest Rumors
The Backyard

Today's Best Stuff

For Bloggers

Join the Yardbarker Network for more promotion, traffic, and money.

Company Info

Help

What is Yardbarker?

Yardbarker is the largest network of sports blogs and pro athlete blogs on the web. This site is the hub of the Yardbarker Network, where our editors and algorithms curate the best sports content from our network and beyond.