Found April 12, 2013 on Buffalo Wins:
PLAYERS:
Ryan Miller
,
Jarome Iginla
,
Ondrej Pavelec
,
Jack Campbell
,
Mike Smith
,
Evgeni Nabokov
TEAMS:
Buffalo Sabres
,
Pittsburgh Penguins
,
Winnipeg Jets
,
Arizona Coyotes
,
Columbus Blue Jackets
,
New York Islanders
,
Boston Bruins
,
Detroit Red Wings
Trade talk surrounding Ryan Miller has never been hotter as the Sabres begin to enter a rebuild and the potential to gain a handsome return for the former Vezina Winner. Acquiring valuable assets for the goaltender has become a hot topic as many question if he will return after his contract expires next summer. What stands in the way of dealing Miller is his limited no-trade clause. Miller is able to provide a list of eight teams that he will veto a trade to, thus limiting Darcy Regier's options. In addition, the impressive glut of quality goaltenders around the league could further limit trade partners for the Sabres. I assume that Regier would try to avoid a similar situation to what played out with Jarome Iginla – steering the Flames towards a trade with Pittsburgh due to his no-trade clause – and simply obtain Miller's list of eight prior to pulling the trigger on a deal. Providing the player latitude on where he wants to go will ultimately reduce the available return ...
Original Story:
http://www.buffalowins.com/buffalo-sa...
THE BACKYARD
BEST OF MAXIM
RELATED ARTICLES
((HT: CBC/MSG/NHL)) Steve Ott is an alternate captain for the Buffalo Sabres... and his evening against the Montreal Canadiens started like this... The HQ would always like to know how every fight involving the Habs involves Boullion... And then, he seems to treat Jeff Halpern like a popsicle at faceoff... His third act was very special, according to Matt Barnaby...
The Buffalo Sabres have signed undrafted rookie free-agent defenseman Chad Ruhwedel (ROO-wee-dell) to a two-year contract after he completed his college career at UMass Lowell. Hours after being signed Saturday, Ruhwedel made his NHL debut, playing in Buffalo's home game against the Philadelphia Flyers. He had 23 points (seven goals) in 41 games this past season in helping Lowell...
That was former Saint Cloud State Husky defenseman Oliver Lauridsen's first NHL fight, I suppose, he would have like to have done beter. Nice to see that Lauridsen take on one of the biggest pukes in the NHL, I don't hold Kaleta in very high regards at all, he's a reckless players that has been suspended numerous times by the NHL. Kaleta was also called out by teammate...
© Dan Hickling Boos and Bo-hoos, Because it's Buffalo? Commentary on the State of Hockey Heaven by John Wingspread Howell As the strike shortened NHL season limps to an end here in "Hockey Heaven," Sabres fans all agree that it's more like hockey hell. The commentary on social media and sports talk radio has become increasingly toxic. One of the key phrases repeated, not...
UMM, GROSS
You're down 4-0 at home in the 3rd period to Northeast Division rival Montreal, and you're looking for something, anything, to spark your team to a miraculous comeback. Sabres forward Steve Ott went the unconventional route, opting to try and lick Habs center Jeff Halpern's visor prior to a faceoff, in an attempt to throw Halpern off his game and win the draw. Did it work?...
First the lick, then the toss below, a weird night for Steve Ott.     Continue reading "Video- Steve Ott Licking And Tossing"
Buffalo Sabres center Steve Ott is known for doing some pretty strange things, and he added to that reputation on Thursday night. Before a face-off against the Montreal Canadiens, Ott tried to lick Montreal's Jeff Halpern's visor. Is that his idea of trying to gain an advantage? If I was Halpern, it would probably work. It's one thing for a guy to try to get in your head by...
Back when Steve Ott and Jeff Halpern were teammates with the Dallas Stars, it's not known how close the two were off the ice. But when the two faced off against each other as opponents on Thursday night, we saw a glimpse of just how close they get on the ice. Ott, now a center for the Buffalo Sabres, has always been known as one of the best agitators in the NHL. And on Thursday...
Steve Ott, agitator extraordinaire, loves to stir things up. Whether it's about fans booing in Buffalo which caused an interesting and kind of hilarious exchange between him, his fiancee and Buffalo's beat writer, or if it's trying to gain an edge before a draw, he'll do what it takes to get under your skin. This time prior to a faceoff, Ott tried to lick Jeff...
This is pure gold. Sabres forward Steve Ott was in a faceoff in the third period against Habs center Jeff Halpern, and he went with a rather unorthodox approach in an attempt to win said faceoff. The approach included licking Halpern's visor, not kidding. Check out the video to see it for yourself. Unfortunately Ott may need to find another tactic, as he lost the faceoff. ...
NHL News

Delivered to your inbox

You'll also receive Yardbarker's daily Top 10, featuring the best sports stories from around the web. Customize your newsletter to get articles on your favorite sports and teams. And the best part? It's free!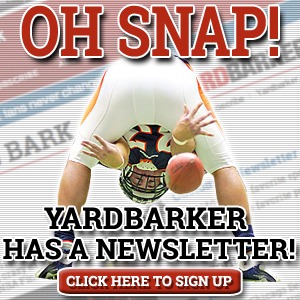 Latest Rumors
Best of Yardbarker

Today's Best Stuff

For Bloggers

Join the Yardbarker Network for more promotion, traffic, and money.

Company Info

Help

What is Yardbarker?

Yardbarker is the largest network of sports blogs and pro athlete blogs on the web. This site is the hub of the Yardbarker Network, where our editors and algorithms curate the best sports content from our network and beyond.