Found February 28, 2012 on NorthWest Sports Beat:
Canucks swap key pieces with Buffalo
And just like that, the stud is gone.
To the absolute shock of Canucks nation and the entire NHL, talented rookie Cody Hodgson was traded to the Buffalo Sabres yesterday in exchange for "a force" – hard-hitter and winger Zack Kassian.
Fans are surprised that the team canned the All-Star before he'd fully had a chance to prove himself. Hodgson's 16 goals and 17 assists apparently weren't enough to solidify his spot in Vancouver.
Social Media Report: 2012 Trade Deadline
General Manager Mike Gillis admitted that it was an extremely difficult trade, but in the end it was the best strategic decision for the team.
The Canucks need power in place of skill – and with Hodgson playing behind Ryan Kesler and Henrik Sedin, he would have stayed on the third line for another three to five years.
At 6'3 and 228 lbs, Kassian is a big and rough player that will bring an element of toughness that our team so obviously lacks (see: last year's playoffs) http://www.youtube.com/watch?v=XPqT5OJaoDQ).
In Gillis' defence, the Canucks haven't had a Bertuzzi-esque, goon presence since, well, Todd.
Along with Kassian, the Canucks swapped defensemen with the Sabres, trading the often benched Alexander Sulzer for Marc-Andre Gragnani.
Some fans are puzzled by the move, others are praising it. We cover the spectrum in another Social Media Report.
The "talking heads have weighed in" as well.
TSN's Perry Solkowski – "Kassian brings size and grit Gillis felt was needed on his team."

TSN's Bob McKenzie "I thought the Canucks were going to do something big, I didn't think it would be two young players. There two reasons the Canucks traded Cody Hodgson. Their names are Henrik and Daniel"

TSN's Marc Crawford "Zack Kassian's not going to have to start on a top 6 position for Vancouver. He's going to get a chance to move up in this lineup."

Sportsnet's Dan Murphy "GM Mike Gillis didn't overhaul his roster he did make significant changes, and pulled off the biggest surprise of the day."
Here's some  local tweets.
https://twitter.com/#!/tg_gman/status/174232041536233473
https://twitter.com/#!/benkuzma/status/174261694611202048
https://twitter.com/#!/imacVanSun/status/174233896538472449
https://twitter.com/#!/blakeprice1040/status/174278111742005248
https://twitter.com/#!/BotchonCanucks/status/174266123544576001
https://twitter.com/#!/passittobulis/status/174295895133782017
On the other hand, some sentimental fans understandably aren't thrilled about losing the young and studly, full-of-potential COHO before he got a chance to shine.
Check out the cheesy video embedded in the last tweet.
Fan Reaction
https://twitter.com/#!/JasonPHT/status/174239299712200705
https://twitter.com/#!/VancityBuzz/status/174232024138260481
https://twitter.com/#!/HeadtotheNet/status/174539857765482496
https://twitter.com/#!/FlyingVHockey/status/174274639764262912
https://twitter.com/#!/prfctsoundforvr/status/174347381863755777
https://twitter.com/#!/vancan19/status/174261545054904320
https://twitter.com/#!/NWSportsbeat/status/174522338572902400
This trade could prove to be short-sighted – giving away a skilled player like Hodgson for size could hurt the Canucks in the long term. On the other hand, it could give the Canucks some balls that they've been missing for years.
Canucks play the Coyotes in Phoenix tonight at 6 p.m.
If you're pissed about this trade, you'll be happy to know that Kassian is literally taking the jersey off Hodgson's back and will be dressed as #9 from now on.
Go Canucks Go…..
CLICK HERE CHECK OUT THE VANCOUVER CANUCKS CLUBHOUSE TODAY!
© Carolyn Smith for North West Sports Beat, 2012. | Permalink | No comment |
Follow NWSB on Twitter or join US on Facebook for real-time updates OR... | Share This on Twitter | Share NWSportsBeat.com on Facebook
Post tags:
All-Star rookie
,
Buffalo Sabres
,
Canucks
,
Canucks hockey blog
,
Canucks On Twitter
,
Canucks social media
,
Canucks tweets
,
Cody Hodgson
,
Henrik Sedin
,
NHL Trades
,
NHL tweets
,
NHL twitter
,
Trade Deadline
,
Twitter Canucks
,
twitter trades
,
Vancouver Canucks
,
Vancouver Canucks twitter
,
Zack Kassian
Original Story:
http://www.nwsportsbeat.com/canucks/t...
THE BACKYARD
BEST OF MAXIM
RELATED ARTICLES
Kassian/Hodgson Trade Reaction At about 1pm this afternoon, much like the vast majority of Canucks Nation, following the Cody Hodgson trade I was about ready to take one big step off the top ledge of the highest and handiest, nearby building. However, it was a little crowded up there. So then I thought, heck I have some time to wait here while the other jumpers paraded by, why not...
Big news here. Zack Kassian and Marc-Andre Gragnani have been traded to Vancouver. The Buffalo Sabres get Cody Hodgson and Alex Sultzer in return. Ray Shero will speak at 4:15 about the Pens situation.
It was half hour after the trade deadline had officially passed, and there were rumblings of a big deal with Vancouver Canucks, however no one expected that the other team in that deal would be the Buffalo Sabres – but that's exactly what it was. The Sabres have dealt Zack Kassian and Marc-Ande Gragnani for Cody Hodgson and Alexander Sulzer.  This trade coming in addition to...
AP By Adam Graham (@adam_graham) On the most overhyped day of the year in the NHL, there were very few deals that raised even fewer eyebrows, except for in Vancouver. This is the home to the one and only deadline deal that shocked the hockey world in 2012. The Vancouver Canucks dealt their prized rookie Cody Hodgson and defenseman Alexander Sulzer to the Buffalo Sabres for a tough...
Article Player Stats Article In perhaps the most surprising deal on trade deadline day, the Vancouver Canucks acquired forward Zack Kassian from the Buffalo Sabres in exchange for rookie forward Cody Hodgson. The two teams also swapped blueliners, with Marc-Andre Gragnani heading to Vancouver and Alexander Sulzer going to Buffalo. Canucks Perspective The 6-3, 214-pound...
The Buffalo Sabres have acquired rookie center Cody Hodgson in a trade with the Vancouver Canucks in exchange for rookie forward Zack Kassian. As part of the deal, the teams also traded defenseman with Buffalo sending Marc-Andre Gragnani to Vancouver in exchange for Alexander Sulzer. The deal was announced by Sabres general manager Darcy Regier on Monday, and reached shortly before...
It's another edition of Musings on a game day. How convenient. It's also the first since the deadline came and went and the deadline day inactivity was a blessing or curse; depending on your point of view of course. The biggest winner of the deadline day for me: Buffalo. I think Cody Hodgson should be a quality center for a long time to come and any team that can get a 1st AND...
NHL News

Delivered to your inbox

You'll also receive Yardbarker's daily Top 10, featuring the best sports stories from around the web. Customize your newsletter to get articles on your favorite sports and teams. And the best part? It's free!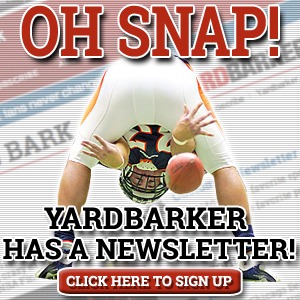 Latest Rumors
Best of Yardbarker

Today's Best Stuff

For Bloggers

Join the Yardbarker Network for more promotion, traffic, and money.

Company Info

Help

What is Yardbarker?

Yardbarker is the largest network of sports blogs and pro athlete blogs on the web. This site is the hub of the Yardbarker Network, where our editors and algorithms curate the best sports content from our network and beyond.