Found January 07, 2013 on Puck Huffers:
PLAYERS:
Sidney Crosby
,
Evgeni Malkin
,
Chris Kunitz
,
Brandon Sutter
,
Matt Cooke
,
Pascal Dupuis
,
Tanner Glass
,
Eric Tangradi
,
Craig Adams
,
Steve MacIntyre
,
Dustin Jeffrey
,
Joe Vitale
,
Brooks Orpik
,
Kris Letang
,
Kimmo Timonen
,
Matt Niskanen
,
Brian Strait
,
Deryk Engelland
,
Ben Lovejoy
,
Marc-Andre Fleury
TEAMS:
Pittsburgh Penguins
,
Philadelphia Flyers
Ahhh. Clicking the text centering button again. It feels like... It feels like watching a Flyers fan file out of the arena in the 2nd period, tear-stained "Crosby Sucks" poster under arm. It feels like not caring that the guy behind you spilled beer down your back because he's wearing black and gold and goddamn if that puck didn't almost tear a hole in the back of the Caps' net just now. It feels like frantically refreshing after your feed goes out and having it come back just in time to see Malkin pass to Crosby pass to Malin pass to  GOALLLLL!!! It feels like good friends, late nights, and screaming your throat raw. Jesus. It finally feels like hockey season. It's going to be short, obviously. It's going to be fast and hard fought. We will be here with a dick joke every step of the way. News about us from the extended off season? Kim bought a home bar, has moved from whiskey to gin, and can still drink you under the table. Zoë still prefers whiskey and also various pretentious cocktails. She can't drink you under the table but will shout at you from under it. We assume our alcohol habits are all that matter to you because they are all that matter to us. More importantly, THIS TEAM WE HAVE Sidney Crosby Is back from riding his trusty camel through the endless desert. Best shape of his life. Is angry and needy and wants everyone dead. Still bathes in blood of virgins. Evgeni Malkin Second in scoring in the KHL. Still a sign from God that Pittsburgh is the chosen land. Is going to crush skulls and worry us when he gets up too slow after collisions. Volumizes with champagne because it gives "big shine." James Neal The ginger beard runs free across the plains. Hidden in his fridge, which is probably full of Chobani and spinach and sparkling grape juice, is the Secret, which must be kept at prime operating temperature or else hellfire will rain down. The first one he nets will be from the top of the right circle. Chris Kunitz Heard through the grapevine that we took a historically long time to warm up to the idea of him as a Penguin. Now has pictures of us coating his walls, strings leading to points on maps, newspaper articles, and doll body parts. This will be the season he makes us regret ever not being emotionally attached to him. Brandon Sutter Lord of the Breakaways. One of the most exciting players on the roster when you realize he spent most of his big minutes successfully containing the likes of Malkin, Ovechkin, and St. Louis. Kid's got attitude. We hear he killed a trucker to unlock the achievement. Tyler Kennedy Go ask your mom. We hear he gave her a lot of "information" last night. Also, fastest man alive, version 9.0 Matt Cooke Father of the year. Wouldn't hold the door open for your wife. Will be right where he belongs, in the corners and the paint, distracting people with his dubious public image and perfect hands. Pascal Dupuis Declined nomination for father of the year because he didn't want his children's cuteness to burn the retinas of the judging panel. Better person than you. Will score his first goal in game 6 on a confusing breakaway and you will cry. Tanner Glass Turns his enemies into embellishments for apparel using the BeDazzler. (They get so shiny because he can compress carbon until it becomes a diamond after he has killed them.) Probably going to **** some people up like this in the coming weeks. Eric Tangradi Have you wondered what the terror alert color is recently? You can thank Eric Tangradi for that. You can also go ahead a pre-stamp envelopes for those "thanks for that assist" letters now. Craig Adams Atop Mount Olympus, he presides over his empire with wisdom and grit. We can only imagine that his anger and power is more intense after being directly involved in all of these negotiations. He probably threatened to lay down and block international trade routes to the United States in the middle of various oceans to get this **** done. Steve MacIntyre Those sideburns aren't just for show - watch out. We will woo him this season with succulant fruits and exotic cheeses until we know enough about him to form involved sexual opinions. Dustin Jeffrey Is alone in the dark. We don't know. Will not share his Butterfinger with you. Joe Vitale ...has been watching us. And everyone else. From a mountain top. He's been planning his return and more likely than not personally caused the doors to be opened. We're not saying he's God, but he's probably God's favorite son. Water into wine is ******** next to one of his take-over-the-world shifts. Paul Martin Needs a redemption season like we need Tostitos. Maybe will stop taking eyewear fashion advice from Nik Kronwall. One of these days. Brooks Orpik Spent his off time sharpening his skates until the point was actually one split atom away from destroying the east coast. Cut through the floors of several practice arenas before realized he had to dull them on several thousand prostitute's throats. The Allegheny rose four inches this off season due to increased "silt deposits." Isn't satisfied yet. Kris Letang Incubated himself in light cotton sheathing on the flight back from Russia to maintain his complexion in harsh temperatures. Will not tell the media this, but a chorus of ethereal white rabbits came to him to deliver the news of the end of the lockout. Convinced they were sent by Kimmo Timonen to mess with him. Baptized his child in Armani cologne. Matt Niskanen After being declared "in" with us checked his stock daily on celebrity stock exchange. Fell into deep depression after realizing we have no effect on such a thing. Went through crisis involving hair. His emotional state is unimportant to us, but we'll keep you posted on the hair. Brian Strait Sticks to your ribs better than Memphis BBQ. No idea if we'll see him again, but we Remember him and Despres managing not to explode during the Flyers series. It will be remembered. Deryk Engelland Makes us feel like we've been covered in mashed potatoes from head to toe, for some reason. In a good way. Maybe he'll take us all to the drive-in this spring and then take us home and feed us warmed up leftovers from his mom's mac-and-cheese night. Oh, also he'll break someone's neck before the playoffs. But in a cute way. Ben Lovejoy Ain't afraid of no ghosts. Will be there when we need him, trying really hard to do whatever it is that he does. Marc-Andre Fleury LOLOL HAI GUYZ I MEESED YOU HAHAHA I CAN'T WAIT FOR ZE JUICEZ I HAVE BEEN PROMIZED LOLOLOL WHERE IS KRIS I HAVE SOMETHING FUNNY TO TELL HIM LOLOLOL Thomas Vokoun A white knight for a new generation. Will probably be too busy knowing what the **** is up to pay attention to our cries in the middle of this hectic season. Will stand on barren fields of battle among corpses at sunset and be unaffected. We have a good bit of cap space left. No one is really available, but this ain't over. Now, kick back, relax, go watch the PRACTICE DAY VIDEOS FROM TODAY OH MY GOD MAF LAUGHS WHEN KRIS IS MENTIONED IT IS AMAZING. We're gonna be right here. We promise there will be more pictures next time. We love you. Oh, and also? Go Pens.
Original Story:
http://www.puckhuffers.com/2013-artic...
THE BACKYARD
BEST OF MAXIM
RELATED ARTICLES
Sidney Crosby and nearly a dozen of his Penguins teammates worked out at a suburban Pittsburgh ice rink on Monday, just as they did during the four-month NHL lockout. Only this time, the players were wearing their familiar Pittsburgh practice sweaters instead of jerseys promoting the NHL Players Association. It was a welcome return for the Penguins following the lockout's end...
The Penguins issued a statement on the lockout today: To our Penguins Fans and Community: We offer our apology. There is nothing we can say to explain or excuse what has happened over the past four months. However, now that the NHL is back, we want to assure you that the Pittsburgh Penguins will do everything we can to regain your trust and show how much we value your...
We'll start this one by saying we can't even remember who the Pens' "enforcer" was last year.  Steve McIntyre?  It might have been Eric Godard.  Not really important.  Arron Asham played the role, as well.   The Pens have decided to change things up a bit and, instead of going for an ooga-ooga type of enforcer, they've gone for somebody that...
Ray Shero's signing of Tomas Vokoun might be one of the most important moves he's ever made.  Teams with a solid 1-2 punch between the pipes are gonna have a decided advantange, as all teams will be staring 3- and 4-game weeks in the face, not to mention the likely possibiity of double-digit back-to-back situations, and every game is going to carry importance. Then you...
Another great video by Benstonium   © Phil Krundle for Pittsburgh Penguins - PenguinPoop Blog, 2013. | One comment |
Welcome back. And brace yourselves. VOMIT Is the blood boiling yet? The Penguins haven't played since April 22, 2012. If the reports hold true as of this evening and the regular season begins on January 19, 2013, that means just about nine months will have passed between Penguins games. Sure, we had the rest of the Stanley Cup playoffs. Sure, we had...
With hockey returning and the start of the season quickly approaching, I will be previewing each division followed by each conference as a whole before the season start date, which is looking like it will be Jan. 19. The Atlantic Division 1. The Pittsburgh Penguins – Despite falling one point short of the New York Rangers for first place in the Easter Conference last season, the...
NHL News

Delivered to your inbox

You'll also receive Yardbarker's daily Top 10, featuring the best sports stories from around the web. Customize your newsletter to get articles on your favorite sports and teams. And the best part? It's free!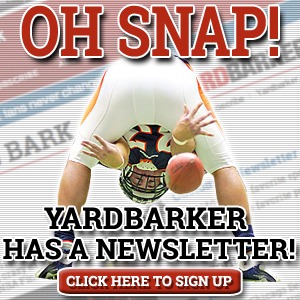 Latest Rumors
Best of Yardbarker

Today's Best Stuff

For Bloggers

Join the Yardbarker Network for more promotion, traffic, and money.

Company Info

Help

What is Yardbarker?

Yardbarker is the largest network of sports blogs and pro athlete blogs on the web. This site is the hub of the Yardbarker Network, where our editors and algorithms curate the best sports content from our network and beyond.