Found January 02, 2013 on Fang Faction:
As a Canuck I am unfortunately required to join our cocky hockey nation in cheering on anything that hits the ice with a maple leaf on it (except for the actual Maple Leafs of course). It's more or less in our constitution to watch all the pre, post, and mid game drivel that TSN throws our way. The World Juniors is our March Madness; the most important sporting event in the world nationally, but no one else really cares about it. Also we're really good at it, which helps. It's mostly because our CHL develops players specifically for this age group (Your NCAA is a great development system, but development peaks at 20 - 21, where they are ineligible). Nonetheless, with our upcoming re-match, here are my three reasons why we'll school you again. Congrats on demolishing the Czech Republic by the way.      Reason 1: Our absurdly good first line  It's no secret that our first line wouldn't be in Russia if the NHL was in session. Ryan Nuggy-Hops (as he likes to be known) already played a full NHL season last year and actually did quite well. Huberdeau and Strome are both 2011 first round draft picks, selected 3rd and 5th overall (respectively) who would be more than likely playing with the Panthers and Islanders this season and would not have been released to the tournament. Those three players have combined for 10 goals 15 assists. They are more or less unstoppable and have tremendous chemistry. Listen guys, I'm not saying it's fair, I'm just saying they will light you up.  Reason 2: Unbelievable offensive depth  Nathan Mackinnon, projected first overall pick in the 2013 entry draft, is on the fourth line. Part of that is because he one of the bigger players and is good when we need to show some Ruskies who's boss. But still, when you can afford to place the top future prospect on the fourth line, you know you are doing something right. Not to mention Mackinnon is one of only two undrafted players. Offensively we have 11 2011 draftees and two undrafted players, making this one of the oldest teams possible. America has really impressive defense, that is one of their strengths this year. But you can't keep up with this kind of depth. It's not your fault, it's ours.  Reason 3: Malcolm Subban isn't brutal After a pre-tournament friendly and games against Slovakia and Germany, no one was really confident in Subban. He looked like the weak link and had a sub .900 sv%. But since then he has been a rockstar and I don't think anyone in the country would argue in favour of playing Binnington. Subban showed up Saturday morning for the first test against you lot, and he performed mountains above expectations. He was called upon again in the the Russia - Canada game. If he can keep this form rolling then we will be set to done gold medals in the most nationally over hyped tournament in Canada.    I wish you all a pleasant viewing experience tomorrow. Remember when you lose that it isn't your fault, we are just a better team.     
Original Story:
http://www.fangfaction.com/site/why-c...
THE BACKYARD
BEST OF MAXIM
RELATED ARTICLES
Malcolm Subban had a bad game on the biggest stage he's ever been on Thursday in Russia. The Canadian goaltender was victimized for four early goals by Team USA en route to an embarrassing loss for Canada in the semifinals of the world junior tournament. Things got so bad, in fact, that Subban was yanked midway through the second period in an attempt to keep things from getting...
  I'm going to start out by saying this: It wasn't really his fault. Sure, Malcolm Subban wasn't exactly on his "A-Game" for Canada's matchup against the United States in their IIHF World Junior Championship semifinal early Thursday morning, but the stat sheet makes Subban out to be the scapegoat. That's a far from accurate portrayal. The 19-year old first round draft...
There's good news coming out of the World Juniors — the Bruins have some top prospects. Boston's 2012 first round pick, goalie Malcolm Subban, has been a savior for Canada so far with a 4-0 record, 2.00 GAA and a .930 save percentage. On Sunday, he allowed one goal and had 22 saves as Canada beat Russia 9-3. Subban isn't the only Bruin starring in the World Junior Championship...
Team USA should have had its work cut out in the semifinals of the world junior tournament going up against one of the best Canadian teams in recent memory. Instead, the Americans found things to be a walk in the park against a listless Canada squad. The Americans routed Canada 5-1 on Thursday in Ufa, Russia, helping them advance to the gold medal game of the tournament where they...
Boston College's Johnny Gaudreau has been on fire in the World Juniors. He now has nine points in his last three outings and he scored two goals against Canada in the semifinals. Gaugdreau and team USA will hope to continue their hot streak against Sweden in the World Juniors gold medal game on Saturday. While Boston is no doubt proud of their Eagles forward for pushing USA over...
Valeri Nichushkin scored 1:35 into overtime to give Russia a 6-5 victory over Canada on Saturday in the bronze-medal match at the junior ice hockey world championships. Nichushkin broke down the right side and skated in on net alone, scoring into the left corner. Canada trailed throughout before Brett Ritchie tied it with nine minutes left in regulation to force the extra period...
It is USA and Canada taking on each other in the semifinals of the World Juniors Championship. Winner advances to the finals against the winner of Sweden and Russia. USA and Canada has become a great hockey rivalry ignited over the past few years not just because they share a border, but because Team USA's talent has finally been able to match up with, or be better than Team...
Maple Leafs News

Delivered to your inbox

You'll also receive Yardbarker's daily Top 10, featuring the best sports stories from around the web. Customize your newsletter to get articles on your favorite sports and teams. And the best part? It's free!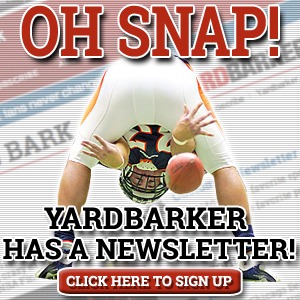 Latest Rumors
Best of Yardbarker

Today's Best Stuff

For Bloggers

Join the Yardbarker Network for more promotion, traffic, and money.

Company Info

Help

What is Yardbarker?

Yardbarker is the largest network of sports blogs and pro athlete blogs on the web. This site is the hub of the Yardbarker Network, where our editors and algorithms curate the best sports content from our network and beyond.